Norm Duke Advances to Sixth in PBA Playoffs Points Race
February 28, 2019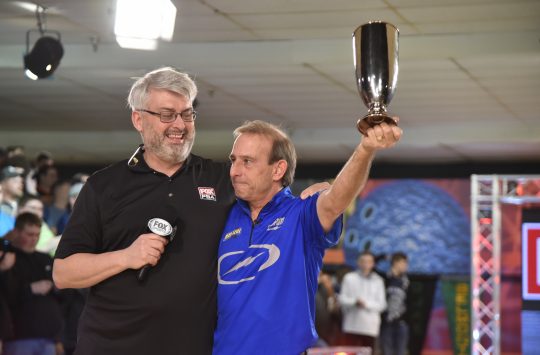 By earning 5,000 points for his win Sunday in the Tier 2 Go Bowling! PBA Indianapolis Open, Norm Duke advanced from 34th to sixth place in the race to qualify among the top 24 for the inaugural PBA Playoffs.
Indianapolis runner-up Jason Belmonte continued to expand his lead in the 2019 PBA Playoffs points race with 18,550 points, nearly 7,000 points ahead of EJ Tackett. The top eight, with their points totals (and last week's ranking in parenthesis) are:
1, Jason Belmonte, 18,550 (1); 2, EJ Tackett, 11,590 (2); 3, Sean Rash, 11,210 (3); 4, Jakob Butturff, 10,285 (5); 5, Anthony Simonsen, 10,200 (4); 6, Norm Duke, 8,565 (34); 7, Wes Malott, 8,170 (12); 8, Kyle Troup, 8,150 (6). Marshall Kent retained ninth place with 8,105 points.
The race for the 24th-and-final berth in the PBA Playoffs currently involves Anthony Lavery-Spahr in 24th place with 5,020 points followed by Nick Pate (4,660) and Tom Smallwood (4,620).
Under the new Go Bowling! PBA Tour competition points structure in play this season, a win in a Tier 1 (major championship) event is worth 7,500 points, a Tier 2 (standard PBA Tour tournament) title is worth 5,000 points and a Tier 3 (limited entry and/or modified format tournament) title is worth 2,500 points.
There are only five events remaining on the PBA Playoffs schedule after Jonesboro: the Cheetah, Chameleon and Scorpion Champions (all Tier 3 events) and the PBA World Championship (a Tier 1 event) during the PBA World Series of Bowling X, March 11-21, and the USBC Masters (a Tier 1 event) in Las Vegas, March 26-April 1.
Players finishing in the top eight after the USBC Masters ends on April 1 will earn a first-round bye in the PBA Playoffs. Players finishing in the top 24 qualify for a berth in the Playoffs; finishing in the top 40 is required for eligibility to enter the 2019 PBA League Draft. To follow the points competition as the season progresses, use this link: https://www.pba.com/SeasonStats/PointsList/132?list=1.
The PBA Playoffs begin on Monday, April 8, with live coverage of the opening Round of 24 matches on FS1 at 7 p.m. EDT from Bayside Bowl in Portland, Maine.