North Carolina bowler selected as Alberta E. Crowe Star of Tomorrow
April 20, 2022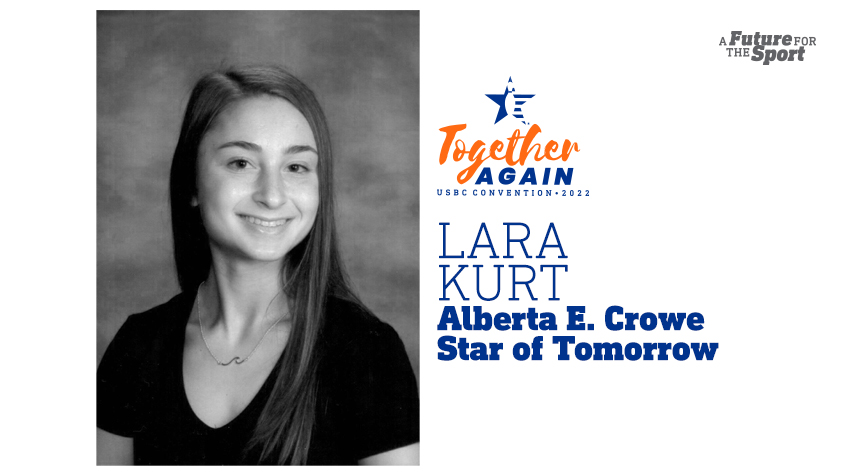 ARLINGTON, Texas
- Lara Kurt of Leland, North Carolina, has been chosen by the International Bowling Campus Youth Committee as the Alberta E. Crowe Star of Tomorrow for 2022.
The award recognizes the star qualities of a female high school senior or college student, including accomplishments on the lanes, academic achievement and community service. Along with the prestigious honor, Kurt will receive a $6,000 scholarship as the 2022 recipient.
Kurt represents all the qualities listed above as an 18-year-old freshman at Savannah College of Art and Design (SCAD)-Savannah, who is majoring in User Experience (UX) Design.
As a graduate of North Brunswick High School, Kurt was a member of the National Honor Society, an "A" Honor Roll student throughout elementary and high school and completed Advanced Placement courses in U.S. History and Environmental Science, along with Honors coursework in math, English, science and social studies.
"This award has helped show that all of the hard work I've put in over the many years I've been bowling finally paid off," said Kurt, who earned a spot on the Fall 2021 SCAD-Savannah Dean's List. "Not only the hard work, but it's also something I love to do. So, seeing that my hard work is paying off is one reason why I keep bowling."
Kurt, a first-generation bowler whose parents migrated to the United States from Turkey, began bowling at 7 years old after being introduced to the sport by a friend of her mother, who they ran into at their local grocery store. Kurt's parents had never bowled in their lives, except for their bachelor and bachelorette parties prior to tying the knot.
"We bowled for fun at birthday parties and for leisure when I was younger," Kurt said. "But I really got into it when we ran into my mom's friend that morning, and she invited us to bowl in the Saturday Youth Leagues, and that is when I really got into bowling."
Kurt suffered from asthma as a child and as she began to compete in tournaments, she found herself using a nebulizer between games at various events. To combat this, she began swimming at age 11 to help strengthen her lungs.
At age 12, she participated in the United States Bowling Congress Team USA Trials, where her life and career trajectory was changed after meeting Shannon O'Keefe. The two-time Professional Women's Bowling Association Player of the Year was the first professional Kurt had met, which provided additional motivation to continue to bowl competitively and be the best she could be.
O'Keefe reached out to Kurt after the event and asked if she could design a jersey for Team Shafanie, which includes fellow PWBA Tour champion Stefanie Johnson, who Kurt also met at the event and aspired to be like. This interaction helped Kurt forge her path, which eventually led to attending SCAD-Savannah.
"Even though I was very young, I did not believe I had much drawing or designing experience at the time," Kurt said. "They were able to make my imaginations and ideas come to life, which made me realize how much joy it brought me being able to see something I create come alive.
"Their kindness and their passion for giving back to the youth brought out my passion for bowling and the arts. Being able to have the jersey I created worn by bowlers I have looked up to and continue to look up to has always made me realize anything is possible if you're doing something you love to do."
Kurt continues to bring the noise on the lanes after recently earning MVP honors and a spot on the All-Tournament Team en route to helping SCAD-Savannah to the 2022 National Association of Intercollegiate Athletics Women's Bowling Championship.
Kurt's bowling resume also includes a Professional Bowlers Association Junior Regional Championship (Southwest), The BEST (Bowlero Euless Scholarship Tournament) title, a Dallas Youth Open championship and two runner-up finishes at the Storm Youth Championships.
As a volunteer, Kurt has been giving back to the residents of Wilmington, North Carolina, through the Good Shepherd Center since 2013 by stocking shelves and pantry rooms, aiding in the kitchen and distributing clothing to the homeless. She also participates in a "Bowling for Backpack" event which raises money for the homeless center.
Along with the Good Shepherd Center, she helped at the Food Bank in Wilmington, raised funds for cancer at "Joe's Bucket Bash," distributed food and care packages as part of the Hurricane Florence relief efforts, volunteered for toy and candy drives and has given back through the National Honor Society, including helping with the Red Cross Blood Drive and fundraised for "Strike Out" Pancreatic Disease.
Specifically, during COVID-19, she created artwork for the Senior Living Centers in Brunswick County to allow the rooms to feel more like home.
With her career underway at SCAD-Savannah, Kurt has her eyes set on the future, and this award allows her to take additional steps toward achieving success.
"My future goals are to have a career path with User Experience design at hopefully Google or Microsoft, or anywhere that my path may take me," Kurt said. "I also want to bowl professionally after college. This scholarship will help me achieve those goals, and not only does this scholarship help me with school, but I am honored to be able to add this prestigious award to my resume, which can help me when applying for future jobs and scholarships."
Kurt will be recognized in April during the 2022 USBC Convention at The Orleans in Las Vegas.
This year's award ceremony, which includes a variety of awards for youth and adult bowlers, will take place during the morning session of the USBC Annual Meeting on April 28 at noon Eastern. The award presentations will be live to watch at BowlTV.com.
Katharina Mente of Keller, Texas, was the 2021 Alberta E. Crowe Star of Tomorrow.
USBC Hall of Fame member Betty Kuczynski was the first Alberta E. Crowe Star of Tomorrow winner in 1961. Other hall of famers to receive the award are Joy Abel (1962), Judy Soutar (1963), Mildred Ignizio (1967), Susie Reichley (1969), Cheryl Robinson (1970), Donna Adamek (1975), Nikki Gianulias (1978), Tish Johnson (1980), Lynda (Norry) Barnes (1988) and Liz Johnson (1993).
Learn more about awards for adult youth leaders and scholarship opportunities for youth bowlers at
BOWL.com/ScholarshipsAwards
.
ALBERTA E. CROWE STAR OF TOMORROW AWARD WINNERS
Year, winner, hometown
1961 Betty Kuczynski, Cicero, Ill.
1962 Joy Abel, Lansing, Ill.
1963 Judy Soutar, Leawood, Kan.
1964 Ann Bosworth, Belleville, Ill.
1965 Karen Linton, El Paso, Texas
1966 Betty Jo Crow, Fairway, Kan.
1967 Mildred Ignizio, Rochester, N.Y.
1968 Pamela Carver, Phoenix, Ariz.
1969 Janice Sue Reichley, Dallas
1970 Cheryl Robinson, Destrehan, La.
1971 Rosalyn Raab, San Antonio, Texas
1972 Karen Gustafson, Sunland, Calif.
1973 Leslie Ferris, Arlington, Va.
1974 Pam Dusek, Ontario, Calif.
1975 Donna Adamek, Apple Valley, Calif.
1976 Regina Loveall, Amarillo, Texas
1977 Kathy Kirst, San Antonio, Texas
1978 Nikki Gianulias, Vallejo, Calif.
1979 Audrey Gable, Whitehall, Pa.
1980 Tish Johnson, Panorama City, Calif.
1981 Shelley Johnson, Toledo, Ohio
1982 Vicki Parker, Pelham, N.H.
1983 Laura Dulisse, Blauvelt, N.Y.
1984 Kristine Gross, Citrus Heights, Calif.
1985 Becky Kregling, Stratford, Conn.
1986 Lori Benge, Wichita, Kan.
1987 Dionne Lee, Modesto, Calif.
1988 Lynda Norry, Concord, Calif.
1989 Stefanie Marek, Wilmington, Del.
1990 Kelly Everding, Arvada, Colo.
1991 Laura Ross, Mahwah, N.J.
1992 Kari Murph, Dayton, Ohio
1993 Elizabeth Johnson, Niagara Falls, N.Y.
1994 Pamela Inloes, Modesto, Calif.
1995 Kassy Hyman, Dyer, Ind.
1996 Michelle Ewald, St. Clair Shores, Mich.
1997 Kimberly Claus, Mesquite, Texas
1998 Diandra Hyman, Dyer, Ind.
1999 Amy Rocco, Phoenix
2000 Robin Crawford, Hendersonville, Tenn.
2001 Melissa Bellinder, Fullerton, Calif.
2002 Anita Manns, Austin, Texas
2003 Lindsey Coulles, Centerville, Ohio
2004 Amanda Burgoyne, Newport, Minn.
2005 Cassandra Leuthold, Blackhawk, S.D.
2006 Josie Earnest, Vandalia, Ill.
2007 Joi Bell, Pflugerville, Texas
2008 Brittni Hamilton, Webster, N.Y.
2009 Ricki Williams, Wichita, Kan.
2010 Heather D'Errico, Rochester, N.Y.
2011 Nicole Mosesso, Centerville, Ohio
2012 Megan Buja, Rockford, Ill.
2013 Melanie Hannon, Cheektowaga, N.Y.
2014 Melanie Crawford, Plano, Texas
2015 Emma Kuhn, Texas City, Texas
2016 Gazmine Mason, Cranston, R.I.
2017 Natalie Koprowitz, Girard, Ill.
2018 Crystal Singh, Coral Springs, Fla.
2019 Mabel Cummins, Elburn, Ill.
2020 Caroline Thesier, Mooresville, N.C.
2021 Katharina Mente, Keller, Texas
2022 Lara Kurt, Leland, N.C.