North Dakota bowler rolls seventh 300 of 2022 USBC Open Championships
April 08, 2022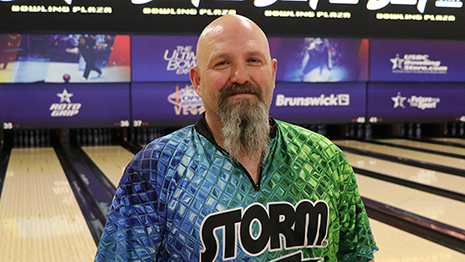 By Nick Bonsanto
USBC Communications

LAS VEGAS -
Scoring at the 2022
United States Bowling Congress Open Championships
continues to sizzle in early April, and Johnnie Newton of Williston, North Dakota, posted the sixth perfect game of the month at the South Point Bowling Plaza.
Newton's 300 on Thursday night was the fourth in doubles competition and seventh of the 2022 event, which kicked off it's 129-day run on March 12.
As many bowlers in his position might experience, Newton was very aware of the magnitude of the accomplishment and the stage upon which it took place.
"I started feeling really nervous at the end," said Newton, who made his 14th appearance at the USBC Open Championships. "It's a big stage, so I was pretty nervous."
The 47-year-old right-hander followed the 300 with games of 157 and 184 for a 641 series. He and Jese Sickler, also from Williston, combined for a 1,261 total, which is just inside the top 60 in Regular Doubles this year at South Point.
Newton had a consistent overall performance over the two days at the Bowling Plaza, adding a 622 set in team and 687 in singles for a career-best 1,950 all-events total.
On the way into the record book, Newton fought a nagging back injury and arthritis, and he's glad he did. He was satisfied with his time on the lanes this year, but he also knows he could've done a little bit better.
He'll now look at to the 2023 event in Reno, Nevada, and he's looking forward to being recognized in the Squad Room each time he returns to compete in the Open Championships.
"I felt good, but I also feel like I left a lot out there," said Newton, whose home bowling center is Williston's Strike Zone. "Being recognized is a big achievement. It's right at the top for me."
Visit us on Facebook at the
official USBC Open Championships page
.