O'Keefe in control after day one of 2022 PWBA BowlTV Classic
June 09, 2022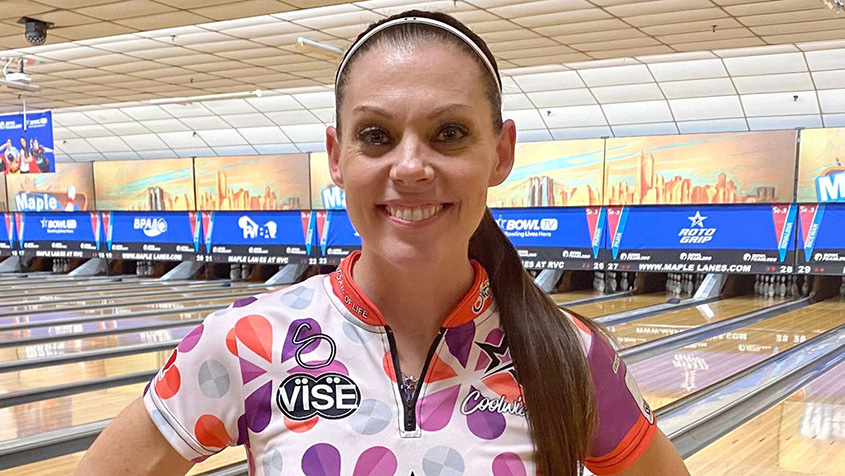 ROCKVILLE CENTRE, N.Y. - Shannon O'Keefe of Shiloh, Illinois, grabbed the overall lead after two rounds of qualifying and will lead the field into match play at the 2022 Professional Women's Bowling Association BowlTV Classic.

O'Keefe was excellent throughout the day and used a pair of steady six-game blocks to average more than 226 to help surpass Colombia's Clara Guerrero, who held the lead after this morning's opening round.

O'Keefe finished with a 2,719 total and was followed by Guerrero (2,669), Lauren Pate of Ballwin, Missouri (2,581), Liz Johnson of Niagara Falls, New York (2,568), and Josie Barnes of Hermitage, Tennessee (2,561).

The top 12 players after Thursday's second round advanced to Friday's match-play rounds, with Marcia Kloempken of Pleasant View, Utah, claiming the final spot with a total of 2,511, an average of 209.25.

The BowlTV Classic presented a different challenge on the lanes with a 50-foot lane condition across the house at Maple Lanes. The pattern seemed to produce some additional friction, which O'Keefe had to migrate to find the right combination.

"I was trying to be really soft-handed with it at the bottom, so when it would see the friction, it wouldn't want to just check off of it," said O'Keefe, who owns 15 career PWBA Tour titles. "My moves all day were just to keep it in front of me and feel like I'm rolling it over my left toe. Where I actually got into trouble was down on the low end. We got quite a bit farther left much quicker tonight, which is normal, but I did not bring my eyes with me as quickly as I needed to. So, my angles just got a little bit too open for a few frames. Fortunately, I was able to dial it in and bail out 190. But, it was a great day."

Friday's match-play rounds will consist of six games starting at 9 a.m. Eastern, and an additional six games of match play at 2 p.m. Eastern. Players will earn 30 bonus pins for each win, 15 bonus pins for a tie and zero bonus pins for a loss. The top five players, based on total pinfall for 24 games and bonus pins, will advance to the stepladder finals.

The stepladder will take place at 7 p.m. Eastern and be broadcast live at BowlTV.com. The champion will earn $10,000.

O'Keefe's performance this week also allowed her to secure the top spot in the upcoming PWBA BVL Classic. The top 24 athletes based on their combined qualifying totals for the Long Island Classic and BowlTV Classic (24 games) determined the advancers to the BVL Classic.

O'Keefe's BVL Classic qualifying total was 5,217, which was 183 pins higher than second place. She averaged 217.38 for 24 games.

Sydney Brummett of Fort Wayne, Indiana, was next with 5,034, while Guerrero (5,022), Ukraine's Dasha Kovalova (5,017) and Singapore's New Hui Fen (4,977) round out the top five.

Mexico's Sandra Gongora fired games of 267 and 279 during her final two games of qualifying Thursday at the BowlTV Classic to earn the final spot in the BVL Classic. She finished with a 24-game total of 4,769, an average of 198.71.

Pinfall will drop at the beginning of the BVL Classic, with all advancers bowling three eight-game blocks of round-robin match play Saturday and Sunday. The top five competitors, based on total pinfall and bonus pins for each victory, will advance to Sunday's stepladder finals.

The finals of the BVL Classic will be broadcast Sunday at 5 p.m. Eastern on CBS Sports Network, with the winner earning a $10,000 top prize.