Oklahoma bowler rolls 300 for 835 set at 2022 USBC Open Championships
July 09, 2022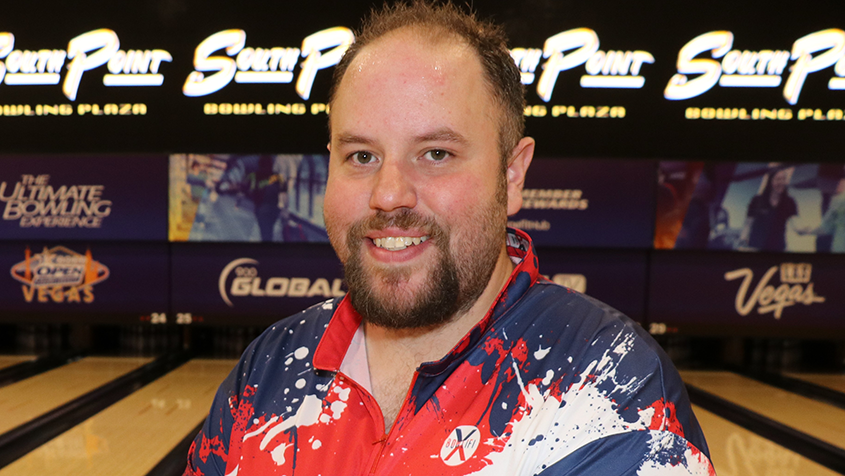 LAS VEGAS
- Sam Swinford of Ponca City, Oklahoma, authored a performance that most bowlers can only dream about as he fired a 300 game and 835 series during singles at the 2022
United States Bowling Congress Open Championships
at the South Point Bowling Plaza on Friday.
"I'm dumbfounded," Swinford said. "I struggled during doubles, but I tried to switch to a new mindset coming into singles, I got some breaks, and I ran with it."
The new mindset clearly helped as Swinford got off and running toward USBC Open Championships history as soon as singles began.
After starting Game 1 with a spare, Swinford threw 26 strikes in a row before a 7 pin stopped his run during the fourth frame of Game 3.
The string allowed Swinford to start with 290 in Game 1 and 300 in Game 2 to give him an almost-unimaginable 590 heading into the final game of competition.
"I wasn't really thinking about how many strikes I had going," Swinford said. "I was just standing in the back talking to some buddies of mine that I haven't seen in a while. They helped me keep my mind off of bowling and what was going on with my score."
Swinford may not have been thinking about the score possibilities at that point, but the spectators and his fellow bowlers certainly were.
That's because, at that point, Swinford still had a chance to not only take the lead in Regular Singles, but he also was within reach of the all-time Open Championships record of 862, which was shot by USBC Hall of Famer Bo Goergen of Sanford, Michigan, on the way to victory in Regular Singles during the 2009 tournament at the Cashman Center in Las Vegas.
Swinford's pursuit of the record stayed intact until he was forced to settle for a nine count and spare in the eighth frame; nevertheless, he still had a chance to strike out for 258, which would've given him 848 and a tie for the lead in Regular Singles with Alex George of Wichita, Kansas.
As he had done 30 times already, Swinford delivered a flush strike on the 10th ball. Unfortunately, he was unable to do the same on the next shot, which crossed over and left him with the difficult 5-6 split.
Swinford was unable to fit the ball between the two pins for the conversion, which forced him to settle for 246 for the game and 835 for the set.
"Giving yourself a chance for an Eagle is what every bowler dreams of," Swinford said. "I knew I needed all three when I got up in the 10th, but it didn't work out; nerves got the best of me."
Nevertheless, the 835 moved Swinford into a tie for second place in Regular Singles with Scott Patke of Lansing, Michigan.
The Regular Division is for bowlers with entering averages of 176 and above.
Even though his bid for an Eagle will have to wait at least one more year, Swinford was satisfied with what he accomplished this time around.
Also, he was having a hard time coming to grips with the celebrity status he has now achieved by joining the elite club of bowlers who have bowled 300 and 800 on the championship lanes. Swinford is the 41st bowler in 118 editions of the event to accomplish the feat.
"I have goosebumps right now," Swinford said. "To have accomplished something like this at the Open Championships is just incredible. I'll definitely look back at this year's tournament with a lot of fond memories."
Swinford had started his 12th tournament appearance with 619 in team and 539 in doubles for a 1,993 all-events total.
Visit us on Facebook at the
official USBC Open Championships page
.