Ontario bowler competes in 50th USBC Open Championships in Las Vegas
May 12, 2022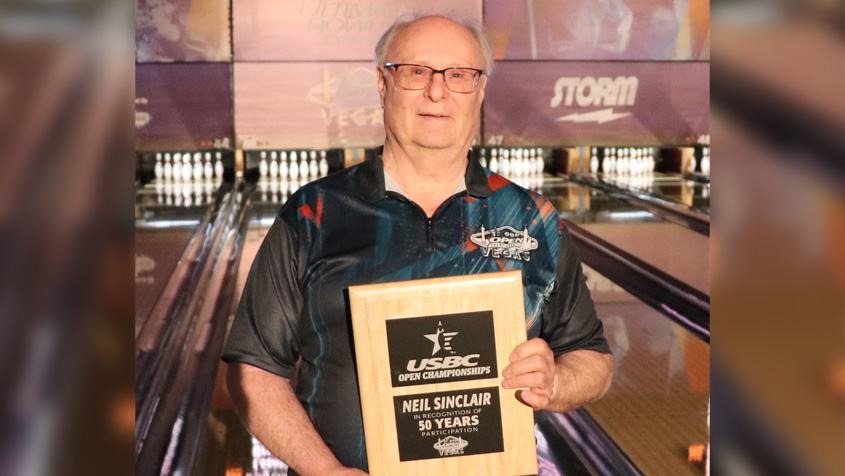 By Nick Bonsanto
USBC Communications

LAS VEGAS
- Neil Sinclair of Sarnia, Ontario, Canada, became the 20th bowler at the 2022
United States Bowling Congress Open Championships
to reach 50 years of competition after his appearance Tuesday in Las Vegas.
The 73-year-old right-hander's 50th year of competition was on hold for two years until he was able to arrive at the South Point Bowling Plaza this week.
"This should have been my 53rd year," Sinclair said. "I missed two years due to the pandemic. First, it was canceled, and then last year, I couldn't cross the border to compete."
Many may wonder if it was difficult for Sinclair, a citizen of Canada, to bowl in 50 USBC Open Championships.
"No, it wasn't hard to compete at USBC events," Sinclair said. "There used to be USBC Canada, and I also live on the border of Michigan, so I bowl in Michigan all the time."
Sinclair's journey began at the 1970 event in Knoxville, Tennessee, and he received a plaque, chevron and diamond lapel pin Tuesday at South Point to commemorate the achievement.
Many bowlers also may wonder if they can manage to compete in 50 Open Championships, and even Sinclair wondered if he would get there.
"I really didn't think I would get here," Sinclair went on to say. "Halfway through it, when I hit 25 years, I said I felt pretty good and thought I could do it."
In thinking about hitting 50 years, Sinclair joked, "I looked around at people that had hit 50 years and thought man, I don't look that old."
While Sinclair admits he has never bowled great here, he does boast a 184 average at the Open Championships. His best effort came in Memphis, Tennessee, in 1981, when totaled 1,813 pins.
Like many who return annually to the Open Championships, Sinclair enjoys making the trip each year.
"The biggest part about competing is that I liked to travel to all the different cities," Sinclair said. "I like going places I never thought I would see, like Billings, Montana. I would never have gone there in my life had it not been for bowling in this event."
In his 2022 appearance, Sinclair compiled sets of 591 in singles, 538 in team and 532 in doubles for an all-events total of 1,661. His total pinfall for 50 years now stands at 82,800.
Will there be a 51st year and more for Sinclair?
"Oh yeah," he said. "I'm looking forward to it."
Visit us on Facebook at the
official USBC Open Championships page
.