Opening ceremony kicks off 2018 QubicaAMF World Cup in Las Vegas
November 05, 2018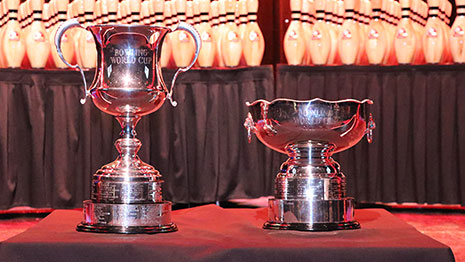 LAS VEGAS -
The
QubicaAMF Bowling World Cup
has made its way back to the United States, and the 2018 edition of the storied event officially got underway Monday night at the Sam's Town Hotel & Gambling Hall.
Members of the Chaparral High School marching band helped usher in competitors from more than 80 countries, and the festivities also included well-wishes from local and bowling dignitaries and the player oath, recited by Team USA's Shannon O'Keefe.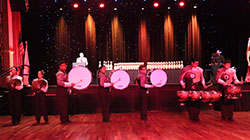 This year's tournament returns to the 56-lane Sam's Town Bowling Center, where it was held in 2015, and will feature 81 men and 68 women. Each country is permitted to send one man and one woman. Team USA will be represented by O'Keefe and first-time Team USA member Kyle Troup.
Official practice took place earlier Monday, and this year's titles will be awarded Saturday afternoon. All rounds of the 2018 QubicaAMF World Cup will be broadcast live on BowlTV.
Competition at the 54th running of the event will begin Tuesday at 11:30 a.m. Eastern, with the men taking the lanes first. The opening round of women's qualifying will begin at 2 p.m. EDT.
All competitors will bowl 24 games over three days (eight games each day), and the field then will be cut to the top 24 men and top 24 women for eight additional games. After 32 games, total pinfall will determine the eight bowlers in each division for eight games of round-robin match play.
The top four men and top four women after 40 games, including bonus pins, will advance to Saturday's knockout-style semifinals, where the No. 1 seed will face the No. 4 qualifier and No. 2 and No. 3 will meet. The winners of each match will earn a spot in the championship game.
The World Cup first was contested in 1965, and the tournament now is considered one of the sport's most prestigious singles titles. It also is recognized as the largest event in the sport in terms of number of countries competing.
The last time the tournament was held at Sam's Town, the titles went to Colombia's Clara Guerrero and Wu Siu Hong of Hong Kong. Neither will compete in 2018.
The field this year does include three past winners - Aumi Guerra of the Dominican Republic (2010, 2011), Osku Palermaa of Finland (2006) and Mel Oates of Wales (2000). Guerra is looking to become the first woman to win the tournament three times.
For more information, or to follow the scores from the QubicaAMF World Cup, visit
QubicaAMF.com
.