Opening ceremony officially welcomes 2023 USBC Open Championships to Reno
March 12, 2023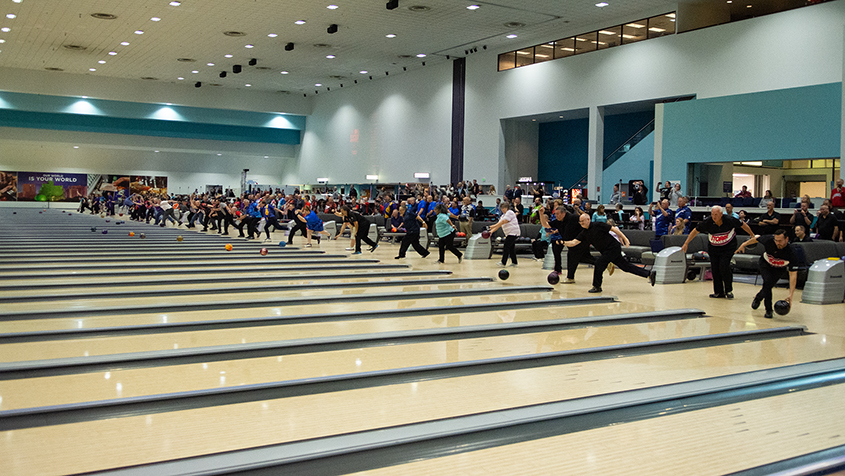 RENO, Nev. –
The 119th edition of the
United States Bowling Congress Open Championships
had its official welcome party to Reno, Nevada, and the National Bowling Stadium on Saturday with an opening ceremony celebrating the tournament's return to The Biggest Little City in the World.
The 2023 tournament marks the 14th visit to Reno for the USBC Open Championships and 11th trip to the NBS, which opened its doors to the event for the first time in 1995. The last time the tournament was held in Reno was 2016.
More than 9,700 teams and nearly 50,000 bowlers are scheduled to make their way to the Taj Mahal of Tenpins for the 2023 event, which will run for 143 consecutive days and conclude July 24.
The 2023 event originally was scheduled to start March 11, but the demand for spots pushed the tournament staff to open up an additional week of squads. Competition got underway March 4, but the date for the opening ceremony remained the same for those who previously registered to take part in the celebration.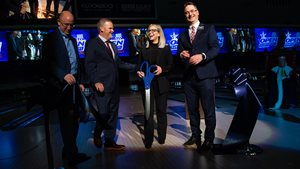 The ceremony featured several speakers welcoming the bowlers to Reno, including City of Reno Mayor Hillary Schieve, THE ROW Reno Senior Vice President and General Manager Ken Ostempowski, Reno-Sparks Convention and Visitors Authority President and CEO Charles Harris and USBC Executive Director Chad Murphy.
The ceremonial ribbon-cutting and Mass Ball Shot also took place to keep with tradition, and Reno's Logan Keyes was selected as "Joe Bowler" for the 2023 Open Championships.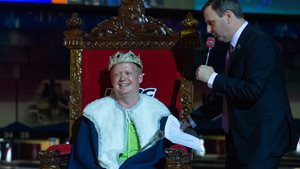 The history of "Joe Bowler" dates back to 1951, with one bowler on the squad being randomly selected to wear the ceremonial crown, cape and scepter and deliver the official opening ball of the event.
"When it got down to the last few folks to be picked, I was thinking to myself there would be no chance it was me," said Keyes, who made his third Open Championships appearance. "I was really surprised when it did end up being me. To be one of the few selected in the history of this tournament is really cool."
Keyes may have been feeling the pressure when it was time to roll the first shot, but he was able to deliver a ball that made it to the pocket, leaving just the 10 pin.
"I knew once I got out there that all eyes were going to be on me, especially with a bunch of locals here watching and bowling," Keyes said. "I wanted to be able to make the best shot I could and knock as many pins as possible down on that first shot."
Keyes' first two trips to the Open Championships were in Las Vegas, meaning his appearance this weekend was his first chance to compete at the NBS.
While it may have taken a couple shots to get used to the venue, he knows the experience will be something he'll take with him as he continues his journey at the event.
"I really didn't know what to expect bowling nationals in my hometown at the Stadium for the first time," said Keyes, who rolled games of 199, 171 and 150 for a 520 series in his team event. "It took a minute to get comfortable, but I felt at home bowling here. I just wish I would have bowled a little better for the team.
"I am going to be able to look back at this and know how special it was with the history of this tournament. With each year to come, I am absolutely looking forward to traveling and bowling the Open Championships and can say I was 'Joe Bowler' for a day!"
Although no new leaders emerged in the team standings from Saturday's squad, all competitors will return to the NBS on Sunday for doubles and singles competition.
The 2023 Open Championships features three average-based divisions in team, doubles, singles and all-events competition. Competitors bowl three games each in team, doubles and singles, and their nine-game total determines placement in all-events.
The Regular Division features bowlers with combined entering averages of 876 and above in team, 351 and above in doubles and 176 and above in singles and all-events.
Competitors in the Standard Division are comprised of teams with entering averages of 776-875, doubles tandems of 311-350 and features bowlers with averages of 156-175 in singles and all-events.
The Classified Division has teams with averages of 775 and below, doubles pairs of 310 and below and includes bowlers with averages of 155 and below for singles and all-events.
The top overall team performance for all three events (team, doubles and singles) over 45 games will claim the coveted Eagle awarded to the champion in Team All-Events.
Visit us on Facebook at the
official USBC Open Championships page
.