Oregon bowler battles back from injury, leads at 2016 OC
April 17, 2016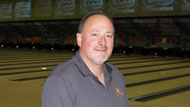 RENO, Nev. -
Two years ago, Joseph Rhinehart III of Albany, Oregon, didn't know if he'd ever bowl again, and now, he's the man to beat in Classified All-Events at the 2016
United States Bowling Congress Open Championships
.
The 45-year-old right-hander has battled back from a surgery-requiring tendon injury in his right arm, and while the return to his competitive peak has been slow, he's satisfied with the progress and his place atop the leaderboard at the National Bowling Stadium.
Rhinehart got out to a hot start Saturday with a 612 series in team and added 613 in singles and 510 in doubles Sunday to take the all-events lead with a 1,735 all-events total. David Hjelm of Wheaton, Minnesota, previously held the lead with 1,713. Hjelm and Gary Sundby Jr. of Dalton, Minnesota, still top the Classified Doubles standings.
"This feels unbelievable," said Rhinehart, whose singles score is fourth in Classified Singles. "I know there's still a long way to go in the event, and someone may beat my score, but to get this close at any point, after everything, is incredible."
Rhinehart was competing in a tournament in Las Vegas in June 2014, when he felt a pop in his right elbow and lost feeling in his fingers.
An MRI revealed a torn tendon in his tricep, with surgery as the only option. Even then, whether he'd bowl again, or be able to get back to the level of competition he was used to, were uncertain.
"I knew I definitely didn't want to stop bowling, and I even considered trying to teach myself to bowl left-handed," said Rhinehart, who bowls at Albany's Lakeshore Lanes. "But I talked to my doctor and decided to just let the recovery happen on its own time, before I started back with lower-weight balls and a completely different style. A couple of years later, some of the strength and ability is coming back."
In a small town with only one bowling center, competitive opportunities are limited for Rhinehart, but he's planning to add more league time to his schedule, which he hopes will help speed up the progress.
As part of their Vegas Bound league, Rhinehart and his teammates get to wrap up each season with a trip to Las Vegas and a tournament in Sin City. That's the event he was competing in when the injury occurred.
Now, the close-knit group is looking forward to being back in Las Vegas for the 2017 USBC Open Championships, which will be held at the new South Point Bowling Plaza.
If all goes well, Rhinehart could make his debut in the new venue as the defending champion in Classified All-Events.
"We have a great group of friends, and we do everything together from bowling to traveling to white-water rafting," said Rhinehart, who made his 12th consecutive Open Championships appearance this year. "We spend a lot of time together, so we have good chemistry and a whole lot of fun, win lose or draw. To win and return as a champion would only make it all that much better."
The 2016 Open Championships will continue its 129-day run through July 11.
Classified Singles and All-Events are for bowlers with entering averages of 180 and below.
Visit us on Facebook at the
official USBC Open/Women's Championships page
.