Past champion adds 300 to collection at 2022 USBC Open Championships
July 18, 2022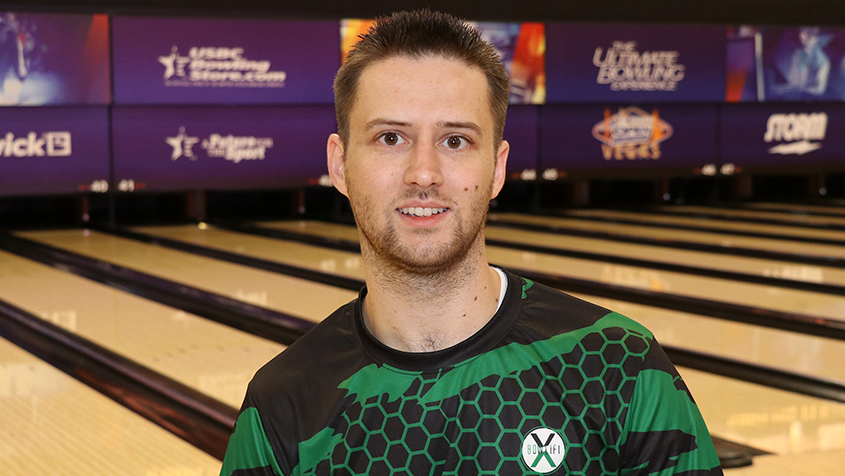 LAS VEGAS
- Looking at the list of accomplishments Zach Rhoades of Lawrence, Kansas, has accumulated during his young career on the lanes, it's easy to see he thrives in the team environment.
He helped Wichita State capture the 2015 Intercollegiate Team Championships, and in his second appearance at the
United States Bowling Congress Open Championships
in 2016, he served as the catalyst at the top of the lineup to help BowersBowlingTour.com of Bel Aire, Kansas, take over the lead and ultimately capture the title.
His team event at the 2022 edition of the USBC Open Championships didn't go as well as he would have liked Saturday at the South Point Bowling Plaza, but he continued to work with his teammates and was able to get things going Sunday during his final game of doubles on the way to a 300 game.
The 28-year-old right-hander became the 52nd bowler to achieve the feat at the 2022 event, which now sits in a tie for the second most in the 118-year history of the Open Championships. The record for 300s is 64 at the 2002 event in Billings, Montana, and the 2011 event in Reno, Nevada, also featured 52 perfect games.
Rhoades started doubles with games of 210 and 167 before making a ball change to make his run at 300 and a 677 series. His doubles partner, Ryan Klaus of Olathe, Kansas, also began to heat up toward the end of the block, putting together games of 180, 243 and 258 for 681. Rhoades and Klaus finished with 1,358.
"I was struggling with ball reaction a little bit in Game 2, so it was nice to make a ball change and see it work out pretty well," said Rhoades, who made his seventh tournament appearance. "I was throwing urethane in Game 1, and it started to kind of go away. I was leaving flat 10s, and when I tried to add some rotation to get the 10 out, it wanted to hook early. I jumped in with a ball change and played from there.
"We were all kind of in the same area, so it was easy to work off each other and watch ball reaction and see what was working well."
The final three shots for perfection left little doubt that Rhoades was going to add another accomplishment to his list at the Open Championships, although he noted he felt fortunate that his 12th shot held after delivering it slightly inside of his target.
Rhoades has been part of a 300 game on the national stage in the past, but in a much different environment.
The year prior to Wichita State's ITC victory, Rhoades was called upon to come off the bench for the 12th shot of a Baker 300 during the 2014 ITC for the Shockers.
He was able to take care of business in that situation as well.
"They're both pretty awesome," Rhoades said. "It's hard to compare them, since they were much different situations. I was out of the lineup, but I had a good idea from my teammates and had all of them behind me. It was a pretty awesome experience to throw that fill shot and strike. Both are great."
Having support from his teammates is something Rhoades always can count on, but he also was happy to have the support of his parents, Jim and Cheryl, during his perfect performance Sunday at South Point.
"I felt good today," said Rhoades, who added 741 in singles and 581 in team for a 1,999 all-events total. "Team was a struggle. It was hooking a bunch, and I had trouble getting my ball to go right. Today was much better. My shot execution was really good, and I'm happy with how it finished up. It was great to have my parents here watching and supporting me, too."
Visit us on Facebook at the
official USBC Open Championships page
.