Past champion Dias leads first round at 2023 Super Senior Classic
June 02, 2023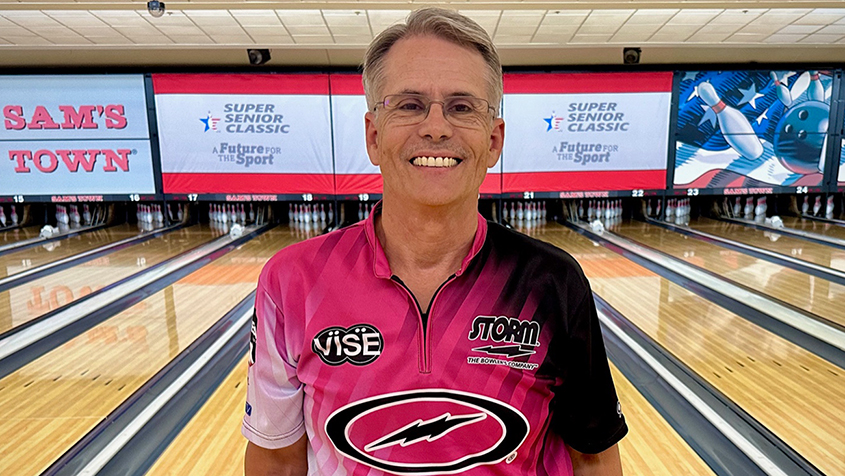 RESULTS: Round 1

LAS VEGAS –
Mike Dias of Lafayette, Colorado, averaged more than 238 on Thursday at the Sam's Town Bowling Center to pace the 206-player field at the 2023
Super Senior Classic
.
Dias, the 2018 champion, fired games of 244, 200, 226, 257, 269 and 235 to finish the day with a 1,431 total. The 66-year-old left-hander competed on B Squad, facing the second shift on this week's 39-foot oil pattern.
Darryl Bower of Middletown, Pennsylvania, is second with 1,411, while United States Bowling Congress and Professional Bowlers Association Hall of Famer Lennie Boresch Jr. of Kenosha, Wisconsin, is third with 1,408.
Boresch finished as the runner-up at the 2022 Super Senior Classic to two-time winner and fellow USBC and PBA Hall of Famer Ron Mohr of Las Vegas, who finished Thursday's first round tied for 38th place with 1,278.
Jack Jurek of Lackawanna, New York, rolled the only 300 at the event Thursday and sits in fourth place with 1,405. Herman Ferguson of Los Angeles rounds out the top five with 1,397.
Competition will resume Friday at noon Eastern as B Squad takes to the lanes for their six-game block on the fresh oil pattern. The bowlers on A Squad will bowl their final round of qualifying at 5 p.m. Eastern on the burn.
After 12 games of qualifying, the top 52 players will advance to a six-game cashers' round Saturday. At the conclusion of 18 games, the top 12 will make their way to a split match-play round, which also will take place Saturday starting at 6 p.m. Eastern.
The competitors will be split based on the final qualifying position, with the six odd seeds (1, 3, 5, 7, 9 and 11) being placed in one group and six even seeds (2, 4, 6, 8, 10 and 12) being placed in another group.
The advancers will compete in round-robin match play, with the top finisher in each group earning an automatic spot in Sunday's championship stepladder based on their 24-game pinfall total, including bonus pins. The final seeding for the top finishers will be determined by total pinfall.
The second, third and fourth seeds from each group will face off in simultaneous group stepladders starting Sunday at noon Eastern, before the field is set for the championship stepladder at 2 p.m. Eastern. The winners of each group stepladder will claim the No. 3 and No. 4 spots for the stepladder and have their seeding determined for the opening match based on their average.
The champion of the 2023 Super Senior Classic will earn $8,000 for the victory.
The Super Senior Classic features the top players age 60 and older.
The excitement will continue at Sam's Town with the USBC Senior Masters from June 5-11. The event is a major on the PBA50 Tour schedule and is open to bowlers age 50 and older.
The winner of the 2023 Senior Masters will take home $20,000 for the win.
Both events are being livestreamed at
BowlTV.com
.