PBA League Draft Scheduled for April 8 at Portland's Bayside Bowl
February 22, 2019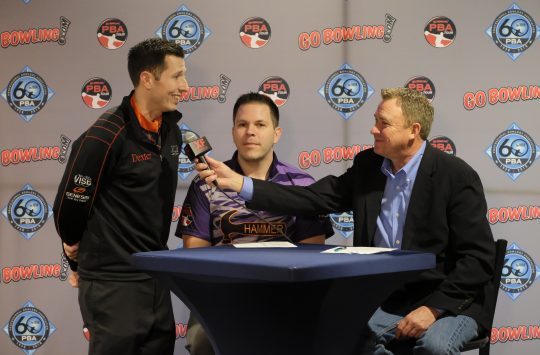 PORTLAND, Maine (Feb. 22, 2019) – For the past four years, tournament host Bayside Bowl in Portland has given the PBA League team bowling competition a jolt of electricity because of its exuberant fans and unique location.
Now for the first time, Bayside fans will get a chance to see up close how the 2019 teams take shape when the PBA League Draft is held at Bayside Bowl on Monday, April 8.
The draft will be covered live on FloBowling, PBA's official online live-streaming outlet, beginning at 4 p.m. EDT.
Adding to the drama for the hometown fans, their own Portland Lumberjacks, managed by Tim Mack, will own the first pick by virtue of their last-place finish in the 2018 Elias Cup tournament.
Choosing second will be L.A. X, followed by the Brooklyn Styles, New York City Kingpins, Motown Muscle, Dallas Strikers, Philadelphia Hitmen and defending champion Silver Lake Atom Splitters. The serpentine draft will then find the Atom Splitters making the first selection of the second round.
In order to be eligible for the draft pool, PBA members must be ranked in the top 40 in the 2019 PBA competition points standings at the conclusion of the 2019 USBC Masters on April 1.
Leading up to the draft, each team manager will be allowed to protect and retain up to three members from current rosters regardless of their PBA Points standing, with those decisions made by March 25.
April 8 will be a big day for Portland's enthusiastic PBA fans who are invited to attend the PBAL Draft and stick around for the inaugural round of PBA Playoffs matches that will air later in the evening, live on FS1 at 7 p.m. Eastern. The PBA Playoffs is a new PBA Tour singles competition that will feature the season's top 24 players in competition points in a single-elimination match play series that will result in eight FS1 telecasts in April and May, leading up to the live FOX telecasts of the semifinal and final rounds on June 1 and 2. Bayside Bowl will host the entire PBA Playoffs series.
PBA League players will then return to Bayside Bowl where all rounds of the 2019 PBA League Elias Cup competition will take place July 16, 17 and 18, airing live for the first time on FOX Sports' FS1 in prime time.
CURRENT TEAM MAKEUPS
(Managers may protect up to 3 players by March 25)
● Portland Lumberjacks (manager Mack): Ryan Ciminelli, Wes Malott, Kyle Troup, DJ Archer, JoJoe Yannaphon.
● L.A. X (manager Andrew Cain): Jason Belmonte, Stuart Williams, Martin Larsen, Jakob Butturff, Osku Palermaa.
● Brooklyn Styles (manager Johnny Petraglia): Parker Bohn III, Walter Ray Williams Jr., Sean Rash, Matt O'Grady, Jason Sterner.
● New York City KingPins (manager Carolyn Dorin-Ballard): Pete Weber, Marshall Kent, Sam Cooley, BJ Moore, Anthony Pepe.
● Motown Muscle (manager Del Ballard Jr.): EJ Tackett, Francois Lavoie, Anthony Simonsen, Shota Kawazoe, Josh Blanchard.
● Dallas Strikers: player-manager Norm Duke, Tommy Jones, Bill O'Neill, Rhino Page, Kyle Sherman.
● Philadelphia Hitmen (manager Jason Couch): Dom Barrett, Tom Smallwood, Ronnie Russell, Matt Sanders, Chris Loschetter.
● Silver Lake Atom Splitters (manager Mark Baker): Chris Barnes, Jesper Svensson, Tom Daugherty, Dick Allen, AJ Johnson.
PBA LEAGUE DATES
Monday, March 25: Selection of protected players.
Monday, April 1: PBA Playoffs point list finalized.
Wednesday, April 3: Draft declaration deadline (draft pool consists of the top 40 on the PBA Playoff points list; eligible players must declare their intent to enter the draft).
Monday, April 8: 2019 PBA League Draft (4 p.m. EDT, live on FloBowling).
Monday, April 15: Player trade deadline.
2019 PBA LEAGUE ELIAS CUP FINALS SCHEDULE
Bayside Bowl, Portland, Maine, July 16-18 (live on FS1)
Tuesday, July 16
3:30 p.m. – Bayside Bowl rooftop "tailgate party"
7 p.m. – Quarterfinal Match One: Team #1 vs. Team #8
8 p.m. – Quarterfinal Match Two: Team #5 vs. Team #4
9 p.m. – Quarterfinal Match Three: Team #2 vs. Team #7
10 p.m. – Quarterfinal Match Four: Team #6 vs. Team #3
Wednesday, July 17
9 p.m. – Semifinal Match One: Winner Match One vs. Winner Match Two
10 p.m. – Semifinal Match Two: Winner Match Three vs. Winner Match Four
Thursday, July 18
9 p.m. – Elias Cup Championship: Winner Semifinal One vs. Winner Semifinal Two