PBA Legend Carmen Salvino to Compete in TOC at Age 85
February 01, 2019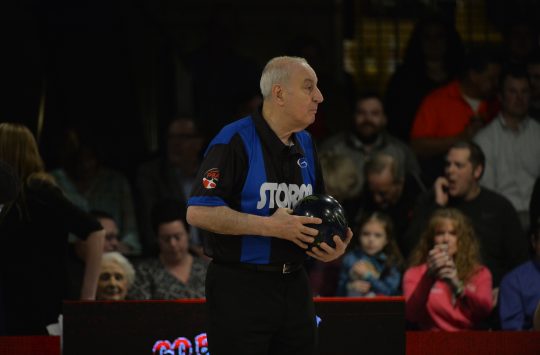 There seems to be no stopping PBA legend Carmen Salvino.
The 85-year old PBA Hall of Famer will compete in his 29th PBA Tournament of Champions, extending his record as the oldest player to compete in a Go Bowling! PBA Tour event.
PBA's most famous showman is one of the few remaining links to the storied tournament's origin dating back to the inaugural event in 1962.
"I'm in shape and ready to go," said the 17-time tour winner. "I'm working out and doing a lot of bowling to get ready. My weight hasn't changed in 63 years. I'm 195 (pounds) and haven't fluctuated five pounds either side of that."
Salvino began planning to bowl in the 2019 TOC after competing in last season's PBA 60th Anniversary Classic in Indianapolis.
"People have no idea of how it feels to go into the locker room of one of the great tournaments and see all the guys," Salvino said. "For me, it goes beyond bowling — just to be there with those guys is a thrill."
The 1962 TOC was held at Play Bowl in Indianapolis and was actually billed as the Indianapolis 500 Festival Tournament of Champions according to the Indianapolis Star's coverage of the tournament. It's an often-overlooked event because the tournament would not be held again for three years. In 1965, Firestone began its landmark sponsorship, the classic moved to Bowlarama in Akron, Ohio and then to AMF Riviera Lanes the following year where it remained for 29 years.
The first TOC was a two-day event featuring 25 PBA Tour champions – everyone who had won a title since the PBA's formation four years earlier. It was conducted immediately after the Indianapolis PBA Open, the final regular event of the Tour season, which also was held at Play Bowl. Salvino finished third in the inaugural tournament (his best finish in the classic). Joe Joseph won with a two-game total of 480 pins followed by fellow Michigan star Billy Golembiewski with 413 pins and Salvino with a 409 total.
"I'm an example of not letting your age stop you," Salvino added. "I'm looking forward to showing those young guns a thing or two."