PBA Playoffs Set to Resume on FS1 at 9 p.m. ET with Round of 16 Action
April 22, 2019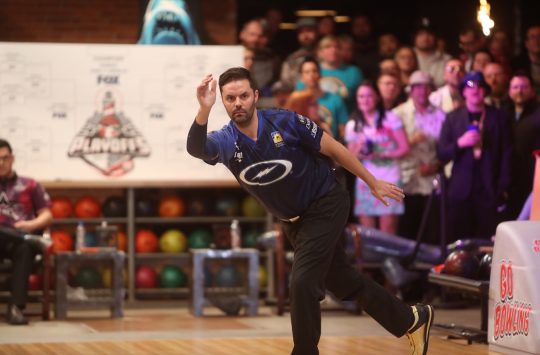 PORTLAND, Maine (April 19, 2019) – The inaugural PBA Playoffs moves into Round of 16 action Monday with two Race to 2 Points matches from Bayside Bowl on FS1 at 9 p.m. ET.
The first match will feature a showdown between two of the Go Bowling! PBA Tour's premier two-handers, No. 1 seed and four-time PBA Player of the Year Jason Belmonte of Australia vs. No. 17 seed and three-time Tour winner Kyle Troup of Taylorsville, North Carolina.
Belmonte earned a bye into the Round of 16 by finishing as the leader in PBA Tour points after the first 13 tour tournaments of the season. Troup, who earned his berth in the Playoffs by finishing 17th in the points race, advanced to the Round of 16 by beating PBA Hall of Famer Chris Barnes of Double Oak, Texas in the one-game Round of 24 eliminations, 236-205.
The second Round of 16 match will feature No. 9 Kris Prather of Plainfield, Illinois, who won his first PBA Tour title in the PBA Scorpion Championship during the PBA World Series of Bowling X in March, against two-time tour winner and No. 8 qualifier Tom Daugherty of Tampa, Florida. Prather won his Round of 24 match over No. 24 Darren Tang of San Francisco, 207-183. As the No. 8 seed, Daugherty received the last of eight first-round byes.
For the Race to 2 Points format, each game won in the match is worth one point. If the players split the first two games, a ninth and 10th frame tie-breaker is used to award the deciding point.
The winner of the Playoffs will earn a $100,000 first prize.
Round of 16 action continues on FS1 April 29, May 6, and May 13 at 9 p.m. ET. The eight winners advance to the Round of 8 competition beginning May 20 on FS1. The four survivors from the Round of 8 will return to Portland for the semifinal and final rounds June 1-2, with both shows airing live on FOX at noon ET.
To view a PBA Playoffs bracket click on: https://www.pba.com/Content/Images/playoffs/2019_PBA_Playoff_Bracket.pdf
PBA PLAYOFFS
Bayside Bowl, Portland, Maine
Round of 16 pairings (Race to 2 Points format based on one point per game won)
Match 9 – Jason Belmonte, Australia vs. Kyle Troup, Taylorsville, N.C. (airs April 22)
Match 10 – Kris Prather, Plainfield, Ill. vs. Tom Daugherty, Tampa, Fla. (airs April 22)
Match 11 – Rhino Page, Orlando, Fla., vs. Anthony Simonsen, Little Elm, Texas (airs April 29).
Match 12 – Andres Gomez, Colombia vs. EJ Tackett, Bluffton, Ind. (airs April 29).
Match 13 – Wes Malott, Pflugerville, Texas, vs. Jakob Butturff, Tempe, Ariz. (airs May 6).
Match 14 – Jesper Svensson, Sweden, vs. Bill O'Neill, Langhorne, Pa. (airs May 6).
Match 15 – Dom Barrett, England, vs. Norm Duke, Clermont, Fla. (airs May 13).
Match 16 – Kyle Sherman, O'Fallon, Mo., vs. Sean Rash, Montgomery, Ill. (airs May 13).