PBA's 60th Anniversary Celebration to Include Most Memorable Moments
September 12, 2017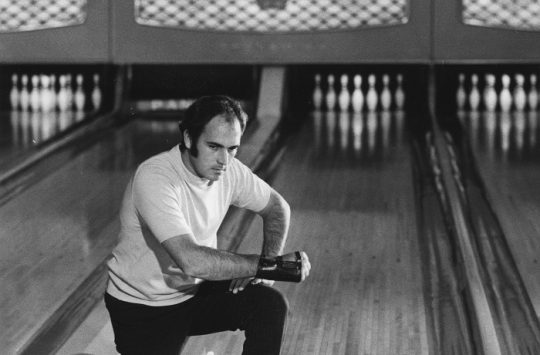 CHICAGO (Sept. 12, 2017) – The Professional Bowlers Association is making plans for a festive anniversary season in 2018, 60 years after a group of 33 of the most famous bowlers in a bygone era met with Akron, Ohio, lawyer Eddie Elias and agreed to support a new professional bowling organization.
As the PBA prepares to celebrate its 60th anniversary with a variety of special tributes, including a new Go Bowling! PBA 60th Anniversary Classic tournament, a 60th Anniversary celebration dinner, the highlight of the 2018 season will be the unveiling of the "60 Most Memorable Moments in PBA History" as a part of the PBA's ESPN television schedule beginning on Feb. 4 and concluding on May 13, 2018.
In preparation for the anniversary season, a panel of PBA historians, veteran bowling writers and long-time PBA Tour competitors are reviewing a list of more than 100 of the PBA's most memorable victories, defeats, triumphs and disappointments, record-setting achievements and headline news stories to come up with a list of the top 60 moments.
The list is formidable, including such moments as:
● The inaugural meeting when the PBA was born;
● PBA's first national telecast;
● Don Johnson's historic 299 in the Tournament of Champions…and Jack Biondolillo's first nationally-televised 300 game;
● Mark Roth's unmatched season when he won eight PBA Tour titles;
● Venezuela's Amleto Monacelli becoming PBA's first international hall of famer;
● Earl Anthony breaking the million-dollar barrier in career earnings;
● Walter Ray Williams Jr. breaking Earl Anthony's career titles record;
● Kelly Kulick becoming the first-and-only woman to win a PBA Tour title;
● Pete Weber winning the U.S. Open for the fifth time…
How would you rank these and more than 100 additional moments over a span of 60 years? That's the task many of our sport's most experienced observers have been asked to answer, and fans will be invited to make their selections as well.
There will be a special line of PBA 60th Anniversary merchandise, video highlights of PBA's most memorable moments shared on PBA's YouTube channel as well as Xtra Frame. The PBA 60th Anniversary Dinner and hall of fame ceremonies will air live on Xtra Frame, and components of the historical moments will be built into Concrete Software's PBA Challenge Mobile Game, and more. A special logo has been created to also commemorate the special year in PBA history.
Other special features of the 2018 celebration planning in cooperation with the Go Bowling! PBA Tour in 2018 will be announced later. Throughout the season, the 60th Anniversary celebration will be featured on the PBA Network's comprehensive mass media and social media outlets as well as on PBA's exclusive online video streaming service, Xtra Frame (visit xtraframe.tv for subscription information).
To enlist in all PBA Network outlets, visit pba.com and click on the PBA Network link for easy access to sign up for PBA's exclusive email list, links to PBA's Facebook page (Professional Bowlers Association), YouTube channel (PBABowling), Twitter feeds (@PBATOUR) and Instagram (@pbatour).