PBA Spare Shots: Tour Points Leaders Heading to Japan, PBA Regional Update, More
April 19, 2019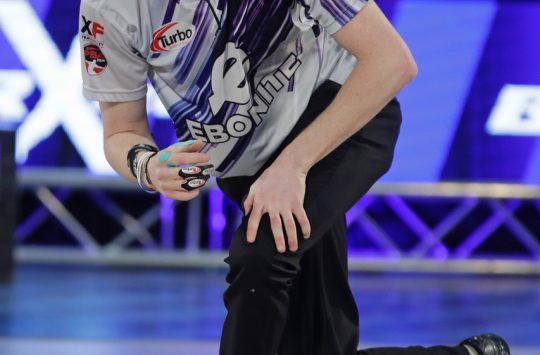 BY BILL VINT
TWO-YEAR PBA TOUR POINTS LEADERS SET FOR DHC PBA JAPAN INVITATIONAL
While the inaugural PBA Playoffs continue to play out on Monday nights on FS1, 10 PBA Tour players who led the combined 2018 and 2019 competition points standings will be part of a 16-player international contingent that will bowl against 16 top Japanese players in the 2019 DHC PBA Japan Invitational that will take place April 27-29 at Tokyo Port Bowl.
The tournament, which will air in its entirety on FloBowling, will award a PBA Tour title to the winner if he/she is a PBA member along with an estimated $35,000 first prize.
PBA members who qualified for invitations based on competition points are 2018 PBA Player of the Year Andrew Anderson, Anthony Simonsen, EJ Tackett, Kris Prather, Stuart Williams, Jason Belmonte, Marshall Kent, Bill O'Neill, Jakob Butturff and Tom Smallwood. Also in the international field will be defending DHC Japan champion Dom Barrett and PBA Tour stars Kyle Troup, Sean Rash and team captain Chris Barnes who have been selected by tournament sponsor DHC. Rounding out the international field will be PBA Japan Region champion Yuka Tsuchiya and a Korea PBA player to be named later.
The international players will be joined by 16 Japanese bowlers who will qualify during a pre-tournament qualifier a week ahead of the main event. PBA's official live streaming partner, FloBowling, will cover the event live in the early morning hours in the U.S., but will be archived for viewing at more convenient hours for American subscribers. For more information, visit flobowling.com.
PBA50 TOUR SEASON-OPENER NOW AVAILABLE "ON DEMAND" AT FLOBOWLING.COM
The stepladder finals of the PBA50 Johnny Petraglia BVL Open, the opening event of the 2019 PBA50 Tour season, are now available to FloBowling subscribers. Visit the FloBowling.com archives: https://www.flobowling.com/events/6329194-2019-pba50-johnny-petraglia-bvl-open-presented-by-brunswick.
PBA REGIONAL UPDATE: 13-YEAR MEMBER KEITH LAING WINS FIRST PBA TITLE
After 13 years of membership, Keith Laing of Oakdale, Conn., defeated Gary Haines of West Babylon, N.Y., 222-209, to capture his first PBA Regional title in the PBA Bowlers Discount Eastern Open presented by DV8 at AMF Towson Lanes in Towson, Md., Sunday.
Laing, who earned $2,500, had four career runner-up finishes while competing in the PBA West Region. He qualified fourth in Towson, earning a two-round bye in the bracket elimination finals before eliminating Johnathan Bower of Middletown, Pa., 2-1, in the best-of-three game Round of 8. He then defeated Greg Ostrander of Brick, N.J., 204-162, in the semifinal match.
Haines, looking for his second career title, qualified sixth. He defeated Michael Ruben of Selden, N.Y., 2-0; Dominick Snyder of Glen Burnie, Md., 2-1, and Carvel Waters of Ft. Washington, Md., 279-176, in his matches leading up to the championship round.
• Jakob Butturff of Tempe, Ariz., posted a 12-4 match play record and a 24-game total of 5,730 pins Sunday to win the PBA Earl Anthony West/Northwest Memorial at Earl Anthony's Dublin Bowl in Dublin, Calif., while Craig Miller of Tracy, Calif., won the PBA50 portion of the doubleheader weekend.
Butturff, who won the USBC Masters on April 1 for his first major PBA Tour championship, cruised to his 21st PBA Regional title and the $2,500 first prize by 121 pins over PJ Haggerty of Roseville, Calif., who had an 10-6 record and a 24-game total of 5,609 pins, including match play bonus pins.
Miller went 12-4 in the 16-game PBA50 match play finals and knocked down 5,307 total pins for his 24 games to top Wayne Garber of Modesto Calif., by 76 pins. Miller collected $1,500 and his second PBA50 regional title.
• Jason Lundquist of Columbus, Ohio defeated Brandon Novak of Chillicothe, Ohio by 131 pins Sunday to win the Professional Bowlers Association Debbie & Leo Nunan Memorial Central Open presented by Track at AMF Stardust Lanes in Grove City, Ohio.
Lundquist finished with an 9-2-1 match play record and a total of 4,471 pins for 20 games, including match play bonus pins, for his fifth career regional title. He also earned $2,500.
• Dick Allen of Lexington, S.C., won $2,500 and his 23rd PBA South Region title Sunday, defeating Colin Champion of Spring Hill, Fla., 213-195, to win the third annual PBA Jac's Lanes Valdosta South Open at Jac's Lanes in Valdosta, Ga.
Champion qualified in the number one position for the stepladder finals with a 17-game pinfall of 3,768, 43 pins ahead of Allen. But in the title game, he couldn't match Allen's mid-game string of four strikes.
In first stepladder match, Giorgio Clinaz defeated one-time PBA Tour champion Cristian Azcona of Puerto Rico, 209-195. Allen then eliminated Clinaz, 171-162, in the semifinal match.
• The only event heading into the Easter weekend is the PBA50 Sarasota Ford South Open April 18-20 at Sarasota Lanes in Florida.
• Closing the April PBA Regional calendar over the April 26-28 weekend will be the Houston Copperfield Bowl Southwest Challenge for non-title winners, presented by Global 900; the Brighton Construction Myrtle Beach South Open at Myrtle Beach Bowl in South Carolina; the Oklahoma City Southwest Open presented by Roto Grip at Planet Bowl in Oklahoma; the PBA/PBA50 Tumwater Lanes Doubles event presented by MOTIV in Tumwater, Wash., and the Greater Richmond Central Open at Richmond 40 Bowl in Richmond, Ind.
● For complete PBA Regional schedules, rules and entry information, visit pba.com, open the "schedules" tab and click on PBA Regional Tours to find the event(s) in your area…and remember, you can follow "live scoring" for all PBA Regional events on pba.com (easily accessible for Apple and Android device users using the PBA app).
QUICK NOTES
• FloBowling has announced it will live-stream the 2019 Teen Masters from Sawgrass Lanes in Fort Lauderdale, Florida. The event will take place June 29-July 5. Visit FloBowling.com for more information.
• PBA Hall of Famer Chris Barnes and England's Stuart Williams discuss the proper term for crossover strikes, bowling in Japan, the Weber Cup and other "inside the PBA Tour" topics on FloBowling's "Going Brooklyn Live Show." It's an example of the diverse content available to FloBowling subscribers. To watch, click here: https://www.flobowling.com/video/6449034-going-brooklyn-talking-with-chris-barnes-and-stu-williams