Pennsylvania bowler adds to family legacy with 300 game at 2022 USBC Open Championships
May 09, 2022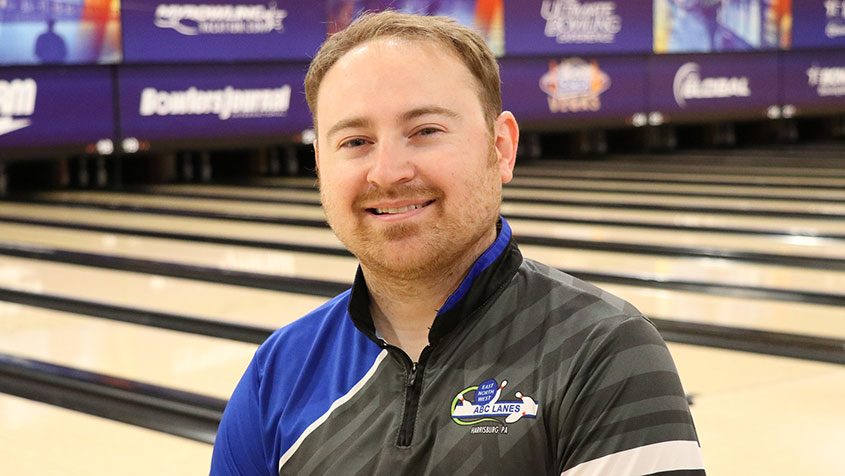 LAS VEGAS
- Prior to his team event each year at the
United States Bowling Congress Open Championships
, Johnathan Bower of Middletown, Pennsylvania, has been able to watch his father, Darryl, and uncle, Gary, be introduced as celebrities for their success at the tournament.
After his performance Sunday at the South Point Bowling Plaza, he'll be able to join them during the introductions after rolling a perfect game to finish his singles competition at the 2022 edition of the event.
The 33-year-old right-hander started singles with games of 248 and 191 before connecting for 12 consecutive strikes, finishing with a 739 series.
David Jecko of Whitesboro, New York, leads Regular Singles at the 2022 USBC Open Championships with a 788 series.
The Bower family first added its name to the tournament's record book when Gary helped the family-owned ABC Lanes-East capture the Team All-Events title at the 1970 event in Knoxville, Tennessee.
At the 1978 Open Championships in St. Louis, Gary and Darryl teamed up to help ABC Lanes-West return to the top of the leaderboard in Team All-Events on the way to a second win representing ABC Lanes.
Gary, who was inducted into the USBC Hall of Fame in 2001, made his 50th appearance in 2017, also at the South Point Bowling Plaza, and now has 54 appearances at the Open Championships. Darryl, a Professional Bowlers Association Tour champion, made his 38th tournament appearance this week.
Johnathan gained national notoriety after earning an exemption on the PBA Tour for the 2011-2012 season, but he's been battling hand and wrist injuries over the past couple years, limiting how much he's been able to compete on the national tour.
He still makes his annual visit to the Open Championships alongside his family, with the 2022 event marking his 10th consecutive appearance.
"It's definitely nice to get it done, having been close a few times in the past," Bower said. "I don't bowl as much anymore with some of the injuries, so it's nice to achieve something here. I made a joke that it would be nice to hear my name announced, too, so it will be great to be named with them at the beginning of the squad from now on."
In addition to spending time on the lanes with his father and uncle, Johnathan's brother Brandon and his wife, Kayla, and cousins, Nicole and Brooke, also were on-site and on the lanes as Johnathan made his run at perfection Sunday.
Nicole and Brooke have competed in recent years on the Professional Women's Bowling Association Tour, and Brooke collected a victory at the 2015 USBC Women's Championships, winning the Diamond Singles title.
During his singles set, Bower ran into some trouble in Game 2 as the oil pattern began to transition. He made a ball change toward the end of the game, which set the stage for his final game.
"I was feeling good going into the last set," Bower said. "In the second game, I ran into a little transition. I threw a couple of really good ones and didn't get the results I thought, so I switched. I needed a little more in the back."
The 739 set helped push Bower to a 1,867 all-events total in 2022. He had 601 in team and 527 in doubles.
The Bower family has three centers in Harrisburg and Mechanicsburg - ABC Lanes East, ABC Lanes North and ABC Lanes West. Bowling always has been about family and seeing the tradition continue from generation to generation.
"It's always great to come out and bowl with them," Bower said. "We have a family business and history since 1958, when my grandfather started with the bowling centers. His name was Jack, which also is my 3-year-old son's name. We're going to try and keep it going."
Visit us on Facebook at the official
USBC Open Championships page
.