Pennsylvania bowler celebrates 50 consecutive years at 2022 USBC Open Championships
May 07, 2022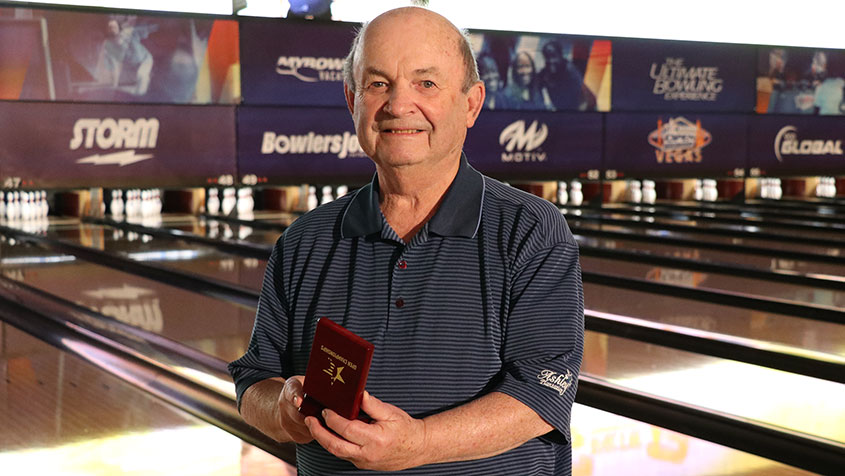 LAS VEGAS
- The 50-Year Club at the 
United States Bowling Congress Open Championships
swung the door wide open Thursday, and Peter Schmehl from Wernersville, Pennsylvania, was invited in.
He became the 19th bowler to celebrate this milestone occasion at the South Point Bowling Plaza during the 2022 event.
Schmehl, a 78-year-old right-hander, was honored with a plaque, chevron and diamond lapel pin. A smile never left his face from the time he entered the squad room until his team event was complete.
"This is something I have been looking forward to a while," Schmehl said. "It was a really good day being with my teammates and the other bowlers."
What makes this even more special for Schmehl was that the 2022 tournament marks his 50th consecutive appearance on the championship lanes. He made his debut in 1972 in Long Beach, California.
"In 1972, back in my younger days, it was my first time on the West Coast, so I did all the touristy things," adds Schmehl. "I remember going to Disneyland, and even seeing Hollywood star, Martha Raye. It was fun for a guy from small-town Pennsylvania."
Another great memory for Schmehl was his trip to the USBC Open Championships in Indianapolis. The year was 1974, and it was a reunion of sorts.
"I was stationed there in the Army back in the 50s, so I still had some friends in the area, and it was great seeing them," Schmehl said. "We even went to see the Indianapolis 500. That was special."
Over his 50 consecutive years, Schmehl has seen a lot of the country, many places he would have never gotten to if it wasn't for the Open Championships.
"The only time I wasn't sure if I was going to make it was my eighth year, because my daughter was born. I was thinking about staying home, but my wife told me to go, so I went," Schmehl says with a laugh and a twinkle in his eye.
Bowling is a fraternity for Schmehl, as he has made a lot of friends over the decades and has special praise for his teammates.
"Many of us bowl leagues together at Hiester Lanes in Reading (Pennsylvania), and today, I bowled on the Hiester Electric Team," Schmehl said. "It's great sharing today's honor with them."
Schmehl is a former high school bowling coach at Schuykill Valley High School in Leesport, Pennsylvania, where he taught his daughters and others the art of bowling. He still sees kids and their families at his home lanes, but he says it's not the same.
"Back in the day, bowling was the thing to do for youngsters," Schmehl added. "Today, they have so many other options."
Schmehl added to his career numbers at the 2022 Open Championships by rolling a 453 series in singles, 433 in team and 406 in doubles for a 1,292 all-events total. This brings his 50-year total to 71,607 pins and a 159.1 average.
Like everyone else at the South Point Bowling Plaza, Schmehl was excited about Friday's special ceremony honoring bowling legend Glenn Allison on his 70 years of participation at the Open Championships.
"I remember seeing Glenn on the old ABC Saturday afternoon broadcasts," Schmehl said. "I look forward to being in the Plaza and watching Glenn being honored on Friday. What a career."
Does Peter Schmehl see the same honor bestowed upon him in 2042?
"Of course, I would love for it to happen," he says with a laugh.
Visit us on Facebook at the
official USBC Open Championships page.