Perfect game and new leaders highlight busy bowling weekend in Las Vegas
April 02, 2022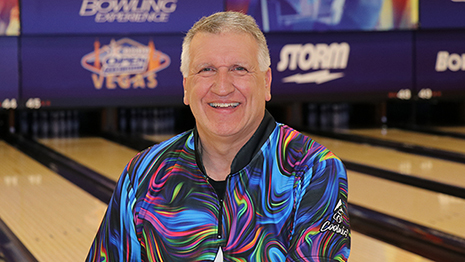 LAS VEGAS -
The Entertainment Capital of the World is buzzing with bowling excitement this weekend, and the main trio of events includes the
United States Bowling Congress Open Championships
,
Bowlers Journal Championships
and
USBC Masters
.
The three tournaments offer competitive opportunities to bowlers of all ages and skill levels, along with the chance to compete nearly around the clock in a city where sleeping traditionally is optional.
At the USBC Open Championships, which is less than a month into its 129-day run at the South Point Bowling Plaza, William Young of Cortland, New York, rolled the second perfect game of the event, and first during team competition.
A few lanes away Saturday afternoon, a surprising, but still dramatic, final frame saw Parkway Bowl Team 1 of Lakeside, California, slip into the top spot in the Standard Team standings by just two pins with a 2,936 total.
At the Bowlers Journal Championships, being held at the South Point Bowling Center, a short walk from the Bowling Plaza, Benjamin Sobel of Columbus, Ohio, and Nolan White of Franklin, Ohio, started the new day by taking the lead in Open Doubles with a 1,552 performance.
Finally, across town at the Gold Coast Hotel & Casino, a field of more than 400 of the best bowlers in world was whittled down to five finalists, who will compete for $100,000 on Sunday, live on FOX at 1 p.m. Eastern.
Young's run into the record book came in his second game Saturday, sandwiched between scores of 189 and 233 for a 722 series. He helped Foster's Plumbing 1 of Savannah, Tennessee, to a 3,111 total, which is just outside the top 20 in the Regular Team standings.
The 58-year-old right-hander is not new to pressure-filled situations. In 2004, he made a bid for the ultimate in bowling perfection - a 900 series. He bowled games of 299, 299 and 300 for a career-best 898 set.
"This is one of the best feelings ever," Young said. "I've had some good series, but this is an accomplishment unlike anything I've done before. We have a great group, and our goal always is to shoot 3,000, which we did again this year. Just to have them there rooting me on is fantastic."
Before leaving the venue for the day, Young made sure to express his gratitude and give credit where it was due.
He personally thanked the Open Championships lane crew for their hard work, and he gave a shoutout to his ball driller Dan Smith, who also happens to work in one of the on-site booths and predicted the 300 weeks ago.
"Dan drills balls in Fulton, New York, when he's not out here, and he actually drilled this ball for me about two years ago," Young said. "About two weeks ago, he sends me a text that just said '300.' I texted back with some question marks, and he wrote back with 'that's my prediction for you, LOL.' He knows my game well enough to think that, and it came true. It's just unbelievable."
The first 300 of the 2022 Open Championships was rolled in doubles March 25 by 73-year-old James Zaharis of Apalachin, New York, which is less than an hour from Cortland.
This year's appearance on the championship lanes was the 23rd of Young's career and first since 2019, due to COVID-19 causing the cancellation of the 2020 tournament and forcing many teams to miss the 2021 event.
In preparation for the 2020 edition in Reno, Nevada, Young and his teammates purchased some team shirts of which he wasn't particularly fond. It hung in his closet for two years, before being debuted Saturday at South Point. Now, it might be his lucky shirt.
"Before the 2020 tournament, my captain, Merle Foster, sent me a picture of the shirt and told me that's what we were going to be wearing," said Young, who bowls at Ideal Bowling Center in Endicott, New York. "I said, 'man, that's one ugly shirt.' Well, we didn't bowl that year, and we didn't bowl last year, so it sat in my closet until now. This is the first time I've worn it, and they'll never let me hear the end of it."
Young and his teammates will be back on the lanes at the South Point Bowling Plaza for doubles and singles Sunday at 1:30 p.m. Eastern.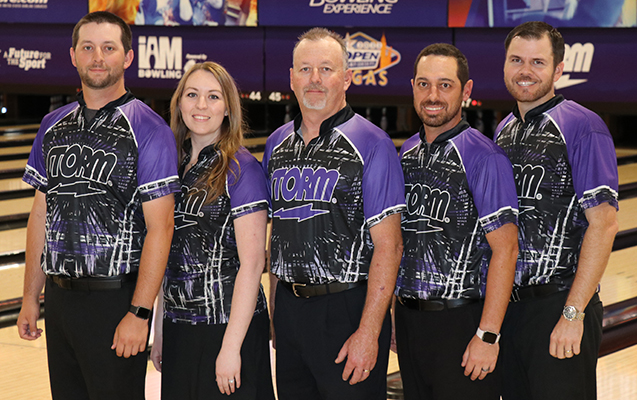 The changing of the guard in Standard Team on Saturday came with a little less fanfare, as the team members didn't even realize they'd taken the lead.
They said they thought they'd bowled OK, but they expected the leading score to be a little higher, when in fact, their total was the fifth-highest score in the short history of the Standard Division.
The division was added to the Open Championships landscape in 2017 and includes teams with combined entering averages of 776-875.
Securing the lead came down to the final frame, with anchor Timothy Ursillo delivering a strike and a nine-count to get just enough. He was working on a ninth-frame strike and had to have the first one in the 10th frame.
Parkway Bowl Team 1 finished with games of 921, 1,073 and 942, edging Whitewater Cheated 3 of Appleton, Wisconsin, which previously held the lead with 2,934.
Ryan Pastorino led the way for Parkway Bowl Team 1 with a 624 series and was followed by Kayla Ursillo (610), Timothy Ursillo (591), Matthew Green (557) and Jeffrey Green (554).
The group bowls league together in San Diego and has been sharing the lanes at the Open Championships for a few years, too. That comfort and familiarity paid off Saturday.
"It feels pretty good to be in the lead," Pastorino said. "We didn't really realize it until the end there, and maybe that was a good thing. It's really exciting and a nice way to start the event."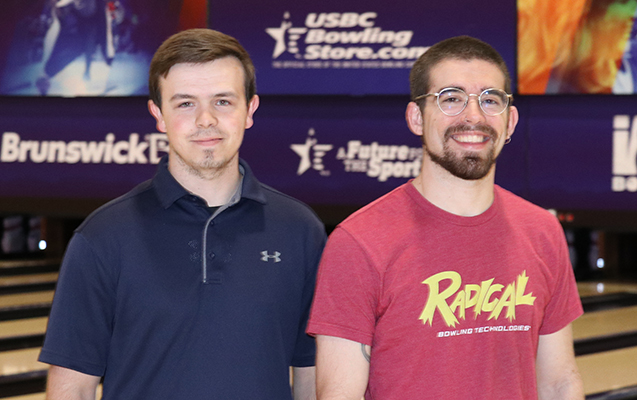 Finally, White and Sobel tie all the tournaments together.
Both were in Las Vegas to compete in the Masters but failed to advance to the 64-player double-elimination match-play bracket.
In making the most of their time in town, they took advantage of the new 12:30 a.m. squad at the Bowlers Journal Championships and ushered in Saturday with some big scores at the South Point Bowling Center.
Sobel, a 27-year-old right-hander, rolled games of 257, 279and 279 for an 815 series, and White, a 25-year-old righty two-hander, added 235, 263 and 239 for a 737 set.
The two catapulted to the top of the Open Doubles standings with a 1,552 total, the second-highest score since the event returned to a three-game format in 2013. In 2017, also at the South Point Bowling Center, it took 1,601 to win.
Sobel and White passed Matthew Anderson of Las Vegas and Ivan Miyasato of Clovis, California, who set the bar on the first day of the 2022 tournament (March 11) with 1,527. Sobel's effort Saturday morning also helped him into second place in Open Singles behind Matt Zitnik of Mayfield Heights, Ohio, who leads with 822.
Earlier in the week, JT Cherpeski of Fairborn, Ohio, rolled the second perfect game of the year on the way to a 767 series. He and White (656) had 1,423 in doubles.
White now will shift his attention to the Open Championships, where he'll compete Tuesday and Wednesday, and he'll hit the lanes extra prepared, since the Bowlers Journal Championships features the same oil pattern being used for doubles and singles at the Open Championships.
Sobel opted not to hit all three tournaments in one trip, and he'll return to Las Vegas for his shot at the Open Championships later in the year. Competition will run daily through July 18.
For bowling fans in the Las Vegas area, spectators always are welcome at the Open Championships and Bowlers Journal Championships, while seeing the conclusion of the Masters in person might provide a special treat for the area's biggest bowling fans.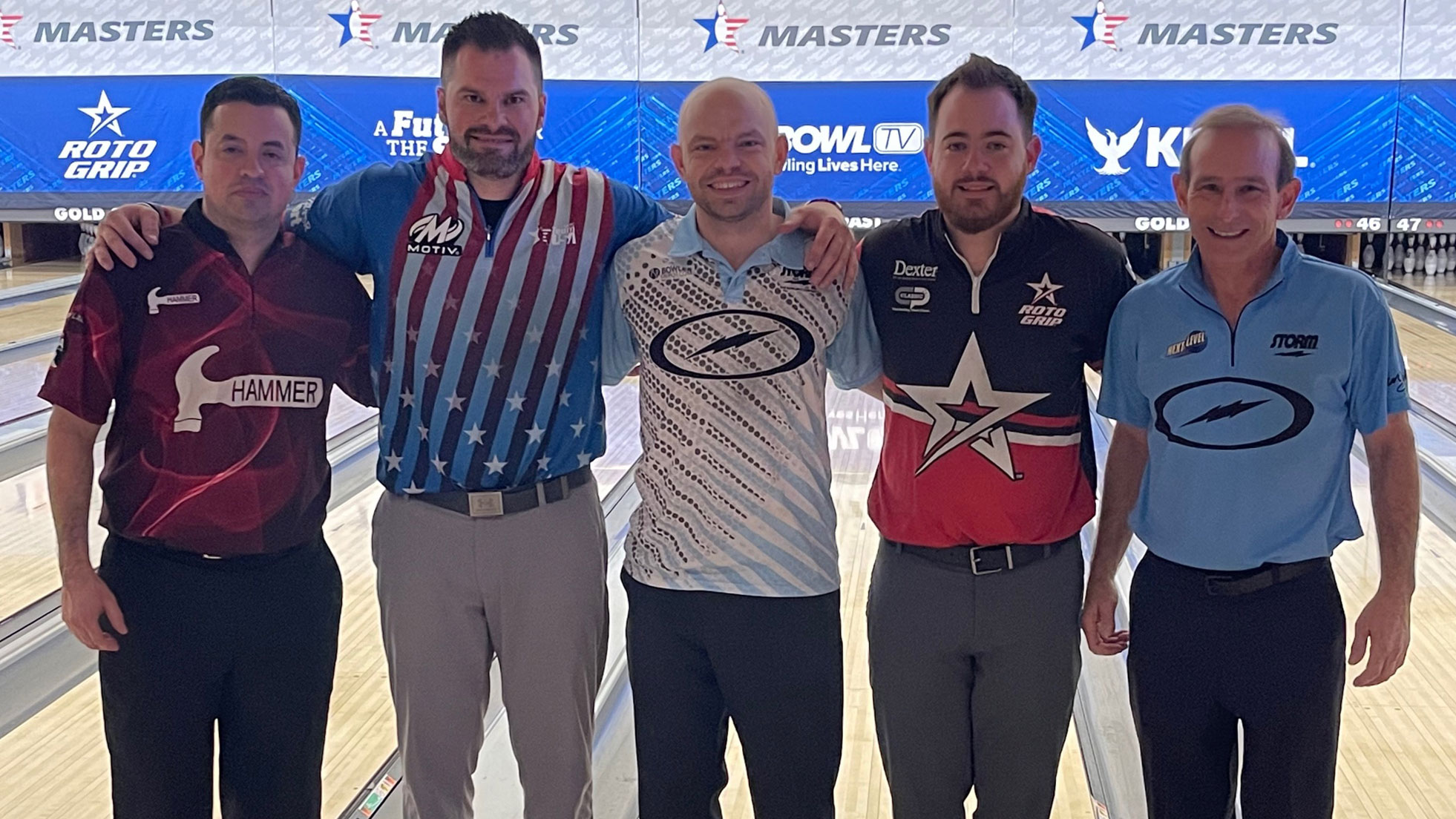 The championship round Sunday will feature USBC and
Professional Bowlers Association
Hall of Famer Norm Duke of Clermont, Florida, as the top seed.
He'll be joined on the show by new Las Vegas resident Anthony Simonsen, No. 3 Brad Miller of Lee's Summit, Missouri, No. 4 AJ Johnson of Oswego, Illinois, and No. 5 Shawn Maldonado of Sugarland, Texas.
Visit us on Facebook at the
official USBC Open Championships page
.