Pete Weber finishes as top qualifier at 2022 USBC Senior Masters
June 09, 2022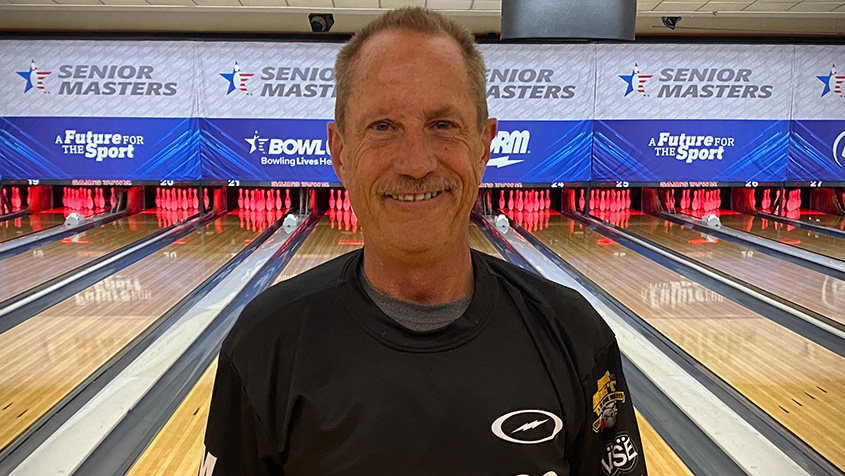 QUALIFYING - RD. 3
BRACKET

LAS VEGAS
- United States Bowling Congress and Professional Bowlers Association Hall of Famer Pete Weber of St. Ann, Missouri, averaged more than 263 during his final round of qualifying Thursday at the 2022
USBC Senior Masters
to lead the top 64 players into the double-elimination bracket starting Friday at the Sam's Town Bowling Center.
The 2013 and 2016 USBC Senior Masters champion rolled games of 300, 215, 299, 255 and 249 for a 1,318 total Thursday to finish his 15 games of qualifying with a 3,524 total, a 234.9 average.
Weber will be the No. 1 seed for the bracket starting Friday at noon Eastern and face Jon DeLaney of McKinney, Texas, in the first round. DeLaney earned the final spot in the bracket after finishing in 64th place with a 3,080 total, a 205.3 average.
USBC and PBA Hall of Famer Chris Barnes of Denton, Texas, finished qualifying in second with 3,491. Barnes finished as the runner-up at the 2021 Senior Masters.
USBC Hall of Famer Lennie Boresch Jr. of Kenosha, Wisconsin, continued the momentum from this runner-up finish last weekend at Sam's Town during the Super Senior Classic and finished in third with 3,484.
Opening-round leader Richard Benard of Roanoke, Texas, was fourth with 3,450, and USBC and PBA Hall of Famer Parker Bohn III of Jackson, New Jersey, finished fifth with 3,449.
Defending champion Tom Hess of Granger, Iowa, finished in 21st place with a 3,257 total and will face No. 44 Mike Keough of Stockton, California, in the opening round.
All competitors at the 2022 Senior Masters bowled three five-game blocks over three days on the 40-foot oil pattern being used this week. Each squad bowled one block on the fresh, one round on the burn and five games on the double-burn.
The top 63 bowlers advanced to join Hess in the bracket. Hess was guaranteed a spot in the bracket as the defending champion and could improve his seeding through qualifying. If he finished outside of the top 63, he would have entered match play as the No. 64 seed.
The left side of the bracket will start the action Friday at Sam's Town at noon Eastern, with the right side of the bracket beginning at 2:30 p.m. Eastern.
All bracket matches leading up to Sunday's stepladder finals will feature a three-game total-pinfall format. The top five players will advance to the stepladder, which will begin at 1 p.m. Eastern on
BowlTV
.
Since the stepladder will be broadcast on BowlTV, the top seed will have to be defeated twice in the true double-elimination format. The winner of the 2022 Senior Masters will take home a major championship on the PBA50 schedule and first-place prize of $20,000.