Pete Weber Takes Lead at Senior U.S. Open
June 02, 2016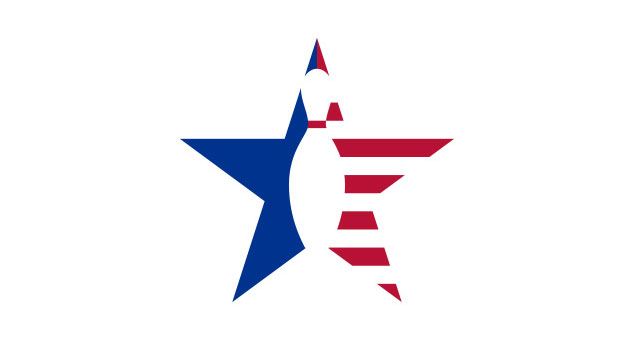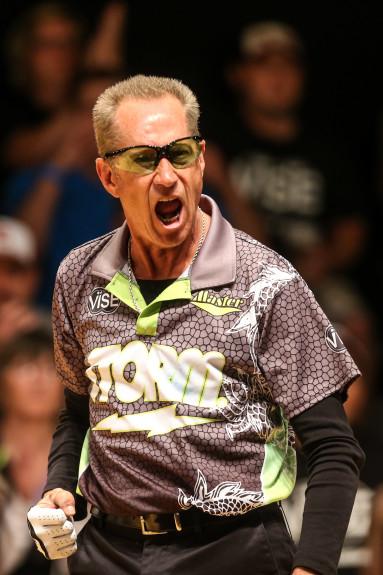 LAS VEGAS (June 2, 2016) – Defending champion Pete Weber of St. Ann, Mo., put together a 7-5 record and averaged 234.5 Thursday after two match play rounds to move into the Suncoast PBA Senior U.S. Open presented by 900 Global lead at the Suncoast Bowling Center.
In his quest to win a record fourth consecutive PBA50 Tour title, the PBA Hall of Famer put together a 5-1 record in the morning round and then followed up with a 2-4 record in the afternoon round.
"I ran into some tough matches in that second round," said the 53-year-old Weber. "It seemed like my opponents were all throwing the first six or seven strikes at me and that's a tough challenge to overcome."
Weber moved into the lead in the position round match when he beat weekend warrior tournament bowler Mike Klosin of Windham, N.H., 278-216. Weber has a 30-game 7,094 pinfall total (including bonus pins), just 15 pins ahead of Klosin in second with 7,079.
"Overall I was satisfied with the way I bowled all day, but that 278 was probably my best game of the day," Weber added. "I'm really relaxed and throwing the ball the way I want to, so the plan is just to hit the pocket, and if I don't, leave a spare I can make."
Weber led a field of 20 players who advanced to Friday's final two six-game match play rounds that will determine the top four players for the stepladder finals at 4:15 p.m. PT (7:15 p.m. ET).
Bowling as a non-member in his first PBA50 Tour tournament, the 51-year-old Klosin compiled a 9-3 record and averaged 223.5 for the day.
"To be in second surprises me but I was confident I could make a good showing here," said Klosin, who is originally from the Buffalo suburb of Orchard Park, N.Y., one of the country's bowling hotbeds. "I've bowled against some of the best players western New York has to offer, so even though I don't have a lot of experience at the national tournament level, I've bowled against some high-caliber players in the east and western New York for most of my life."
Three-time PBA50 Tour winner Harry Sullins of Chesterfield Twp., Mich., is in third after a 7-5 record in match play and finishing with a 7,033 pinfall.
Hall of Famer Norm Duke of Clermont, Fla., who led after the first four rounds, fell to fourth after going 5-1 in the first match play round but then failed to win a match in the second round finishing with 5-7 overall record and 6,938 pinfall. Duke won the 2014 Senior U.S. Open and finished third in 2015.
Friday's match play rounds and stepladder finals will be covered live on PBA's Xtra Frame online video streaming service. Live scoring also is available on PBA's official website, pba.com.
SUNCOAST PBA SENIOR U.S. OPEN
Presented by 900 Global
Suncoast Bowling Center, Las Vegas, Thursday
FIFTH ROUND STANDINGS
(After 30 games. Top 20 advance to Friday's match play. Includes match play record and total pinfall including bonus pins)
1, Pete Weber, St. Ann, Mo., 7-5, 7,094.
2, n-Mike Klosin, Windham, N.H., 9-3, 7,079.
3, Harry Sullins, Chesterfield Twp., Mich., 7-5, 7,033.
4, Norm Duke, Clermont, Fla., 5-7, 6,938.
5, Andrew Frawley, Australia, 7-5, 6,925.
6, Walter Ray Williams Jr., Oxford, Fla., 9-3, 6,901.
7, Eddie Graham, Centerville, Ohio, 6-6, 6,877.
8, Brian Voss, Centennial, Colo., 6-6, 6,855.
9, Mike Edwards, Tulsa, Okla., 8-4, 6,842.
10, (tie) Eric Forkel, Henderson, Nev., 5-7, and Amleto Monacelli, Venezuela, 7-5, 6,834.
12, Mike Scroggins, Amarillo, Texas, 8-4, 6,786.
13, Brian Kretzer, Dayton, Ohio, 8-4, 6,770.
14, Rick Steelsmith, Wichita, Kan., 5-7, 6,762.
15, Ron Mohr, Las Vegas, 7-5, 6,721.
16, (tie) Parker Bohn III, Jackson, N.J., 6-6, and Johnny Petraglia, Jackson, N.J., 7-5, 6,660.
18, Dave Arnold, Elk Grove, Calif., 7-5, 6,648.
19, Tom Baker, King, N.C., 5-7, 6,627.
20, n-Mike Taylor, Las Vegas, 5-7, 6,605.
Did not advance:
21, David Williams Jr., Omaha, Neb., 6-6, 6,583, $1,400.
22, Christer Petersson, Gothenburg, Sweden, 5-7, 6,579, $1,375.
23, Robert Brown, Cody, Wyo., 6-6, 6,578, $1,350.
24, Don Blatchford, Santa Monica, Calif., 7-5, 6,558, $1,325.
25, Jim Murtishaw, Menifee, Calif., 6-6, 6,534, $1,300.
26, n-Andrew Neuer, Lewisburg, Penn., 7-5, 6,532, $1,280.
27, n-Bill Oakes, Lawton, Okla, 6-6, 6,488, $1,260.
28, Jack Jurek, Lackawanna, N.Y., 6-6, 6,485, $1,240.
29, Jerry Brunette Jr., Rochester, N.Y., 8-4, 6,480, $1,220.
30, Brian LeClair, Delmar, N.Y., 5-7, 6,474, $1,200.
31, Bob Learn Jr., Erie, Pa., 5-7, 6,466, $1,190.
32, Hugh Miller, Mercer Island, Wash., 6-6, 6,450, $1,180.
33, n-Paul Renteria, Henderson, Nev., 4-8, 6,449, $1,170.
34, Mark Williams, Beaumont, Texas, 5-7, 6,436, $1,160.
35, n-Warren Eales, Chandler, Ariz., 4-8, 6,420, $1,150.
36, Bryan Goebel, Shawnee, Kan., 2-10, 6,415, $1,140.
37, n-Alvin Lou, El Cajon, Calif., 5-7, 6,337, $1,130.
38, John Dudak, Orland Park, Ill., 5-7, 6,324, $1,120.
39, Mike Kanada, Camarillo, Calif., 6-6, 6,270, $1,110.
40, John Burkett, Southlake, Texas, 2-10, 6,176, $1,100.
n-denotes non-member