Pete Weber Wins PBA50 South Shore Open for Record Sixth 2016 Title
July 29, 2016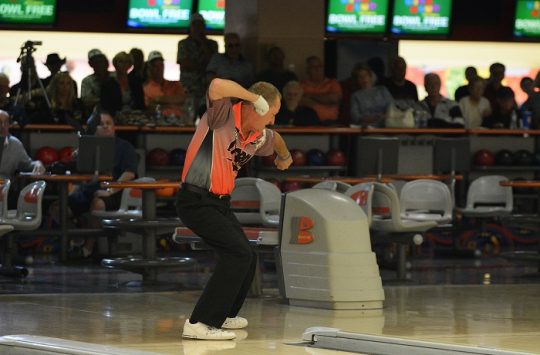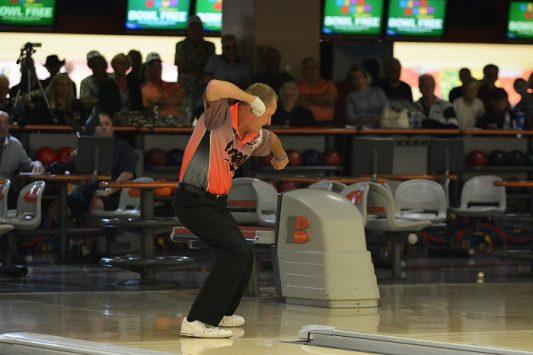 HAMMOND, Ind. (July 28, 2016) – The Pete Weber Show rolled through Hammond, Ind., Thursday night, adding another record performance to an unprecedented season in the PBA50 South Shore Open presented by DV8 at Olympia Lanes.
Weber, with a 241-203 victory over top qualifier Lennie Boresch Jr. of Kenosha, Wis., won a record sixth PBA50 Tour title in a single season and improved his all-time PBA titles total to 99, tying Walter Ray Williams Jr. in their race to become the first bowler in PBA history to win a combined total of 100 PBA Tour, PBA Regional, PBA50 Tour and PBA50 Regional titles. Weber, who now has 10 PBA50 Tour titles, also has won 37 PBA Tour titles, a PBA-record 48 Regional titles and four PBA50 Regional titles.
"Walter's beat me in everything else," Weber said, "so if he gets to 100 first, oh, well."
In continuing his dominant season, winning two more titles than any previous PBA50 player in a single year, Weber said, "I don't even know what to say about it. My dad (bowling legend Dick Weber) always said it takes breaks to win, and he'd rather be lucky than good. But when you're good and you're lucky, it's pretty amazing.
"And as much fun as I've had this year, I honestly expect someone is going to come along and break my record. There are so many good bowlers coming along, this record won't last."
Weber, after qualifying third, defeated Bryan Goebel of Shawnee, Kan., 238-224, to advance to the title match. In that match, Weber left a solid 9 pin in the sixth frame, which caused a couple of fans in the crowd to laugh at the bad break.
"That might have been funny to them, but it wasn't to me," Weber said. "It kinda peed me off, and everyone out here knows you don't pee-off Pete Weber. That only makes me bowl better."
He responded with four strikes to overtake and beat Goebel.
In the title match, the worst break struck Boresch when he left a light-pocked 7-10 split in the fifth frame to stop a string of two strikes. Weber responded with five strikes in a row before suffering his own pocket 7-10, but by then he had a lead Boresch couldn't overcome.
In the second match, Goebel started with six strikes before leaving a 4 pin. His 55-pin lead in the fifth frame was too much for Gregg Zicha of Glen Ellyn, Ill., to overcome.
In the first match, Zicha took advantage of PBA Hall of Famer Amleto Monacelli's struggles on the left lane to eliminate the Venezuelan native, 183-170. Monacelli had three open frames and only two strikes through the first nine frames while Zicha limited his errors to one missed split conversion.
The tour's next stop is the PBA50 Dave Small's Championship Lanes Classic presented by Roto Grip in Anderson, Ind., beginning Sunday and concluding on Wednesday, Aug. 3. All competition rounds will be covered live, exclusively on PBA's online bowling channel. Xtra Frame. For subscription information, visit pba.com and click on the Xtra Frame link.
PBA50 SOUTH SHORE OPEN PRESENTED BY DV8
Olympia Lanes, Hammond, Ind., Thursday
Final Standings:
1, Pete Weber, St. Ann, Mo., $7,500.
2, Lennie Boresch Jr., Kenosha, Wis., $4,000.
3, Bryan Goebel, Shawnee, Kan., $2,500.
4, Gregg Zicha, Glen Ellyn, Ill., $2,000.
5, Amleto Monacelli, Venezuela, $1,750.
Stepladder Results:
Match One – Zicha def. Monacelli, 183-170.
Match Two – Goebel def. Zicha, 259-212.
Semifinal Match – Weber def. Goebel, 238-224.
Championship – Weber def. Boresch, 241-203.
Modified Match Play Round 2 (after six games, including match play bonus pins:
1, Boresch, 5-1, 1,662.
2, Weber, 4-1-1, 1,617, $100.
3, Goebel, 5-1, 1,569.
4, Monacelli, 3-3, 1,527.
5, Zicha, 5-1, 1,484.
6, ss-Sam Maccarone, Blackwood, N.J., 4-2, 1,470, $1,500.
7, ss-Marc Lineberry, Camanche, Iowa, 3-3, 1,443, $1,500.
8, Parker Bohn III, Jackson, N.J., 3-3, 1,442, $1,500.
9, Eddie Graham, Centerville, Ohio, 1-4-1, 1,430, $1,250.
10, Brian Voss, Centennial, Colo., 2-4, 1,425, $1,250.
11, Walter Ray Williams Jr., Oxford, Fla., 3-3, 1,359, $1,250.
12, Jerry Brunette Jr., Rochester, N.Y., 4-2, 1,347, $1,250.
13, Norm Duke, Clermont, Fla., 2-4, 1,311, $1,250.
14, Robert Brown, Cody, Wyo., 1-5, 1,304, $1,250.
15, ss-Warren Nelson, Middleburg, Fla., 1-5, 1,302, $1,250.
16, Kenny Parks, Hammond, Ind., 1-5, 1,142, $1,250.
Modified Match Play Round 1 (after five games, including match play bonus pins):
17, Robert Nelson, Las Vegas, 2-3, 1,179, $1,200.
18, Gary Alstott, Washington, Ill., 3-2, 1,160, $1,100.
19, Sammy Ventura, Syracuse, N.Y., 2-3, 1,149, $1,100.
20, ss-Dave Bernhardt, Romeo, Mich., 2-3, 1,140, $1,100.
21, Brad Snell, Mount Prospect, Ill., 2-3, 1,103, $1,100.
22, Doug Becker, Clermont, Fla., 2-0, 1,087, $1,100.
23, Mark Sullivan, Indianapolis, 1-4, 1,023, $1,100.
24, ss-James Knoblauch, Waukesha, Wis., 0-5, 996, $1,100.
Other Cashers (after five-game cashers' round):
25, x-Ernie Segura Jr., Taylor, Mich., 1,064, $1,000.
26, ss-Emilio Mora Sr., Defiance, Ohio, 1,062, $1,000.
27, ss-Paul McCordic, Sugar Land, Texas, 1,051, $1,000.
28, ss-John Dudak, Orland Park, Ill., 1,050, $1,000.
29 (tie), ss-Michael Henry, Brunswick, Ohio, and Brian Cooper, Henderson, Nev., 1,049, $1,000.
31, Mike Scroggins, Amarillo, Texas, 1,025, $1,000.
32, ss-Dennis Lane, Kingsport, Tenn., 1,023, $1,000.
33, ss-Steve Stein, Staten Island, N.Y., 989, $1,000.
34, Brian Kretzer, Dayton, Ohio, 987, $1,000.
35, ss-Steven Jansson, Barnes, Wis., 963, $1,000.
x-Bernhardt def. Segura in a one-game roll-off for the 24th berth in match play, 216-210.
ss-denotes PBA60 player; n-denotes non-member
300 Games: Pete Weber, Eddie Graham, Warren Nelson (2), Steve Stein, Walter Ray Williams Jr., Marc Lineberry.