Pete Weber wins USBC Senior Masters
June 14, 2013
LAS VEGAS -
Hall of Famer Pete Weber of St. Ann, Mo., claimed the 2013 United States Bowling Congress
Senior Masters
title in dramatic fashion Friday.
Weber delivered a clutch finish after fellow Hall of Famer Lennie Boresch Jr. of Kenosha, Wis., gave him an opening in the final frame. Weber struck on his first shot in the 10th frame to lock up the win, 229-205, at the South Point Bowling Center.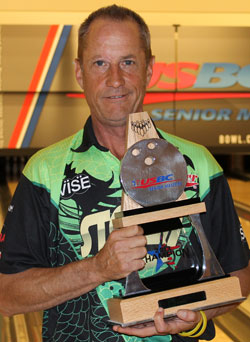 "Even though it's a senior tournament, it ranks right up there with all my other wins," said Weber, who turned 50 in August to become eligible to compete on the PBA50 Tour. "I don't care if it's a senior major or a regular major. All majors are what make you great. I just can't wait for the regular Masters to come along now."
Weber was given a chance to take the title after Boresch stepped up in the final frame needing a double to lock up the win but left the 3-4-6-7-10 split. Boresch failed to convert the split, giving Weber the golden opportunity to win.
"I loved the shot off my hand," said Boresch, who made it through match play unbeaten before the stepladder loss. "I was ready to run it out. I must have gotten it a little slow or something. I probably needed to be tighter and firmer on that shot because it just picked up and took off on me. Bummer."
Sitting on the bench, Weber said he didn't expect to see Boresch make a mistake like that in the closing frame.
"I expected Lennie to throw two strikes and win," Weber said. "I let out a big sigh of relief, though, and just got up there, was aggressive and threw a strike."
A USBC Masters victory has always been the missing piece to complete Weber's bowling career, but even though this victory came in the Senior Masters, Weber said he takes pride in it.
"You know what, this does have that Masters name behind it and that does mean a lot to me," said Weber, who owns 10 career major titles on the PBA's national tour. "I'll take another Senior Masters win anytime."
Weber, who earned $16,000 for the win, came into the stepladder finals as the No. 3 seed and had to win three matches to take the title. In the semifinal, he knocked off local favorite Kerry Painter of Henderson, Nev., 204-182.
In his first match of the day, Weber took down fellow Hall of Famer Wayne Webb of Grove City, Ohio, 247-229. Webb defeated No. 5 seed David Axon of Bellevue, Neb., 212-193, to open the stepladder finals.
For more information on the Senior Masters, visit
BOWL.com/SeniorMasters
.
2013 USBC SENIOR MASTERS
At South Point Bowling Center, Las Vegas
Friday's results

STEPLADDER FINALS
Final standings
1, Pete Weber, St. Ann, Mo., 680 (three games), $16,000
2, Lennie Boresch Jr., Kenosha, Wis., 205 (one game), $8,000
3, Kerry Painter, Henderson, Nev., 182 (one game), $6,000
4, Wayne Webb, Grove City, Ohio, 441 (two games), $4,600
5, David Axon, Bellevue, Neb., 193 (one game), $3,700
Stepladder results
Match One - Webb def. Axon, 212-193
Match Two - Weber def. Webb, 247-229
Match Three - Weber def. Painter, 204-182
Championship - Weber def. Boresch, 229-205