Pikeville women win ITC title
April 19, 2008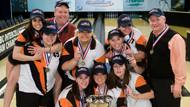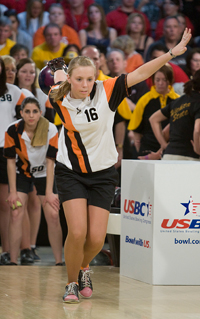 WICHITA, Kan. –
Pikeville senior Kayla Bandy can now add another trophy to her growing collection. The one she wanted all along – a national championship.
Bandy, the two-time reigning National Collegiate Bowling Coaches Association Most Valuable Player, and her Bears teammates defeated hometown Wichita State, 2-0, in the best-of-3, single-elimination women's title match Saturday at the 2008 United States Bowling Congress Intercollegiate Team Championships, presented by Storm, at Northrock Lanes.
The championship matches will air nationally on CBS College Sports (formerly CSTV) at a later date.
"This is the best day of my life. No question about it," said Bandy, who was an All-American all four years in college and the 2004-05 NCBCA Rookie of the Year. "It doesn't erase our previous disappointments here, but it makes us realize we went through them for a reason.
"All the tears and hard work paid off for this moment."
The Bears, ranked No. 2 in the NCBCA Top 20, denied top-ranked Wichita State of a repeat national championship, and a dual national title for the school. Wichita State's men defeated UNLV, 2-0, earlier in the day to win the men's title.
They did so by taking advantage of a crucial Wichita State miscue near the end of Game 1.
Wichita State sophomore Sandra Gongora fouled in the eighth frame while working on a spare. Pikeville junior Jennifer Wright, who was a part of Wichita State's 2005 championship team before transferring, capitalized with a strike in the ninth on the way to a 184-171 victory.
Strikes by Bandy, sophomore Sarah Germano, Wright and Galante in four of the first five frames got Pikeville off to a hot start in a 183-158 championship-clinching victory in Game 2.
"We just breathed, relaxed and threw our shots," Bandy said. "We stuck to our strategy, stayed clean and stayed together."
Pikeville, which also defeated Wichita State for its first national title in 2004, advanced to the championship match with a 4.5-3.5 semifinal victory earlier Saturday to eliminate Maryland-Eastern Shore, the 2008 NCAA women's champion.
Wichita State, which was seeded No. 1 after Thursday's qualifying, eliminated Morehead State, 4-0, in Saturday morning's semifinals.
Pikeville freshman Ashly Galante, the 2007-08 NCBCA Rookie of the Year, was named the women's Most Valuable Player.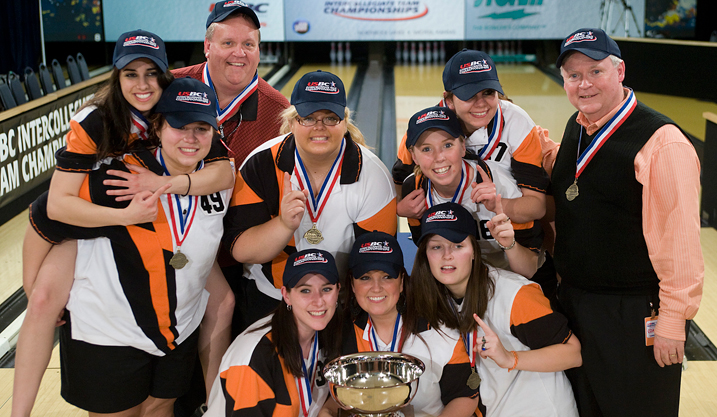 "I can't explain how happy I feel right now," said Galante, a Team USA member in 2007 who bowled anchor throughout the tournament. "Wichita State is a great team with a lot of talent. For us to do what we did was just amazing."
Joining Galante on the women's All-Tournament Team was Morehead State senior Amy Corbin, Lindenwood freshman Laura Fonnegra, Wichita State sophomore Rocio Restrepo and Wichita State senior Emily Maier.
Saginaw Valley State junior Dan MacLelland was named Most Valuable Player in the men's division for the second straight year. Joining MacLelland on the men's All-Tournament Team was Wisconsin-Whitewater junior Jon Schalow, UNLV freshman Brandon Allred, Purdue senior Collin Kerschner and Wichita State junior George Lambert.
The USBC Intercollegiate Team Championships featured the top 16 men's and top 16 women's college bowling teams in the country vying for national titles. All 32 teams competed in best-of-7, double-elimination match play in the Baker format Friday, after which the field was pared down to four in both the men's and women's divisions.

2008 USBC INTERCOLLEGIATE TEAM CHAMPIONSHIPS
presented by Storm
(at Northrock Lanes, Wichita, Kan.)
Saturday's Results
MENSemifinals
(Best-of-7, double-elimination match play)
(5) UNLV def. (8) Purdue, 4-2 (Purdue eliminated)
(225-232, 200-206, 191-132, 241-213, 178-156, 227-210)
(2) Wichita State def. (3) Saginaw Valley State, 4-3
(205-235, 185-224, 225-202, 277-216, 200-181, 222-235, 225-201)
(2) Wichita State def. (3) Saginaw Valley State, 4-1 (Saginaw Valley State eliminated)
(229-162, 223-171, 234-211, 260-267, 203-202)
Championship
(Best-of-3, single-elimination)
(2) Wichita State def. (5) UNLV
(202-171, 203-169)
WOMEN
Semifinals
(Best-of-7, double-elimination match play)
(1) Wichita State def. (4) Morehead State, 4-0 (Morehead State eliminated)
(234-201, 188-185, 195-168, 228-160)
(3) Pikeville def. (7) Maryland-Eastern Shore, 4.5-3.5 (Maryland-Eastern Shore eliminated)
(183-187, 156-190, 212-180, 223-159, 203-203, 137-212, 280-172, 214-177)
Championship
(Best-of-3, single-elimination)
(3) Pikeville def. (1) Wichita State, 2-0
(184-171, 183-158)