Pluhowsky breezes into U.S. Women's Open finals
September 18, 2009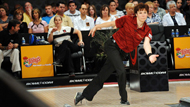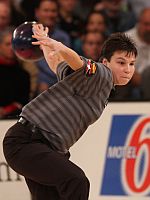 LAS VEGAS - Shannon Pluhowsky of Phoenix easily advanced to the semifinals at the 2009 U.S. Women's Open, a United States Bowling Congress event.
  
Pluhowsky knocked off Kelly Kulick of Union, N.J., 236-142, as she joined Tammy Boomershine of North Ogden, Utah, in the semifinals, scheduled to air Oct. 18.
  
Pluhowsky never faced any pressure from Kulick. The left-hander started with three consecutive strikes, while Kulick, the third seed, opened with three splits.
  
"At that point, I just wanted to stay clean," Pluhowsky said. "She had a rocky start, but it didn't mean she wasn't going to get lined up and start striking. It was definitely relaxing a little bit to have the pressure off."
  
In the opening match, Pluhowsky made a run at the $25,000 bonus for a televised perfect game in the opening four telecasts. She started with eight consecutive strikes before a solid 7 pin put a halt to her streak. Pluhowsky went on to defeat defending champion Kim Terrell-Kearney of Grand Prairie, Texas, 269-172.
  
"I made a good shot, and I knew it was going to be close, but I wasn't sure that it would strike," Pluhowsky said. "Obviously, when you get that many strikes in a row, you start thinking about 300, but my mind was still focused on the main goal, which is winning the U.S. Women's Open."
  
Six more players will battle for the last two spots in the championship round on ESPN. After a week off, the next show, scheduled to air on Oct. 4 at 2 p.m. EDT, features Lynda Barnes, Clara Guerrero and Carolyn Dorin-Ballard.
  
2009 U.S. WOMEN'S OPEN
At Sunset Station's Strike Zone Bowling Center, Henderson, Nev.
SHOW 2
(6) Shannon Pluhowsky, Phoenix def. (11) Kim Terrell-Kearney, Grand Prairie, Texas, 269-172
Pluhowsky def. (3) Kelly Kulick of Union, N.J., 236-142