PWBA announces 2023 tour schedule, expands regional program to nine events plus Regional Showdown
November 07, 2022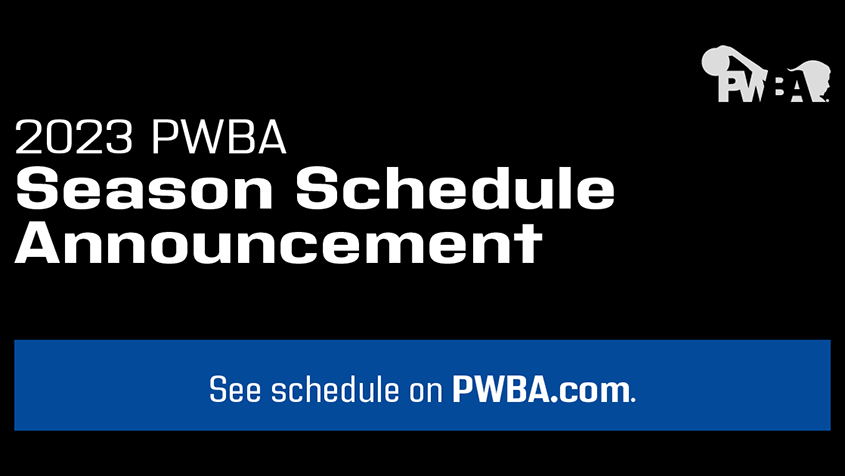 ARLINGTON, Texas
– The best women bowlers in the world will have no shortage of opportunities to compete this year as the 2023
Professional Women's Bowling Association
Tour season will run from January to December and feature 12 PWBA
National
Tour events, nine PWBA Regionals, three majors and the return of the Regional Showdown.
The regional season will kick off Jan. 21 at JB's Allen Bowl in Allen, Texas, where the PWBA will conduct a stand-alone tournament. One additional stand-alone regional will follow in March before the PWBA
National
Tour season officially gets underway May 4 with the PWBA Stockton Open at Pacific Avenue Bowl in Stockton, California.
The Stockton Open will be a landmark event in PWBA history as it will be the 100th tournament to award a tour title since the relaunch in 2015.
The season's first major will come shortly thereafter when the United States Bowling Congress Queens takes place May 17-23 at Sam's Town
Bowling Center
in Las Vegas. Many memorable tournaments have been contested at Sam's Town over the years; nevertheless, the 2023 USBC Queens will mark the first time the venue has hosted PWBA competition since the 2000 Sam's Town Invitational.
"There will be a lot of exciting things happening on the PWBA Tour this season," Bowling Proprietors' Association of America Executive Director Frank DeSocio said. "We'll have the chance to celebrate some important milestones, to return to some amazing venues and to break lots of new ground as we continue trying to improve the tour experience for our players and fans."
Germany's Birgit Noreiks broke some new ground last season, capturing her first major title at the 2022 Queens at Stardust Bowl in Addison, Illinois. This year, she will look to defend as Queens champion just as Erin McCarthy of Elkhorn, Nebraska (U.S. Women's Open), and Stephanie Zavala of Downey, California (PWBA Tour Championship), hope to repeat as titlists when the season's other two majors roll around in June and August, respectively.
Plans call for the stepladder finals of all three majors to be broadcast live on national television. Additional details including the complete 2023 television schedule for all USBC and IBC programming will be announced at a later date. All rounds leading up to the stepladder finals will be broadcast on
BowlTV.com
.
Events not featuring a national television broadcast will conclude live on BowlTV.
Players will be competing for an overall prize fund of approximately $1.4 million during the 2023 tour season, which matches last season in offering the largest average purse per national tour event since the tour's relaunch.
The three majors will once again feature the most lucrative purses with the champion taking home $60,000 at both the Queens and U.S. Women's Open and $50,000 at the PWBA Tour Championship.
Standard PWBA Tour events will award $20,000 for first place while PWBA Classic Series event winners will take home $10,000.
The 2023 PWBA season will wrap up in December with the PWBA Regional Showdown, which will be held at the International Training and Research Center in Arlington, Texas. This will mark the second time the PWBA Regional Showdown has been contested – Julia Bond won the inaugural event in 2019.
Details for this season-ending regional tournament will be announced soon along with the dates for the remaining stand-alone and in-season regional tour events. Entries for the first two regional events in January and March will open Nov. 11.
Athletes will be able to purchase their 2023 PWBA memberships starting Jan. 11, 2023.
"The PWBA continues to be a great success story for bowling," USBC President Melissa McDaniel said. "The 2023 schedule provides a wonderful opportunity to showcase the highest level of women's bowling in person and through our media channels."
2023 PWBA TOUR SCHEDULE
With dates, event, center, location and broadcast channel (subject to change):
May 4-6, PWBA Stockton Open, Pacific Avenue Bowl, Stockton, Calif., BowlTV
May 11-13, PWBA GoBowling! Spokane Open, Lilac Lanes & Casino, Spokane, Wash., BowlTV
May 17-23, USBC Queens, Sam's Town, Las Vegas, National TV
May 31-June 2, PWBA Grand Rapids Classic – Great Lakes, Spectrum Lanes,

Wyoming

, Mich., BowlTV
June 3-4, PWBA BowlTV Classic – Great Lakes, Spectrum Lanes,

Wyoming

, Mich., BowlTV
June 5-6, PWBA Great Lakes Classic – Great Lakes, Spectrum Lanes,

Wyoming

, Mich., BowlTV
June 8-10, PWBA Bowlers Journal Cleveland Open, Yorktown Lanes, Parma Heights, Ohio, BowlTV
June 13-20, U.S. Women's Open, ABC Gates Bowl, Rochester, N.Y., National TV
July 27-30, PBA/PWBA Striking Against Breast Cancer Mixed Doubles, Copperfield Bowl, Houston, BowlTV
Aug. 8-10, PWBA Waterloo Classic - Waterloo, Cadillac Xtreme Bowling Center, Waterloo, Iowa, BowlTV
Aug. 11-12, PWBA Pepsi Classic - Waterloo, Cadillac Xtreme Bowling Center, Waterloo, Iowa, BowlTV
Aug. 13-15, PWBA Tour Championship - Waterloo, Cadillac Xtreme Bowling Center, Waterloo, Iowa, National TV