Qualifiers determined at 2023 Intercollegiate Singles Championships
March 10, 2023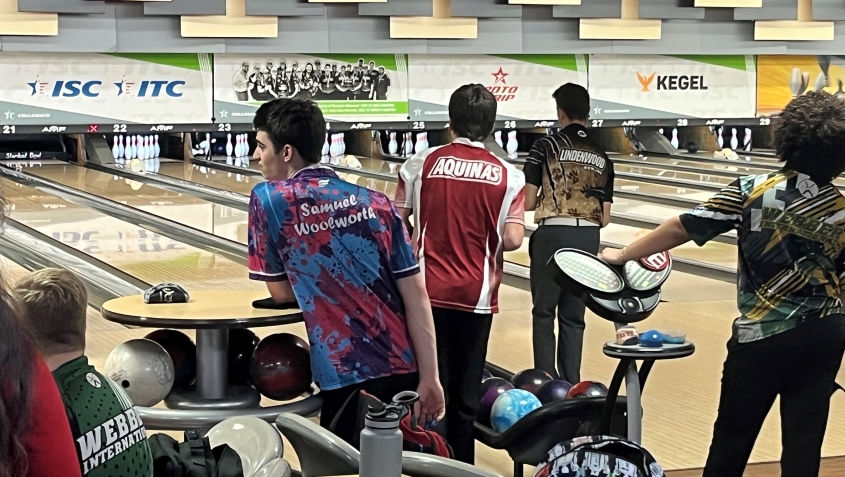 Results
ARLINGTON, Texas
- The field is set for the 2023
Intercollegiate Singles Championships
after four sectional qualifying events were held Friday throughout the United States.
The 2023 ISC will feature 24 women and 24 men vying for individual national titles April 17-22 at the South Point Bowling Plaza in Las Vegas.
Friday's sectional qualifiers were contested at Poelking Lanes South in Dayton, Ohio; USA Bowl in Dallas; Smyrna Bowling Center in Smyrna, Tennessee; and Stardust Bowl in Addison, Illinois.

Competitors at each location bowled six games with the top four women and top four men at each qualifier earning an automatic spot at the ISC. The remaining spots were determined based on field size at each location.

All four sectionals featured livestream coverage on
BowlTV.com
.
At Poelking Lanes South in Dayton, SCAD-Savannah's
Lara Kurt, a 2023 Junior Team USA member, used a 252 in Game 6 to walk away with first place in the women's field. Also advancing were North Carolina A&T's Cristina Acosta (1,294) and Lauren Tomaszewski (1,266); Duquesne's Kiearra Saldi (1,230); Morgan State's Johnna Hill (1,226); and SUNY-Stony Brook's Breana Chewens (1,210).
In the men's field in Dayton, Julian Salinas of SCAD-Savannah broke 200 during five of his six games (211, 213, 239, 252 and 226) enroute to a winning total of 1,324. He'll be joined at the ISC by Indiana Tech's Brandon Haney (1,317) and Race Lowder (1,303); Pikeville's Matteo Cittadino (1,289); and SUNY-Stony Brook's Henry Hecht (1,287).
Davenport's Karine Bouchard eclipsed the 200 mark during five of her six games (230, 217, 234, 212 and 223) while topping the women's field in Addison with a winning total of 1,293. McKendree's Rhian Dobinson used a 297 in Game 2 to get to a second-place total of 1,279. Marian-Wisconsin's Jazmin Koeberl (1,256); Louisiana Tech's Allyson Sand (1,226); Monmouth's Jenna Lehrer (1,222); Clarke's Kassidy Gerken (1,217); Davenport's Carly Snyder (1,216); and Maryville's Anna Maxwell (1,208) secured the remaining spots in the top eight and advanced as well.
Davenport's Nicholas Luther fired 741 for his first three games (204, 259 and 278) and closed with a 247 to win the men's division at the Addison sectional with a 1,402 total. Lawrence Tech's Connor Nowak shot a 269 of his own on his way to a second-place score of 1,369. He was followed by Webber International's Charles Bostic (1,342); Concordia's David Schaberg (1,332); Webber International's Austin Grammar (1,315) and A.J. Wolstenholme (1,312); and Mount Mercy's Brett Lloyd (1,274) and Kai Evans (1,267).
Evans was tied with Lawrence Tech's Michael Weber at the end of six games, but Evans won a roll-off (46-37) to secure the final advancing spot.
At USA Bowl in Dallas, Stephen F. Austin's
Chloe Skurzynski, the 2022 ISC women's champion, kept her title defense hopes alive by cruising to a first-place finish with a six-game total of 1,254. Wichita State's Paige Wagner (1,219) and Stephen F. Austin's Crystal George (1,178) secured second and third place, respectively, while Wisconsin-Whitewater's Rebecca Howard and Lindenwood's Karsyn Braasch tied for the final advancing position with 1,174.
The men's division in Dallas saw Cal State-Fresno's Vincent Luong shoot a final-game 255 to end the day atop of the leaderboard with 1,395. He'll be joined next month at the South Point Bowling Plaza by William Penn's Jayson Miner (1,359); South Florida's Sidney Schroschk (1,332); Lindenwood's Michael Anderson (1,322); and Wichita State's T.J. Rock (1,319).
A Bearcat topped the women's field for the second year in a row at Smyrna Bowling Center in Smyrna, Tennessee, as McKendree's
Rebecca Hagerman led the ladies with a 1,264 total. Arkansas State's Maggie Thoma was close behind with 1,248. McKendree's Maranda Pattison (1,234); Vanderbilt's Mabel Cummins (1,226); and Maryland-Eastern Shore's Alexis Ingersoll (1,216) advanced to the ISC finals as well, finishing in third, fourth, and fifth, respectively.
Milligan's Cameron Shockey authored the high series of the day with a six-game total of 1,451, which was more than enough to seat him atop the men's field in Smyrna. He'll be joined at the ISC by St. Francis-Illinois' Michael Nape (1,393); Webber International's Adam Atkins (1,360); Muskingum's Ethan McDonald (1,348); Wright State's Brent Shroyer (1,332); and Emmanuel's Nick Dischinger (1,327). McDonald earned high-game honors by rolling a 300 during Game 3.
Sectional competition will transition to team qualifying Saturday. The Intercollegiate Team Championships qualifying events will take place Saturday and Sunday and be streamed live on BowlTV.
Total pinfall for 64 Baker games will determine the four men's teams and four women's teams from each site that will advance to the ITC, which also will be held at South Point Bowling Plaza from April 19-22.