Qualifying concludes at 2021 USBC Senior Masters
September 16, 2021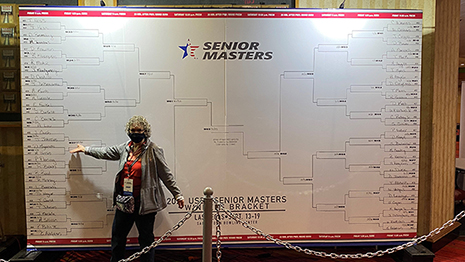 Standings: Round 1 | Round 2 | Round 3 | Bracket

LAS VEGAS -
Just 10 days ago, United States Bowling Congress Hall of Famer Tim Mack wasn't even sure he'd be able to raise his hand at roll call for the 2021
USBC Senior Masters
, let alone complete 15 games of qualifying.
Now, the 50-year-old right-hander has pushed through a debilitating shoulder injury and is among the 64 bowlers headed into the event's iconic double-elimination match-play bracket, and he'll be back on the lanes at Sam's Town Bowling Center on Friday morning.
BowlTV.com
is providing wire-to-wire coverage of the Senior Masters, including the stepladder finals, scheduled for Sunday at 1 p.m. Eastern. Match play at the premier event for USBC members age 50 and older will take place throughout the day Friday and Saturday.
Mack's scores got progressively better over the three qualifying rounds this week, and the equipment choice he made to attack the fresh 40-foot oil pattern Thursday paid off with a 1,137 five-game total, more than enough to catapult him from 102nd place into the top 50. He qualified 46th with a 3,060 total.
"I bowl now, not knowing when my last ball is going to be, so I bowl every game like it could be my last," said Mack, who will face defending champion Amleto Monacelli of Venezuela in the opening round of match play. "I'm going to dig my spikes in and hunker down because I don't know what's going to happen with my arm. It could be two games, two days, two months or two years. Obviously, I'm bowling against the best seniors on the planet, but I'll give it all I have."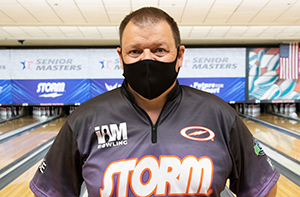 Tom Hess of Granger, Iowa, maintained the top spot in the Senior Masters standings for the third consecutive day and claimed the No. 1 seed in the bracket with a 3,543 total, a 236.2 average.
He was followed in the standings by Walt Blackston of Hawthorne, California (3,421), Chris Warren of Grants Pass, Oregon (3,351), Parker Bohn III of Jackson, New Jersey (3,343), and Jason Couch of Clermont, Florida (3,301). Warren posted the event's first perfect game during the third round Thursday.
Hess' performance also marked the third consecutive
Professional Bowlers Association
50 Tour event in which he has been the qualifying leader. He went on to win the 2021 PBA50 Senior U.S. Open, which preceded this week's Senior Masters.
In his opening match at Sam's Town on Friday morning, he will face left-hander Jay Hess of Gotha, Florida, who advanced in the No. 64 spot.
Jay Hess tied with Kevin Anderson of Mount Juliet, Tennessee, with a 3,000 total, but Anderson took the No. 63 position because he had the highest block during qualifying.
The left side of the bracket will take the lanes at noon Eastern, and the right side will take the spotlight at 2:30 p.m. EDT.
"This tournament really is two tournaments," said Tom Hess, the 2011 USBC Masters champion. "I won the first tournament, and as we move forward, my mindset isn't going to change a whole lot. I can't control what the guy on the other lane does. I can only control me. Right now, the way I'm bowling, if I go make the shots I need to make, I think I'll be just fine."
Bowlers advancing to bracket play will compete in three-game total-pinfall matches until the five bowlers are determined for Sunday's stepladder finals. The winner will take home a $20,000 top prize.
Monacelli recently turned 60 and won the 2021
Super Senior Classic
at Sam's Town on Monday, rebounded from a subpar start at the Senior Masters and landed in 19th place with a 3,200 total.
He was guaranteed the No. 64 seed in the bracket if he remained out of the cut, but he was able to improve his seeding for match play during qualifying.
For Mack, a heavy dose of cortisone into his bowling shoulder may be a temporary fix to an ongoing problem, but it has given him one more week to chase his dream of a professional title on the national stage.
The 2021 Senior Masters is the final event on the 2021 PBA50 schedule and comes immediately after he was forced to bow out of the PBA50 Senior U.S. Open, the first withdrawal of his bowling career.
As a lifetime athlete and former college football player who spent decades traveling the world and becoming a global bowling sensation, being physically limited and unable to compete just wasn't acceptable for Mack.
"I went from the low of lows and sheer sadness, when I didn't know if I was going to bowl unless I got something for my shoulder and some other medication to take the inflammation down," Mack said. "Fortunately, I found a great doctor and clinic in San Francisco, and I got immediate relief. I went from being done to having this incredible opportunity in a place where I've had incredible success, and I wanted to make the most of it."
Following the visit to the doctor, Mack flew home to Indianapolis to watch his daughter play soccer and then arrived in Las Vegas in time for the first round of qualifying. He missed the official practice session, so his first warm-up shot at the Senior Masters was the first ball he'd thrown since the Senior U.S. Open.
There also was some additional motivation for Mack to compete this week, as his mother, Joan, already had booked a flight to watch in person.
"I knew it all was a little crazy, but my mom booked the trip out here, and she's getting a little older, so I don't know how many more opportunities there will be for us to do this together," Mack said. "Plus, I don't know how many more chances I'll have to bowl."
Following the Senior Masters, he'll have further assessment of his latest injuries. The initial reports show the damage is so severe that he'll need both of his shoulders replaced, but it's all familiar territory, unfortunately.
Over the years, Mack has had seven surgeries on his left knee, including a full knee replacement. During the 2021 Masters, Mack was on-site as a representative for Storm Products, but he was on crutches from his latest operation.
"My eyes still work, and I've gained more knowledge and understanding of the lanes by watching so much bowling over the last couple of years," said Mack, who was inducted into the USBC Hall of Fame in 2018 in the Pioneer category. "I've always felt like I could still compete at the highest level, but my body hasn't allowed me to do it. I've done whatever I could to try to get myself in the position to try to compete, and while I'm not what I once was, my heart and mind still work, and I won't quit until my arm just doesn't work anymore."
The 2021 Senior Masters started with 223 competitors vying for one of the 63 open spots in the bracket with Monacelli.
The Super Senior Classic and Senior Masters are taking place at the 56-lane Sam's Town Bowling Center together for the fifth time, a routine that began in 2016.