Rash wins first major at USBC Masters
October 28, 2007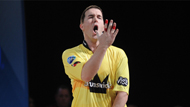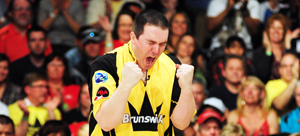 MILWAUKEE, Wis. –
Not even the allure of competing in front of a big crowd inside a Major League Baseball park was enough to intimidate Sean Rash of Wichita, Kan., in a championship round.
Rash, 25, remained unbeaten on television in his Denny's Professional Bowlers Association Tour career, defeating Steve Jaros of Yorkville, Ill., 269-245 to win the 2007 United States Bowling Congress Masters on Sunday at Miller Park, home of the Milwaukee Brewers.
"You have to take advantage of opportunities on television and that's something I've been very good at doing," said Rash, who won his fourth career title and improved to 7-0 on television. "I had a Brooklyn in the third frame for a strike and took advantage of it. If you don't capitalize on those things, it's a lot harder to win."
Rash got off to a shaky start on the right lane in the championship match, leaving a 4 pin before tossing a Brooklyn, or crossover strike, on his next shot on that lane. In the fifth frame, he went high and left a 6 pin before striking out to lock up the title.
Jaros started the final match with spares on three of his first four shots and trailed by 10 pins after five frames, a deficit that proved too much to overcome.
"My first victory still means the most to me, but this is just as important because it's a major," said Rash, who was recently selected as one of the first group of professionals to join Team USA in 2008. "I will never forget my first title but bowling in a Major League Baseball park is amazing. I grew up playing baseball and always dreamed of one day hitting a home run in front of 40,000 people."
Jaros reached the championship match from the No. 4 seed, knocking out two players by shooting huge games to have the opportunity to bowl for the title.
In the opening match, Jaros started with six consecutive strikes before leaving a wobbling 7 pin in a 279-254 victory over Walter Ray Williams Jr. of Ocala, Fla.
In the second stepladder match, Jaros overwhelmed Patrick Allen of Wesley Chapel, Fla., 290-233. Jaros started by leaving a weak 10 pin and then threw 11 straight strikes.
Overall, Jaros shot 814 for three games on television and his first two games totaled 569, just one pin shy of the record for consecutive games on TV.
"It's great to have bowled an 800 series on television, but really it's just a game at a time out there," Jaros said. "Sure, it's disappointing but on the other hand it's a great start to the season, and hopefully that will give me some momentum going forward."
The 2007 USBC Masters featured 486 of the best professional and amateur bowlers in the world. A major on the Denny's PBA Tour, bowlers competed for a prize fund of more than $350,000.

2007 UNITED STATES BOWLING CONGRESS MASTERS
At Miller Park, Milwaukee, Wis.
Sunday's results
CHAMPIONSHIP ROUNDMatch 1
Steve Jaros, Yorkville, Ill., def. Walter Ray Williams Jr., Ocala, Fla., 279-254. (Williams finishes fourth, earns $15,000.)
Match 2
Jaros def. Patrick Allen, Wesley Chapel, Fla., 290-233. (Allen finishes third, earns $25,000.)
Match 3
Sean Rash, Wichita, Kan., def. Jaros, 269-245. (Jaros finishes second, earns $50,000; Rash finishes first, earns $100,000.)