Robarge, Bonta and Kurt medal in singles at PANAM Bowling Youth Championship 2023
August 01, 2023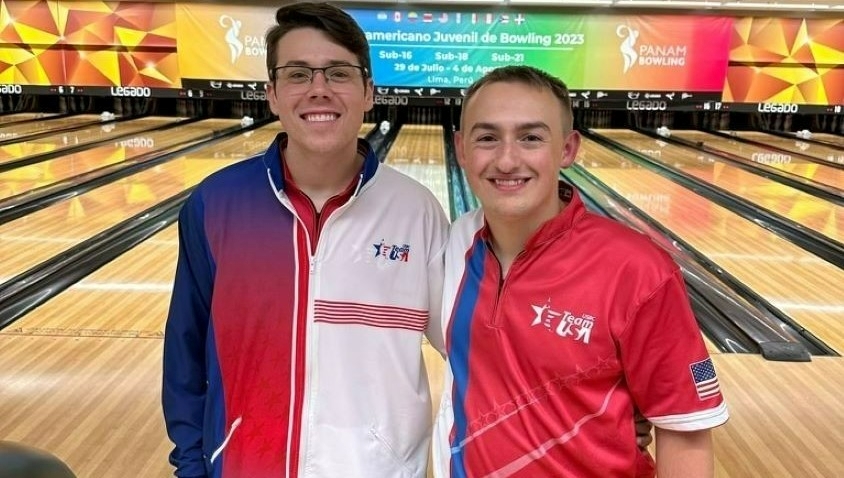 LIMA, Peru
– Junior Team USA bowlers captured three of the six available medals in singles during Monday's opening day of competition at the PANAM Bowling Youth Championship 2023, which is being contested at VIDENA Bowling Center of La Villa Deportiva Nacional (VIDENA).
Spencer Robarge of Springfield, Missouri, used games of 290, 206, 247, 268, 226 and 181 to cruise to the men's gold medal with a six-game total of 1,418 (a 236.33 average).
Brandon Bonta of Wichita, Kansas, grabbed silver with 1,366 (225, 246, 203, 193, 221 and 278), while Colombia's Daniel Romero V used a 1,305 total to take home bronze.
Colombia's Catalina Gomez authored a six-game score of 1,251 (a 208.5 average) to win the women's gold medal.
Junior Team USA's Lara Kurt of Ocean Isle Beach, North Carolina, and Colombia's Daniela Gonzalez tied for silver with matching totals of 1,209, which meant no bronze medal was awarded.
Kurt reached her medal-winning mark by firing games of 180, 224, 223, 203, 204 and 175, which was no easy task as challenging lane conditions forced her to adjust on the fly.
Nevertheless, Kurt's tenacity paid off as she remained in contention all day long and wound up walking away with her first international medal.
"We went in today having a gameplan, and we had to adjust that pretty fast," Kurt said. "In the end, it wound up being a spare day, so we just stayed in the moment and tried to figure out what was in front of us, which I think went pretty well.
"Winning a medal today is definitely very cool. I don't know if anything sets in really fast for me, so it may take some time to adjust to it and realize what happened."
Bonta shared many of the same feelings after earning the first international medal of his career on Monday as well.
"This has been a crazy experience for me because I haven't been outside the country before in my whole life," Bonta said. "Now, I've gotten to travel to a different country to bowl for the United States, and I've won a medal.
"I wasn't expecting to medal myself; I was just here to get the feeling of what international competition is like. To snag a medal today in the singles portion is awesome. I'm truly grateful."
While Bonta was grateful to have won silver, Robarge was simply great en route to gold, vaulting to the top of the standings early and never looking back.
"We had talked at camp about really wanting to hit it hard the first game since we could break the lanes down," Robarge said. "I was a little unsure of how I wanted to do that because every pair is sort of tricky here, but I think I broke them down just the right way and got a couple breaks to get my swing really loose."
Robarge is hoping that loose swing and the knowledge he and his teammates gain during each set leads to more success throughout the week, especially during the team event.
"I think we look really good for team," Robarge said. "I feel like there are a couple of teams that can come up there and take it from us, but if we do our thing and do what we know how to do, I think we're going to have a pretty fun six games in that event."
Robarge's confidence seems well placed as despite the fact that only he and Bonta medaled for the Junior Team USA men on Monday, all four team members finished in the top 10.
Julian Salinas of Richmond, Texas, fired a six-game total of 1,275 to finish fourth, while Ryan Barnes of Denton, Texas, put up 1,211 to place ninth.
The score distribution was even closer among the Junior Team USA ladies, who captured four of the top six places in the singles standings on Monday.
Gianna Brandolino of Channahon, Illinois, narrowly missed the podium, finishing in fourth place with a six-game mark of 1,196, which was just 13 pins shy of the scores put up by Kurt and Gonzalez.
Katelyn Abigania of San Diego was next for the Americans; she finished fifth with 1,184. Annalise OBryant of Ball Ground, Georgia, was close on her heels at 1,173.
All eight Junior Team USA bowlers will be back in action for doubles competition on Tuesday. Trios will follow on Wednesday before team competition brings the event to a close on Thursday and Friday.
For more information on Team USA, visit
BOWL.com/TeamUSA
.
To follow the standings at the PANAM Bowling Youth Championship 2023,
click here
.