Rookie Cameron Weier Wins First PBA Tour Title in PBA-World Bowling Tour Qatar Open
December 03, 2015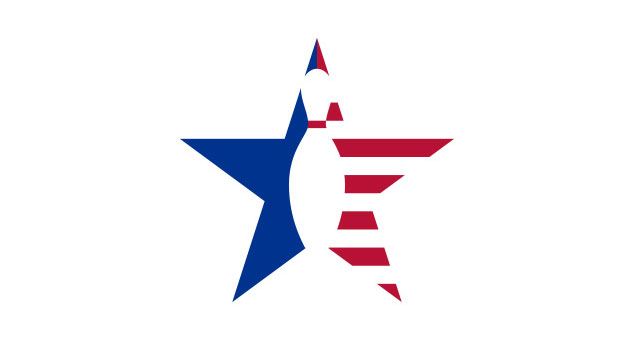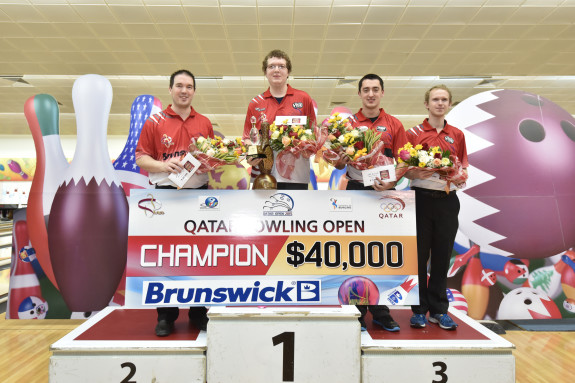 Qatar Open finalists, Sean Rash, Cameron Weier, Marshall Kent, Thomas Larsen (l-r).
DOHA, Qatar – Professional Bowlers Association rookie, Cameron Weier of Tacoma, Wash., won his first PBA Tour title Wednesday when he defeated Sean Rash of Montgomery, Ill., 453-431, in the two-game title match of the 15th PBA-World Bowling Tour Qatar Open at Qatar Bowling Center.
Weier, a former Robert Morris–Illinois University star, took a 218-197 lead over Rash after their first game and locked up the $40,000 first prize with a 235-234 margin of victory in the second game.
Weier advanced to the championship match by eliminating former Robert Morris teammate Marshall Kent of Yakima, Wash., 542-516, in the semifinal round while Rash held off Denmark's Thomas Larsen, 481-467, in the other semifinal match.
In the semifinal round, Kent threw back-to-back 258 games at Weier, but Weier answered with games of 264 and 278 to win their match. Rash, a nine-time PBA Tour title winner, took a 57-pin lead with a 267-210 performance in the first game, and outlasted Larsen, who rallied in the second game, 257-214.
Most of the PBA players who bowled in Qatar will now travel to Riyadh, Saudi Arabia, for the 9th annual PBA-World Bowling Tour Kingdom International Open which concludes Sunday before flying to Reno, Nev., for the GEICO PBA World Series of Bowling VII presented by Silver Legacy which officially gets underway at the National Bowling Stadium next Tuesday.
PBA-WORLD BOWLING TOUR QATAR OPEN
Qatar Bowling Center, Doha, Qatar, Wednesday
(All prize money is listed in U.S. dollars)
Championship (two games total pinfall): Cameron Weier, Tacoma, Wash. ($40,000) def. Sean Rash, Montgomery, Ill. ($20,000), 453-431.
Semifinal Round (two games total pinfall, losers earned $7,000): Weier def. Marshall Kent, Yakima, Wash., 542-516. Rash def. Thomas Larsen, Denmark, 481-467.
Final Qualifying Standings (after six games):
1, Kent, 1,458.
2, Rash, 1,450.
3, Larsen, 1,448.
4, Weier, 1411.
5, Tommy Jones, Simpsonville, S.C., 1,408, $3,500.
6, Tom Daugherty, Wesley Chapel, Fla., 1,399, $3,500.
7, Andres Gomez, Colombia, 1,392, $3,500.
8, Ryan Lausang, Indonesia, 1,334, $3,500.
9 (tie), Wu Siu Hong, Hong Kong, and Marin Larsen, Sweden, 1,332, $3,500.
11, Brad Angelo, Lockport, N.Y., 1,305, $3,500.
12, Richard Teece, England, 1,293, $3,500.
13 (tie), Daniel Fransson, Sweden, and f-Danielle McEwan, Stony Point, N.Y., 1,292, $2,500.
15, f-Victoria Johansson, Sweden, 1,284, $2,500.
16, JR Raymond, Bay City, Mich., 1,278, $2,500.
17, Bader Alshaikh, Kuwait, 1,264, $2,500.
18, Osku Palermaa, Finland, 1,261, $2,500.
19, Dom Barrett, England, 1,256, $2,500.
20, Ronnie Sparks Jr., Redford, Mich., 1,243, $2,500.
21, Stuart Williams, England, 1,234, $2,000.
22, Hazeem Al-Muraikhi, Qatar, 1,228, $2,000.
23, Jassim Al-Muraikhi, Qatar, 1,212, $2,000.
24, Ray Teece, England, 1,189, $2,000.
25, Kamron Doyle, Brentwood, Tenn., 1,181, $2,000.
26, DJ Archer, Friendswood, Texas, 1,116, $2,000.
27, Andrew Cain, Phoenix, Ariz., 1,113, $2,000.
28, Ghanim Aboujassoum, Qatar, 1,081, $2,000.