Russell Maintains TOC Lead while Belmonte, Svensson Make Big Moves
February 09, 2018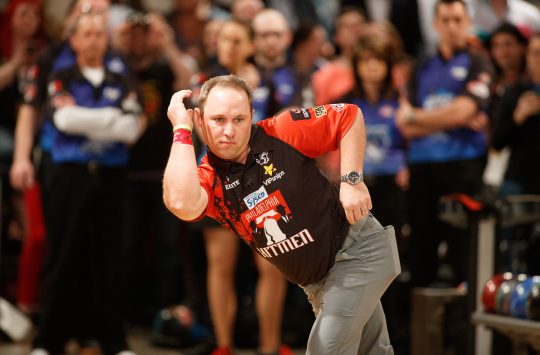 FAIRLAWN, Ohio (Feb. 8, 2018) – Four-time PBA Tour winner Ronnie Russell of Marion, Ind., retained his lead in the PBA Tournament of Champions Thursday at AMF Riviera Lanes after the first match play round but had to withstand a challenge from 2016 TOC winner Jesper Svensson of Sweden who moved into second.
Russell posted a 6-2 match play record and finished with a 6,201 four-round overall pinfall total, which includes 30 bonus pins for each match win, to lead Svensson who also recorded a 6-2 record and finished 73 pins behind with 6,128.
In the first major tournament of the 2018 Go Bowling! PBA Tour season, Russell reeled off match wins with games of 259, 266, 220, 267, 257, then lost with games of 158, 202 before winning the final match with 226.
"Bowling this well on a fresh condition isn't really my game so I was pretty happy with the good start," Russell said. "Everything was going well until I had trouble figuring out the pair of lanes in the sixth game. That was pretty frustrating but I was able to dig myself out of that whole and had a decent finish.
"I've been relying pretty heavily on my equipment choices so far in the tournament," he added. "I'm probably going to drill up a couple more balls so I can be more prepared for what I might experience tomorrow."
Svensson, a two-handed player who is already a seven-time Tour winner at age 22, became the youngest player to win the Tournament of Champions, when he captured the title in Shawnee, Okla., in 2016 at age 20, eight days short of his 21st birthday.
Finishing the day in third was 2017 PBA Rookie of the Year Matt Sanders of Evansville, Ind., with a 7-1 record and 6,092 pinfall. Two-hander Anthony Simonsen of Austin, Texas, recorded a 5-3 record in match play and 6,052 pinfall to finish in fourth. Simonsen won the 2016 United States Bowling Congress Masters at age 19 to become the youngest player to win a major.
Nearly failing to advance to match play after the final qualifying round earlier in the day, nine-time major winner Australian two-hander Jason Belmonte made a dramatic rebound posting a 5-3 match play record and 5,947 pinfall to move from 24th to seventh.
Belmonte, who won his fourth Player of the Year crown in 2017, is trying for his 10th PBA major title to would tie PBA Hall of Famers Pete Weber and Earl Anthony for the all-time major title record. A win would also make the 2014 and 2015 TOC winner the third player to win the major three times. Jason Couch and Mike Durbin are the other three-time winners.
Using PBA's traditional head-to-head match play format that advances 24 players from qualifying, 15 players in PBA history have advanced from the 24th match play position to win a tournament. Three have accomplished the feat in majors.
Match play continues Friday with rounds at 11 a.m. and 6 p.m. ET. After Friday's match play the top five players will be determined for Sunday's live stepladder finals on ESPN at 1 p.m. ET.
Fans can catch the final match play rounds on PBA's online bowling channel Xtra Frame. For subscription and schedule information visitwww.xtraframe.tv.
PBA TOURNAMENT OF CHAMPIONS
AMF Riviera Lanes, Fairlawn, Ohio, Thursday
Fourth Round Standings (after 26 games. Includes match play record and total pinfall including bonus pins.)
1, Ronnie Russell, Marion, Ind., 6-2, 6,201.
2, Jesper Svensson, Sweden, 6-2, 6,128.
3, Matt Sanders, Evansville, Ind., 7-1, 6,092.
4, Anthony Simonsen, Austin, Texas, 5-3, 6,052.
5, Mat O'Grady, Rahway, N.J., 4-4, 5,984.
6, Andrew Anderson, Holly, Mich., 4-4, 5,975.
7, Jason Belmonte, Australia, 5-3, 5,947.
8, Tom Daugherty, Riverview, Fla., 5-3, 5,946.
9, Kristopher Prather, Plainfield, Ill., 3-5, 5,934.
10, Marshall Kent, Yakima, Wash., 5-3, 5,900.
11, Jakob Butturff, Tempe, Ariz., 5-3, 5,884.
12, Bill O'Neill, Langhorne, Pa., 3-5, 5,878.
13, Kyle Sherman, O'Fallon, Mo., 4-3-1, 5,850.
14, Mitch Beasley, Clarksville, Tenn., 5-3, 5,845.
15, Kyle Troup, Taylorsville, N.C., 2-6-0, 5,834.
16, Shawn Maldonado, Houston, Texas, 4-4, 5,828.
17, Chris Warren, Grants Pass, Ore., 2-6, 5,814.
18, EJ Tackett, Huntington, Ind., 3-5, 5,811.
19, BJ Moore III, Greensburg, Pa., 4-4, 5,747.
20, Sean Rash, Montgomery, Ill., 3-5, 5,740.
21, Chris Barnes, Double Oak, Texas, 3-5, 5,683.
22, Connor Pickford, Charlotte, N.C., 3-5, 5,661.
23, DJ Archer, Friendswood, Texas, 2-6, 5,647.
24, Kurt Pilon, Warren, Mich., 2-5-1, 5,605.