Saginaw men repeat as ITC champs
April 21, 2007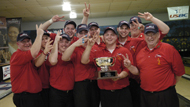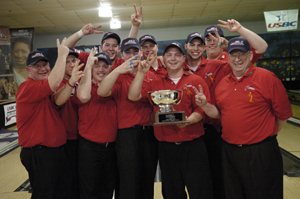 WICHITA, Kan. –
In his 17 years as the head coach at Saginaw Valley State, Dan Dorion has been the benefactor of some talented teams. On Saturday, he declared his current bunch as the greatest he's ever had after they defended their title at the 2007 United States Bowling Congress Intercollegiate Team Championships.
Led by sophomore anchor Dan MacLelland, the Cardinals defeated Robert Morris 2-0 in the best-of-three championship match at Northrock Lanes. The championship match will be aired on College Sports Television (CSTV) at a date and time to be determined.
The USBC Intercollegiate Team Championships was the pinnacle event of the college bowling season with the top 16 men's teams in the country vying for national titles.
"Last year was sweet because I hadn't won since 1997," said Dorion, who has led the Cardinals to four titles and two second-place finishes in his tenure as head coach. "As a coach, you never, ever get tired of winning. We've won 13 tournaments out of 19 we entered this year. I think we are a great team and the greatest team I've ever had at Saginaw Valley State."
MacLelland, who was joined by teammates Greg Kuehnl, Toby Sidle, Jason Howard and J.R. Raymond, helped Saginaw Valley State become the first team since Western Illinois in 2002 to repeat as champions. He said his team refocused after dropping their first semifinal match to No. 16 seed UC Davis earlier in the day.
"It feels really great, coming into today we had a lot of confidence but in our first match, we knew we couldn't give UC Davis an inch and we did," said MacLelland, a native of Canada who was recently named Bowler of the Year in his home country. "After that, we came back and focused a lot harder and took it to them. Then we came out here and just wanted to make good shots and stay clean in the championship match. That's the most important thing to do on TV because of the nerves."
In the opening match, Robert Morris anchor Jason Wunderlich had an opportunity to put his team up 1-0. Needing to strike on his first two balls in the 10th to claim the match, Wunderlich crossed over and left the 5-9 to lose 222-212.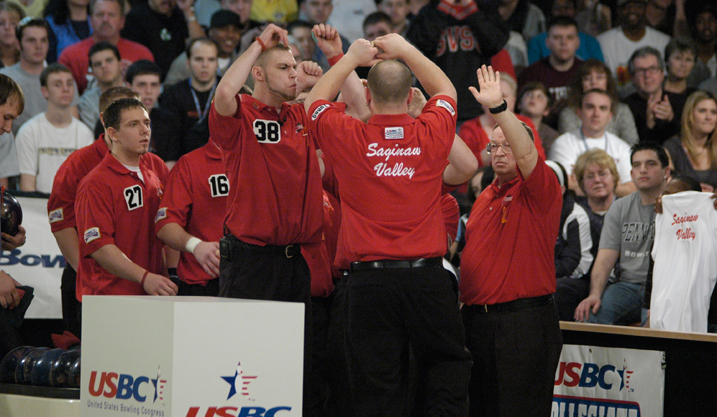 Saginaw Valley State used an early string of three strikes to take control in the deciding game and never looked back. The Cardinals secured the title with an easy 189-157 victory.
"We were happy just to get through sectionals, so getting this far was more than we expected," Robert Morris coach Carl Pfeifer said. "This has been a great year for the kids, and they've had a great time all week."
MacLelland was name the tournament's most valuable player and was joined by Wunderlich, UC Davis' Don Brenner and Lindenwood's Shea Bittenbender and Mike Dole on the all-tournament team.
The Cardinals were presented with the Helmer Cup, awarded to the national champions. The Helmer Cup is named in honor of the late Kerm Helmer, longtime coach at Erie Community College who led his teams to four ITC titles.

2007 USBC INTERCOLLEGIATE TEAM CHAMPIONSHIPS
(at Northrock Lanes, Wichita, Kan.)
Saturday's Results

Semifinals (Best-of-7 Baker, double elimination)
(16) UC Davis def. (4) Saginaw Valley State, 4-3
(4) Saginaw Valley State def. (16) UC Davis, 4-2 (UC Davis eliminated)
(7) Robert Morris def. (6) Lindenwood, 4-2
(7) Robert Morris def. (6) Lindenwood, 4-1 (Lindenwood eliminated)

Finals (Best-of-3 Baker)
(4) Saginaw Valley State 2, (7) Robert Morris 0
(Game 1 – Saginaw Valley State 222, Robert Morris 212; Game 2 – Saginaw Valley State 189, Robert Morris 157)