Sandham, Valenta claim ISC titles
May 24, 2006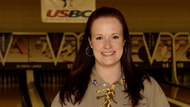 Wichita State senior ends collegiate career by rallying to win all three matches
MILWAUKEE -
After four years of All-American and championship-winning performances, one word can simply sum up Wichita State senior Olivia Sandham.
Resilient.
Sandham capped off her day of rallying by overcoming a two-game deficit to defeat Penn State junior Elysia Current 3-2 in the best-of-5 women's title match of the 2006 United States Bowling Congress Intercollegiate Singles Championships on Tuesday at Olympic Lanes.
It is the second collegiate national championship for Sandham. She led Wichita State to its record seventh women's national title in 2005.
"The first couple games are a little iffy for me because the lane pattern is fresher," said Sandham, a Wichita, Kan., native. "After the lanes break down more, I start to bowl better."
That was the case in the semifinals, where she defeated Pikeville senior Tracy Miller, Louisville, Ky., 3.5-2.5 by winning the final two games.
And that certainly was the case against Current, the collegiate Player of the Year two years ago who emerged from No. 11 seed by winning four matches – including victories over Central Florida's powerful duo of Stefanie Nation, Miami, and Michelle Carcagente, Palm Coast, Fla.
Five straight strikes carried Sandham to a 237-194 victory in Game 3. She then remained hot in Game 4, striking on six of her first seven shots en route to a 247-196 triumph -- setting up the decisive fifth game.
Sandham, who earned the No. 1 seed from Monday's qualifying, opened with three consecutive strikes to grab the early lead. It slowly dwindled as she could only manage nine-counts on her first ball in the next six frames, settling for spares.
"I was in the pocket so I didn't want to do anything drastic, yet at the same time I was making really small changes – just trying to carry more than anything," said Sandham, a first-team All-American who averaged 222.6 in 15 games Tuesday. "I finally made the right one in the 10th frame."
That right adjustment resulted in three strikes to shut out Current for a 224-201 championship-clincher.
Current, a Ephrata, Pa., native who coincidently will be transferring to Wichita State next year, opened the match with 217-196 and 223-210 victories.
Sandham defeated Morehead State senior Melissa Brownie, Chester, Va., 3-1 in the quarterfinals, losing the first game. She received the Marion Ladewig Trophy, named in honor of the legendary Women's International Bowling Congress Championship Tournament champion.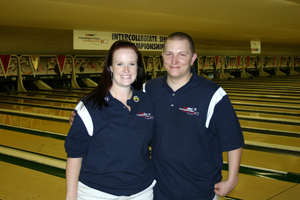 Lindenwood junior Brian Valenta, Lockport, Ill., averaged 252 in his final two games to claim the men's national championship, defeating East Tennessee State senior Aaron Murray, Greenville, Tenn., 3-1 in the title match. Valenta, who was seeded No. 1 as well, was presented with the Joe Norris Trophy, named for the legendary American Bowling Congress Championships Tournament champion.
It is the first time both top seeds emerged victorious in the three-year history of the championships. All four finalists have experience as past or present members of Junior Team USA.
Hammer Bowling, an Ebonite International brand, is the official sponsor of the 2006 USBC Intercollegiate Singles Championships.
Participants bowled 12 qualifying games Monday to determine seeding for Tuesday's best-of-5, single-elimination match play competition beginning. The top four seeds in each division received byes to match play's third round, while No. 5 through No. 8 seeds received byes to the second round.
Qualifying for the USBC Intercollegiate Singles Championships was held at the four Intercollegiate Bowling Championships Sectional Qualifier sites -- Allentown, Pa.; Chattanooga, Tenn.; Fairview Heights, Ill.; and Fort Worth, Texas -- on March 24. All participants bowled six games with total pinfall determining final standings. The top four finishers in each division (male and female) at each site advanced to the USBC Intercollegiate Singles Championships.
The event replaced the Association of College Unions International National Championships as the premier individual college bowling tournament supported by the USBC Collegiate program.
2006 USBC INTERCOLLEGIATE SINGLES CHAMPIONSHIPS
(at Olympic Lanes, Milwaukee)
May 22-23, 2006
TUESDAY'S RESULTS
Best-of-5, single-elimination match play
(Seeds in parentheses)
MEN
First Round
(16) Collin Kerschner, Purdue def. (9) Matt Robinson, 3-1
(212-216, 189-177, 192-165, 195-186)
(13) Brandon Baker, Arizona State def. (12) David Kipperman, Sacred Heart, 3-2
(177-182, 165-159, 222-177, 173-179, 181-173)
(11) Tim Pfeifer, Robert Morris (Pa.) def. (14) Jason Blevins, Texas Tech, 3-1
(201-157, 178-211, 200-151, 201, 158)
(15) Dan Vick, Rochester Tech def. (10) Kevin Kovash, Pikeville, 3-2
(204-211, 199-194, 200-202, 220-214, 202-184)

Second Round
(8) Vito Genova, Western New England def. Kerschner, 3-0
(183-178, 193-185, 237-173)
(5) Brandon Frazier, Newman def. Baker, 3-1
(218-154, 223-245, 202-186, 213-168)
(6) Daniel Hannagan, Martin Methodist def. Pfeifer, 3-1
(168-155, 159-195, 221-196, 199-173)
(7) Kevin Tabron, Wichita State def. Vick, 3-1
(189-233, 213-191, 182-179, 237-214)

Quarterfinals
(1) Brian Valenta, Lindenwood def. Genova, 3-0
(177-159, 213-187, 211-198)
Frazier def. (4) LeRoy Anderson, Saginaw Valley State, 3-1
(192-180, 136-222, 181-170, 200-185)
(3) Steve Elson, Wichita State def. Hannagan, 3-0
(245-174, 246-180, 225-156)
(2) Aaron Murray, East Tennessee State def. Tabron, 3-0
(214-178, 193-176, 222-158)

Semifinals
Valenta def. Frazier, 3-1
(253-216, 226-216, 210-245, 220-194)
Murray def. Elson, 3-2
(179-238, 217-234, 280-165, 227-189, 219-210)
Championship
Valenta def. Murray, 3-1
(227-216, 206-266, 237-223, 267-219)
WOMEN
First Round
(13) Brandy Silva, New Mexico def. (12) Courtney Ward, West Texas A&M, 3-2
(225-214, 201-192, 179-205, 177-183, 205-172)
(11) Elysia Current, Penn State def. (14) Jamie Miller, UC Davis, 3-0
(191-182, 191-148, 236-134)
(10) Brigette Harrelson, Central Florida def. (15) Lisa Hunt, Purdue, 3-1
(179-155, 238-231, 171-190, 233-199)
Second Round
(9) Melissa Brownie, Morehead State def. (8) Mindy Pancoast, Virginia Tech, 3-1
(183-214, 204-174, 179-162, 202-200)
Silva def. (5) Michelle Quirk, Fresno State, 3-1
(161-268, 207-201, 216-183, 211-203)
Current def. (6) Stefanie Nation, Central Florida, 3.5-1.5
(198-198, 214-178, 204-194, 207-218, 180-167)
(7) Jessica Lesagonicz, Lindenwood def. Harrelson, 3-1
(181-197, 218-216, 242-150, 216-189)
Quarterfinals
(1) Olivia Sandham, Wichita State def. Brownie, 3-1
(217-231, 196-183, 248-215, 212-168)
(4) Tracy Miller, Pikeville def. Silva, 3-0
(236-208, 217-193, 210-178)
Current def. (3) Michelle Carcagente, Central Florida, 3-2
(206-254, 205-172, 182-183, 265-215, 227-224)
(2) Leslie Rapach, Florida State def. Lesagonicz, 3.5-.5
(221-216, 248-248, 235-184, 259-213)
Semifinals
Sandham def. T. Miller, 3.5-2.5
(277-190, 213-213, 166-257, 191-253, 238-216, 267-187)
Current def. Rapach, 3-0
(190-170, 211-180, 212-183)
Championship
Sandham def. Current, 3-2
(196-217, 210-223, 237-194, 247-196, 224-201)