Sandra Gongora, Liz Johnson Making Statements in PWBA Pepsi Classic
October 27, 2021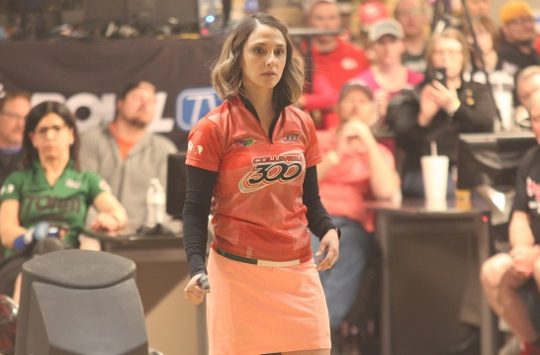 BY JOE JACQUEZ
Reno NV – While the conditions that bowlers face during their weekly league pales in comparison to the conditions that the best bowlers in the world face on the PWBA Tour, the ladies make Wednesday's 43' pattern look like a league pattern for six games during Round 1 of qualifying of the PWBA Pepsi Classic at the National Bowling Stadium in Reno.
It certainly was a nice change of pace for Sandra Gongora of Mexico, who over the course of just two weeks has experienced the lowest of lows and the highest of highs.
Gongora was in Cali, Colombia for the 2021 PANAM Bowling Elite Championships and struggled mightily on the event's brutal conditions.
As many other bowlers that were in Colombia have alluded too, it was just about impossible to strike consistently, meaning spare shooting and shot-making were both at a premium.
"The lanes were super difficult," Gongora said. "We didn't have any miss room. We didn't have anything. I wasn't feeling that I executed badly, but I scored badly."
As tough as Gongora's experience in Colombia was, she said it was a great learning experience.
"I think that helped me because it was great practice," Gongora said.
Gongora entered the PWBA Fall Classic series, consisting of the final three tournaments of the season, with a fresh mindset.
But, she struggled on Tuesday during the match-play rounds at the PWBA Reno Classic. Gongora qualified in the ninth position for match play, but she only went 5-7 and finished the tournament right where she started the day — ninth — in a tournament won by rookie Stephanie Zavala.
Gongora struggled with ball-speed control on Tuesday, which didn't allow her to have a consistent line to the pocket or ball reaction.
"I struggled to keep my speed down," Gongora said. "I was throwing the ball so fast and obviously that wasn't the right thing to do on the pattern."
With the top four well out of reach by the last three games for the Monterrey, Mexico, native, Gongora tried to take some positives out of the experience and treated it like a practice session.
"I was like, 'I am going to practice my speed and move left and do my thing,'" Gongora said. "So for today, I think that helped me because I was able to keep my speed and my hand in the right position so I could score."
Gongora certainly found a way to score, knocking down 1,434 pins to lead the round at +234. Dasha Kovalova, who was overtaken by Verity Crawley for the Player of the Year points lead, sits in second at +232.
The middles on the 43' ft pattern for the Pepsi Classic had so much hold that if the ladies missed left, the ball still held its line instead of over-hooking. With so much shim in the middle, the scoring pace was through the roof.
Sydney Brummett recorded the first 300 game of the tournament in game three, and Lindsay Boomershine did the same that game, recording her first career 300 in a PWBA event.
Boomershine, who led the tournament halfway through, shot 801 for the first three games and sits in fourth at +197. Maria Jose Rodriguez rounded out the top five at +194.
Liz Johnson took advantage of the forgiving condition, rolling a 22-bagger at one point, which included a 300 game in game five after a 269 in game four.
The PWBA and USBC HOF finished up with 218 and currently sits in third place at +216.
Johnson struggled during the Reno Classic with her balance. She said she was constantly lifting up and not consistent.
Johnson said she played in the same area, right around the track area, during Wednesday's qualifying, but she said the difference was all mental.
"I didn't have the problem hitting the pocket, it was carrying for me ," Johnson said. "I just tried myself to relax a little bit more and got to 71 and 72 and got some hold and took advantage of it."
Johnson said shooting 269 in game 4 loosened her up and she got to 47 and 48, the same pair that Boomershine shot 300 and had seen high scores all round, and shot 300 in game six.
"At the end of Monday night, I shot 247, so I knew it was a good pair," Johnson said.
Johnson said it was all about keeping her legs down and getting her timing right, but she said what allowed her to carry better Wednesday compared to Tuesday was just relaxing.
"I kept popping up," Johnson said. "Usually, I am not good when the scores are so high, I tend to get ahead of myself and think too much.
"For me, it got really mental, just kind of relax. I didn't move, I didn't change balls. I just tried to stay down. On Monday, I got a check, but I didn't think I bowled well. I kept popping up and my timing wasn't great," Johnson said.
Once Johnson got into her shot, she turned it around and is in a great position heading into the final round of qualifying before match play begins Thursday.
Johnson has shot a lot of 300 games in her day. So the question is, does it ever get old?
"Never," Johnson said.