Scroggins wins first major at USBC Masters
November 20, 2005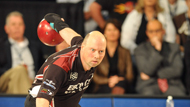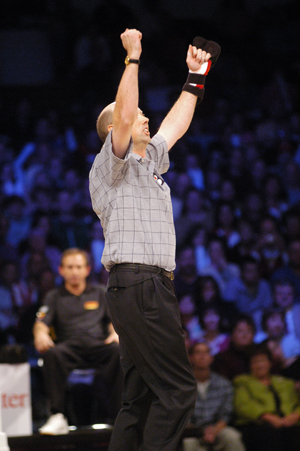 MILWAUKEE, Wis. –
From the moment he stepped on the lanes a week ago, Mike Scroggins of Amarillo, Texas, knew he had an opportunity to have a career week at the United States Bowling Congress Masters.
After leading qualifying and making it to the television finals as the second seed, Scroggins won his first career major Sunday with a 245-238 victory over Norm Duke of Clermont, Fla., before a crowd of 2,556 at the U.S. Cellular Arena in downtown Milwaukee.
Scroggins started his week by shooting an 858 series in a three-game sweeper at AMF Bowlero Lanes, which set the tone for the Masters. He went on to be the high qualifier after 15 games and blasted through match play to make the final round.
"After I won the sweeper, I knew it was going to be a good week," said Scroggins, who has two previous tour titles. "It definitely carried over the whole week and even for today. I just had good karma this week. A lot of people don't think luck or superstitions go into bowling but I am firm believer it does."
Scroggins needed a little luck down the stretch to beat Duke. After starting the match with a spare and seven strikes, he left a 7-10 split in the ninth frame, leaving the door open for Duke.
Duke stepped up and struck out to force Scroggins to mark in the final frame. Scroggins left a 6-pin on a shaky shot and then made the spare to secure the victory.
"I was in the same situation in 1994," Scroggins said. "I needed a mark to beat Justin Hromek in Reno, and I get up go through the nose and leave the Greek Church to lose. It's harder to get a mark than having to strike on your first shot. I made an OK shot. That ball could have left a 3-7 split real easy."
Duke started the match by leaving four single pins out of his first six shots and was unable to rebound after Scroggins' seven-bagger.
"I had my hands full, and I knew it," said Duke, a PBA and USBC Hall of Famer.
"Mike has been around for awhile, and when he wins tournaments, it seems he runs away from the field - as he did today. When you start out with spare, seven bagger you aren't going to lose many of them."
Scroggins advanced to the final match by defeating amateur Art Brown of Lansing, Mich., 240-202. Brown defeated amateur Ken Muscato of Canandaigua, N.Y., in the opening match 201-180.
The Masters featured a field of 466 of the best amateur and profession bowlers in the world, and Scroggins earned $100,000, the Frank K. Baker trophy and a two-year Denny's PBA Tour exemption for the victory.
"There's 466 entries, that's just mind boggling for a major," Scroggins said. "Bowling against that many bowlers is just amazing, and it's just an honor to win this tournament. My good friend Mike Aulby won it three times, and I don't know how he did it. That's just amazing but I'm on my way to catching him."
UNITED STATES BOWLING CONGRESS MASTERS
U.S. Cellular Arena, Milwaukee

Match 1
Art Brown, Lansing, Mich., def. Ken Muscato, Canandaigua, N.Y., 201-180. Muscato earns $15,000.
Match 2
Mike Scroggins, Amarillo, Texas, def. Brown, 240-202. Brown earns $25,000.
Championship Match
Scroggins def. Norm Duke, Clermont, Fla., 245-238. Duke earns $50,000 and Scroggins earns $100,000.