SDLV Strikers win USA Bowling National Championships U12 title
August 20, 2019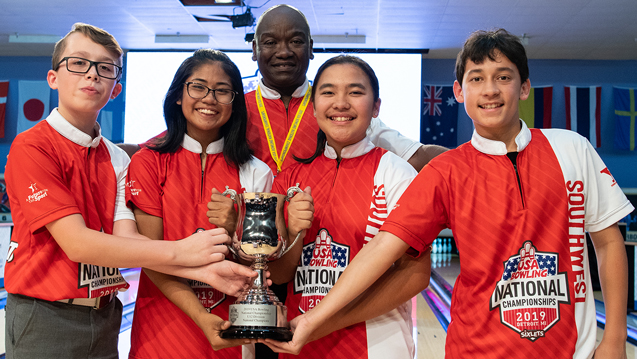 The SDLV Strikers, from left: Sebastian Huffman, Katelyn Abigania, coach Gary Oatis, Avery Domaguin, Elias O'Hollaren


ALLEN PARK, Mich. –
The Southwest Region champion SDLV Strikers fought back from an early deficit to take home the U12 title at the 2019 USA Bowling National Championships presented by Sixlets.
CBS Sports Network aired the best-of-five title match held at Thunderbowl Lanes on Tuesday.
Against DKJ Pro Shop, the Northeast Region champion, the SDLV Strikers found themselves down 24 pins after three frames in the opening game. But Katelyn Abigania, the two-time U12 Junior Gold champion, started a string of three strikes for the Strikers while DKJ Pro Shop missed two single-pin spares, allowing the Strikers to grab a 1-0 lead with a 189-169 victory.
DKJ Pro Shop bounced back to take the next two games by scores of 189-136 and 188-166. Kai Strothers led the charge by rolling six consecutive strikes over Games 2 and 3.
"There was no nervousness with the kids," SDLV Strikers coach Gary Oatis said. "They were talking with each other, different balls they wanted to try. Sometimes I said yes, sometimes I had to say no. We were right there, all we had to do was keep going. They just needed a little bit of encouragement."
The Strikers admitted that, down 2-1, they were still loose though they knew there was no room for error.
"We were talking to each other," Avery Domaguin said. "I was singing. I sing whenever I bowl. If I focus too much, I  overthink."
Despite starting and finishing Game 4 with open frames, the Strikers won the game, 174-154, to force a deciding Game 5.
"It was definitely stressful," Abigania said of dropping two games and having to battle back. "But we tried not think about it, and we just tried to take one frame at a time."
Her teammate, Elias O'Hollaren, the 2019 Junior Gold U12 boys champion who said he was eating a salad during the TV show, added, "I just tried to have fun the last game."
In Game 5, the teams were tied through six frames. Domaguin struck for SDLV only to have William Cunningham answer with a strike for DKJ Pro Shop.
But while SDLV's Abigania and O'Hollaren converted single-pin spares in the eighth and ninth frames, respectively, DKJ Pro Shop's Ronin Rivera and Donaven Kline each had difficult spare attempts and could not convert.
Sebastian Huffman stepped up in the final frame needing eight pins to close out the match and delivered, knocking down nine on his first shot as the Strikers claimed the title with a 155-144 victory in the deciding game.
Huffman, who was on the U12 runner-up team at last year's USA Bowling National Championships, said that experience helped him to be better prepared this time around.
"There was something different this time," Huffman said. "I didn't shake every shot."
The USA Bowling National Championships brought together the champions from 16 regional tournaments in the U12 and U15 divisions. The 32 teams bowled 15 matches in qualifying, using a modified Baker format, to determine seeding for the double-elimination match-play bracket. Teams bowled the best-two-of-three Baker matches to determine the teams for the national title matches.
BowlTV.com provided livestream coverage of qualifying and the match-play bracket.
CBS Sports Network
will televise the U15 title match of the USA Bowling National Championships on Tuesday, Aug. 27, at 9 p.m. (Eastern).
Visit
BOWL.com/USABowling
for more information on the USA Bowling program.