Shocker women win ninth ITC title
April 19, 2009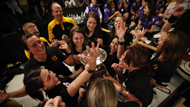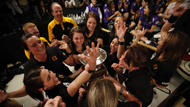 ROCKFORD, Ill. –
From the first shot of the first game, the Wichita State women made it clear they would be tough to stop from winning their record ninth United States Bowling Congress Intercollegiate Team Championships title.
The Shockers led each game from the get go as they swept Lindenwood to win the women's national title, 2-0, at The Cherry Bowl on Saturday. Wichita State took the opening game 218-180 and clinched the title with a 197-156 victory. The title match will air on CBS College Sports on June 2 at 8 p.m. EDT.
"This year was amazing and we worked the whole year on staying in the moment, so we were just feeling really confident," Wichita State anchor Rocio Restrepo said. "It feels great, and now it's time to get some school work done and enjoy this victory."
Wichita State started the first game with three consecutive strikes and never looked back. Lead-off bowler Melissa Hurst began the second game with a strike as well and the Shockers rolled to their third title in the past five years.
Hurst and fellow senior Samantha Linder capped of their careers at Wichita State by each striking on three of their four shots in the championship.
"We wanted to come out and be aggressive," Wichita State coach Mark Lewis said. "Melissa played the lead-off role and made great shots. Knowing it was the last shots of their college career, Melissa and Samantha stepped up and just stuffed the pocket and made great shots."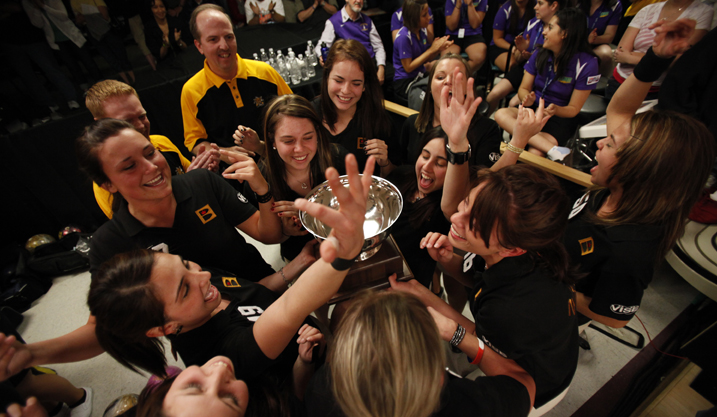 Lindenwood attempted to make a comeback to win the first game after falling behind by 20 pins. Strikes in the seventh and eighth frames put the Lions in position to steal the first game, but Laura Fonnegra left a pocket 7-10 split in the ninth frame to put an end to the rally.
In the semifinals, Lindenwood took down top seed Central Florida in consecutive matches, beating the Knights 4-2 and 4-3, in the best-of-seven double-elimination format. Wichita State defeated McKendree, 4-3, to advance.
Central Florida senior Brigette Harrelson was named Most Valuable Player in the women's division. Joining Harrelson on the women's All-Tournament Team was McKendree's Rebekah Diers, Erie Community College's Gina Maduri and Wichita State's Restrepo and Sandra Gongora. Diers won the Chris Stoehr Sportsmanship Award.
The USBC Intercollegiate Team Championships featured the top 16 men's and top 16 women's college bowling teams in the country vying for national titles. All 32 teams competed in best-of-seven, double-elimination match play in the Baker format Friday, after which the field was pared down to four in both the men's and women's divisions.
2009 USBC INTERCOLLEGIATE TEAM CHAMPIONSHIPS
(at The Cherry Bowl, Rockford, Ill.)
Saturday's Results
WOMEN
Semifinals
(Best-of-seven, double-elimination match play)
Wichita State def. McKendree, 4-3 (McKendree eliminated)
(212-226, 192-191, 183-159, 166-231, 196-180, 173-190, 234-205)
Lindenwood def. Central Florida, 4-2
(179-178, 186-175, 201-160, 164-210, 223-234, 198-173)
Lindenwood def. Central Florida, 4-3 (Central Florida eliminated)
(150-213, 183-182, 200-170, 215-224, 155-207, 197-132, 189-165)
Championships
(Best-of-three, single-elimination)
Wichita State def. Lindenwood, 2-0
(218-180, 197-156)