Simonsen, Martell earn top seeds for TV finals at 2023 USBC Masters
March 31, 2023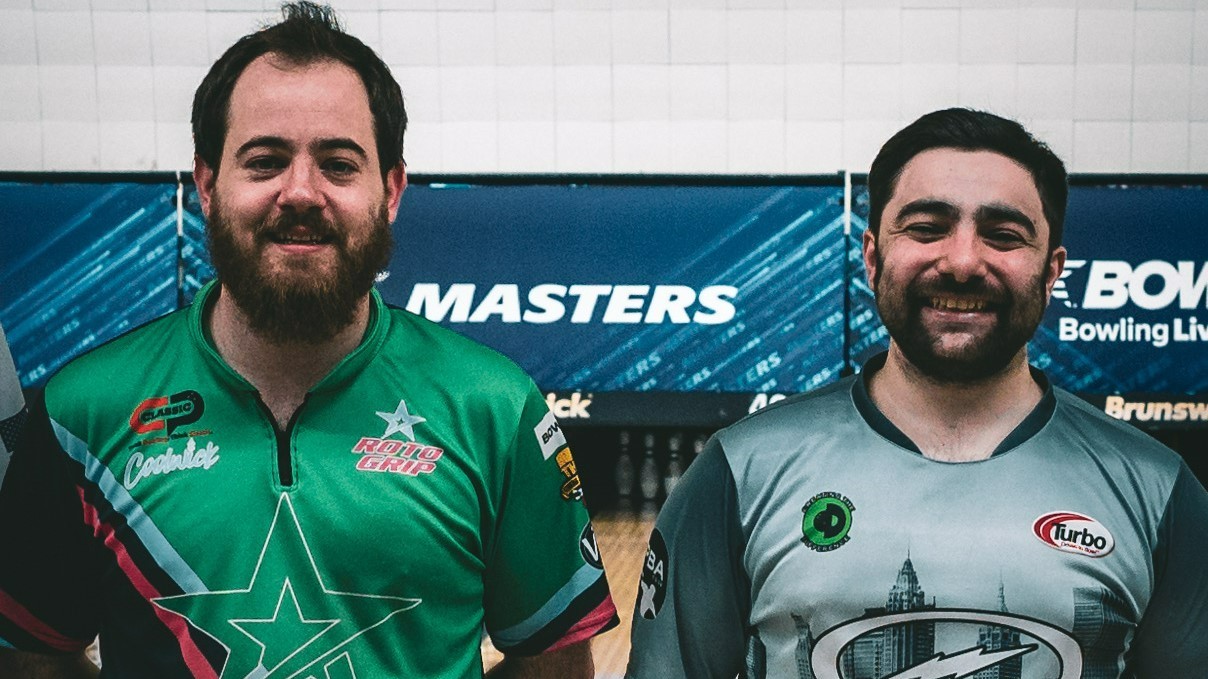 RESULTS
ALLEN PARK, Michigan –
The 2023 USBC Masters began Monday morning when a sold-out field of 390 competitors took to the lanes for the opening round of qualifying at Thunderbowl Lanes in Allen Park, Michigan.
After the completion of Friday night's live FS1 televised Elimination Bracket finals, just four players remain. Those four have moved on to Sunday's stepladder finals on FOX beginning at 1 p.m. Eastern.
Defending Masters champion Anthony Simonsen of Las Vegas will have to win just one match on Sunday in order to complete a successful title defense.
Simonsen earned the top seed by going a perfect 6-0 on Thursday and Friday, setting a new Masters match-play scoring record in the process.
Over the course of 18 games, Simonsen averaged 250.4, breaking the previous mark of 245.6, which was set by PBA Hall of Famer Norm Duke during the 1993 event in Tulsa, Oklahoma.
Simonsen finished bracket play in style Friday afternoon by shooting a 300 game to close out an 845 series during his battle for the top seed against West Babylon New York's Michael Martell.
Martell, who will by vying for his first PBA Tour title, will be the No. 2 seed on Sunday's telecast.
Simonsen and Martell will be joined on the show by No. 4 seed Sean Rash of Montgomery, Illinois, and No. 3 Kyle Sherman of O'Fallon, Missouri, who punched their tickets to the stepladder by surviving Friday night's Elimination Bracket finals telecast on FS1.
Sherman kicked off Friday night's show in fine fashion, striking 11 times during a relatively comfortable 279-209 victory over local favorite Tom Smallwood of Saginaw, Michigan.
The second match of the night pitted Rash – the 2007 Masters champion – against 2001 winner and PBA Tour legend Parker Bohn III of Jackson, New Jersey, who, at 59 years old, was hoping to keep his magical 2023 Masters run alive.
It wasn't meant to be, however, as Rash began the match with seven strikes in a row to grab the lead and never look. When the final balls had been thrown, Rash had eliminated Bohn by a final score of 264-169.
That brought Sherman back to the lanes, this time to face Chris Via of Blacklick, Ohio, with a spot in Sunday's stepladder finals on the line.
Just as he had during Match 1, Sherman jumped out to a lead, establishing a 30 pin advantage through three frames and still leading by 24 at the end of eight.
Things would change in dramatic fashion during the 10th frame, however, as, just needing a mark to win, Sherman left a 4-7-10 split.
He was unable to convert, but by taking two pins, he was able to salvage a tie at 194 and force a one-ball roll off.
As the higher seed, Via chose to start the extra session, and he immediately stepped up and delivered a flush strike, which meant that Sherman would have to do the same or else lose the match.
In the span of two or three minutes, Sherman had gone from almost certain victory to having to deliver a strike to stave off elimination.
As such, it would've been understandable if Sherman was unable to calm himself down and make a quality shot, but that's just what he did, throwing a no-doubt strike that tied the roll off and forced the two competitors to move to a second round of sudden death.
Via stepped up and delivered another solid shot, but that one would only net him nine pins, giving Sherman another opportunity to close out the match.
This time he would make good, throwing another picture-perfect strike to win the second roll off 10-9 and officially secure his spot in Sunday's stepladder finals.
The opportunity to compete for a major title is not something that Sherman takes lightly, and he's thankful to be doing it in a city and bowling center that brings back fond memories.
"I love this place; I love bowling here," Sherman said. "I made my first singles show here, and that was the first time I had a really awesome week on tour. Now, I have another one, so I'll remember Thunderbowl Lanes forever."
He'll remember it even more clearly if he is able to run Sunday's stepladder and collect his first major title. That task won't be easy, however, as he'll have to get past Rash just to survive the first match.
Rash earned his stepladder finals berth by topping Patrick Dombrowski of Parma, Ohio, 256-237 during Friday night's final match on FS1.
The closing contest was entertaining throughout with both bowlers staying locked in on the 1-3 pocket from the very first ball.
However, Dombrowski just couldn't find a way to consistently topple the 10 pin, and that allowed Rash to jump out front and maintain an 11 pin lead heading into the final frame.
Just as Sherman had during the match before, Rash stepped up in the tenth needing a mark to win.
There would be no drama or roll off needed this time around, however, as Rash struck on his first ball to eliminate Dombrowski 256-237 and collect the fourth and final spot on Sunday's TV show.
Immediately after securing the win, Rash was able to share celebratory kisses and hugs with his wife and daughters, who had been cheering him on from the crowd all night long.
It was a moment that Rash didn't take for granted.
"It's pretty special to get to have an experience like that with my family because you never know when it's going to happen again," Rash said. "This could be the last show I ever make."
That's because Rash has been battling serious back problems for quite some time, and, unfortunately, relief doesn't look to be coming anytime soon.
With that in mind, he is thankful for the opportunity to compete at all let alone for another major title.
"I really shouldn't be bowling at all; I should be rehabbing and doing things to try to get better, but I feel like I owe it to my sponsors, my fans and my family to be out here," Rash said. "I never thought I'd make the Masters show again, but here I am. I have a chance, and at the end of the day, that's all you can really ask for."
If Rash can get past Sherman in Sunday's opener, he'll earn a bout with No. 2 seed Martell, who started match play 5-0 before falling to Simonsen in the top-seed match.
Although he would have liked to have earned the top seed for the stepladder, Martell was more than pleased with his performance on Friday. He was so pleased, in fact, that, in the moments immediately following his final match of the day, he was having a hard time coming to grips with what he had just accomplished.
"I don't even have words for this; I don't think it's really hit me yet," Martell said. "I started to get a little emotional earlier today when I realized that I had made a show regardless of what happened in those last couple of matches. I think I'm going to leave, and that's when it will hit me that I'm a finalist at the Masters."
Thankfully for Martell, he'll get a day off on Saturday to get his emotions in check before returning to the Thunderbowl Lanes Arena Sunday afternoon for the TV finals.
Nevertheless, Martell made it clear that once the lights come on, he won't just be happy to there; he'll be playing to win.
"I'm going to try to go in and be aggressive just like I've been all week," Martell said. "If I can stick to my guns and keep going through the process, I think that can take me pretty far."
Martell won't have to go too far as one win will earn him a title tilt against Simonsen, who will have quite a bit on the line during the championship match.
A victory would make 26-year-old Simonsen the youngest bowler ever to win five major titles, complete a successful Masters title defense and give him his third victory overall at the tournament.
He'll definitely enter Sunday's telecast with the advantage as with only four players bowling in this year's stepladder, Simonsen will need to be defeated twice on FOX in order to be denied the title.
The stepladder finals will be contested Sunday at 1 p.m. Eastern on FOX, with the champion taking home a spot in the tournament's storied history, a major title on the PBA Tour and the $100,000 top prize.
For more information on the USBC Masters, visit
BOWL.com/Masters
.