Simonsen leads field to match play at 2022 USBC Masters
March 31, 2022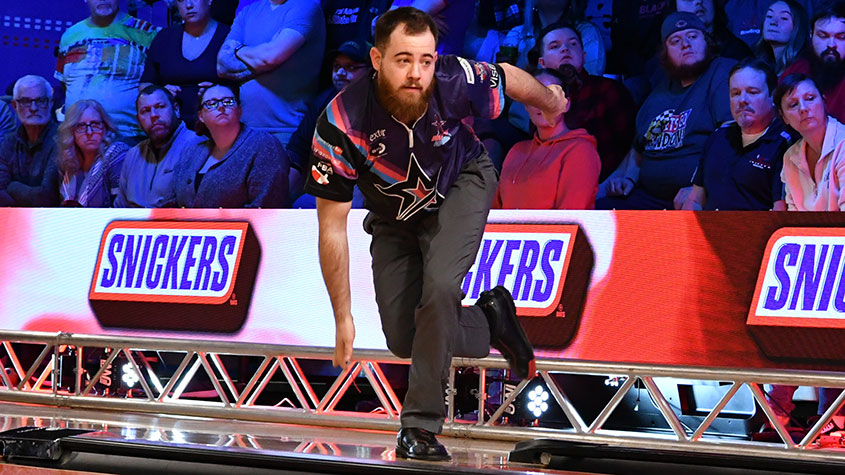 Qualifying Results - Round 3
Bracket

LAS VEGAS
- Three-time major champion Anthony Simonsen of Las Vegas has earned the top seed for the 64-player double-elimination bracket at the 2022
United States Bowling Congress Masters
.
The 25-year-old two-hander rolled games of 246, 213, 257, 232 and 213 on Thursday at the Gold Coast Hotel and Casino for a 1,161 set to lead qualifying with a 15-game total of 3,309, a 220.6 average.
Simonsen is joined in the top five by EJ Tackett of Bluffton, Indiana (3,288), Mykel Holliman of Collierville, Tennessee (3,285), Brent Boho of Indianapolis (3,243) and four-time USBC Masters champion Jason Belmonte of Australia (3,241).
Competitors in the 414-player field bowled 15 games of qualifying over three days, which included two blocks on the fresh 40-foot lane condition and one squad on the burn.
The top 63 players, based on total pinfall, advanced to match play, while Denmark's Thomas Larsen was guaranteed a spot in the bracket as the defending champion.
Larsen could have improved his seeding through qualifying, but he finished Thursday's final round in 160th place with a 2,929 total. He will be the No. 64 seed heading in to match play starting Friday at noon Eastern and face Simonsen in the opening round.
The final spot from qualifying went to Dino Castillo of Highland Village, Texas. Castillo finished in 63rd place with a 3,053 total (203.53 average) and will take on Tackett in Friday's opening round.
Simonsen became the youngest major champion when he won the 2016 Masters at 19 years and 39 days old, and he recorded his second major win at the 2019 Professional Bowlers Association Players Championship.
His third major came in February at the U.S. Open, when he defeated Tackett in the title match, 232-165.
The bracket at the 2022 Masters will feature eight past champions, including Simonsen, Belmonte and Larsen.
Andrew Anderson of Holly, Michigan (2018), Parker Bohn III of Jackson, New Jersey (2001), Jakob Butturff of Tempe, Arizona (2019), Norm Duke of Clermont, Florida (1993), and Sean Rash of Montgomery, Illinois (2007), all advanced to match play.
Butturff defeated Holliman in the title match of the 2019 Masters for his first major title, which also was held at the Gold Coast Bowling Center.
All bracket matches leading up to the stepladder finals will feature a three-game total-pinfall format. Five players will advance from the bracket to the stepladder, which will air live Sunday at 1 p.m. Eastern on FOX. The winner will take home the $100,000 top prize and major title on the PBA Tour.
All rounds of competition prior to the stepladder will be broadcast live by BowlTV and simulcast to FloBowling. Subscribe at
BowlTV.com
.