Simonsen successfully defends USBC Masters title
April 02, 2023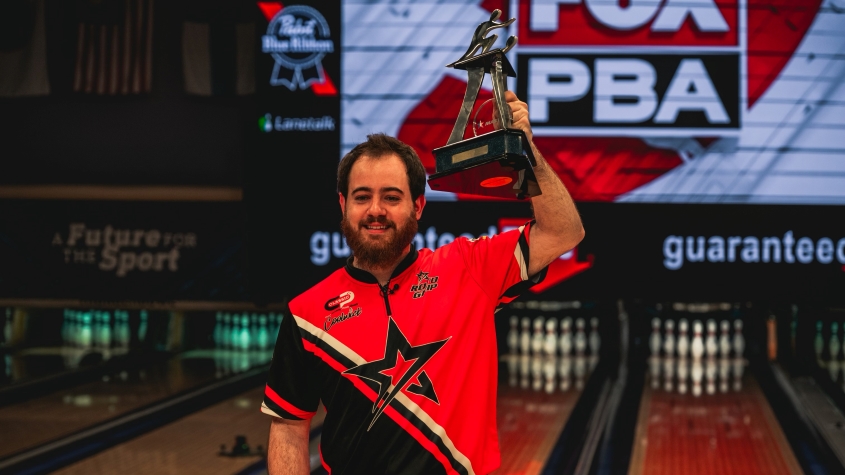 RESULTS
ALLEN PARK, Michigan –
Anthony Simonsen of Las Vegas has been rewriting the bowling record book since he was 19 years old. The now 26-year-old two-hander added another chapter on Sunday by repeating as USBC Masters champion, giving him his fifth major championship and third Masters title.
Simonsen secured the win at the 2023 event with a strike on his first ball in the tenth frame, which allowed him to defeat Michael Martell of West Babylon, New York, 243-222.
The win Sunday inside The Arena at Thunderbowl Lanes gave Simonsen his second PBA title of the season – he also won the 2023 PBA Wichita Classic – and earned him the $100,000 top prize, pushing his current season earnings up to $204,500.
The championship round of the 2023 USBC Masters was broadcast live on FOX.
Simonsen's first win at the Masters came in 2016 and helped him become the youngest bowler in history to win a major at 19 years and 39 days old.
His wins at the 2019 PBA Players Championship, 2022 U.S. Open and 2022 Masters also set the mark for youngest to win two, three and four majors, respectively.
By completing a successful defense of the Masters title on Sunday, he added another record by becoming the youngest to get to five major championships at 26 years and 86 days old.
Simonsen is now just the third player to win the Masters at least three times, tying him with USBC and PBA Hall of Famer Mike Aulby.
Australia's Jason Belmonte holds the all-time record with four Masters titles; Belmonte finished tied for 13th at this year's tournament in Allen Park.
The day and week belonged to Simonsen, however, and, as expected, he was in high spirits when discussing his latest Masters triumph.
"This feels incredible. This is the first event that I've been able to defend and probably the best finish that I've had at a tournament that I've won the previous year," Simonsen said. "Winning a tournament on the PBA Tour is never easy, so doing it back to back is pretty incredible."
Martell did his best to make life anything but easy for Simonsen during the title match, using a pair of early doubles to stay within 10 pins of the defending champ at the halfway point.
Simonsen simply wouldn't let up, however, and when Martell left a 2-4-6-10 split and opened in the seventh frame, it was clear that Simonsen's dominant week would indeed end with another Masters title.
That left Martell, who was making his first TV appearance in a major and was seeking his first PBA Tour title, to settle for second place and $50,000.
Due to the true double-elimination format of the 2023 Masters, Martell would have had to beat Simonsen twice on Sunday in order to take the title since Simonsen was the only finalist who had yet to lose a match at this year's tournament.
Nevertheless, Simonsen was more than happy to avoid the drama and secure the title after one game.
"It absolutely helped to know that I had that extra game in my pocket if I needed it because it sort of put his back against the wall from the beginning instead of mine," Simonsen said. "Still, I wanted to get it done in one game, and I'm glad that it went that way."
Simonsen has bowled at such an incredible level, that it seems genuinely surprising when things don't go his way.
Even if Simonsen's career were to end tomorrow, he would already have established a resume that would equal or surpass those authored by several of bowling's all-time greats.
Nevertheless, Simonsen isn't concerned about his place in history at this point in time; he's too busy riding the wave.
"Honestly, what I've accomplished or where that ranks in history really hasn't sunk in yet," Simonsen said. "At some point down the road, I'll probably let my mind go there, but for now, as cliché as it sounds, I just try to take one event at a time."
Whatever approach Simonsen has been taking, clearly, it's been working, and there doesn't seem to be any indication that his name will be leaving the top of tournament leaderboards anytime soon.
Before Simonsen took to the lanes, Sunday's semifinal match saw Martell take down No. 3 seed Kyle Sherman of O'Fallon, Missouri, by a final score of 208-187.
Martell got off to a shaky start, starting spare-open to give Sherman the early lead.
Martell quickly recovered, however, throwing a double in the third and fourth frames. Those strikes, coupled with Sherman opens in the fourth and sixth, allowed the telecast's lone left-hander to take his first lead of the match.
He would never trail again, staying locked in on the 1-2 pocket and striking on four of his last seven shots to secure the victory and earn the opportunity to bowl Simonsen for the title.
Sherman, meanwhile, finished in third place and took home $25,000.
One match earlier, Sherman defeated No. 4 seed Sean Rash of Montgomery, Illinois, the 2011 Masters champion, 258-199, to start Sunday's telecast.
Sherman jumped ahead of Rash quickly, striking on seven of his first eight shots with only a third-frame 10 pin keeping him from making a run at perfection.
Rash hung tough though, using a double in the third and fourth frames and a turkey in the sixth, seventh and eighth to keep Sherman within reach.
That all changed in the ninth frame, however, as Rash's bid for a four-bagger missed inside, leaving a 4-9 split. He was unable to convert, which all but decided the match in favor of Sherman.
For his efforts this week, Rash finished in fourth place and earned $15,000.
The 2023 Masters started Monday with the first of three qualifying rounds for the 390-player field. After 15 games over three days, the top 64 athletes, based on total pinfall, advanced to match play.
As defending champion, Simonsen was guaranteed no worse than the 64th seed for match play. He improved his seeding through qualifying, however, finishing in 29th place after 15 games on the event's 46-foot oil pattern.
Simonsen only heated up from there, setting a new Masters record by averaging 250.4 during 18 games of match play enroute to a 6-0 record and the top seed for Sunday's TV finals.
USBC and PBA Hall of Famer Norm Duke of Clermont, Florida, held the previous Masters match play average record at 245.6, which he set at the 1993 event in Tulsa, Oklahoma.
All bracket matches leading up to the Elimination Bracket semifinals were three-game total-pinfall contests.
The Elimination Bracket semifinals and finals, which were broadcast live on FS1 Friday night, featured four one-game matches to determine the No. 3 and No. 4 seeds for Sunday's stepladder finals.
Sherman earned the No. 3 seed by defeating Chris Via of Blacklick, Ohio, 10-9 during the second round of a roll off after the two finished their match tied at 194.
Rash secured the No. 4 seed by defeating Patrick Dombrowski of Parma, Ohio, 256-237.
BowlTV.com provided livestream coverage of the 2023 Masters during qualifying and match play.
For more information on the USBC Masters, visit
BOWL.com/Masters.