Singapore's Bernice Lim wins 2016 USBC Queens
May 26, 2016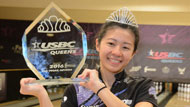 2016 USBC Queens bracket

LAS VEGAS -
Bernice Lim of Singapore became the sixth international player to win the
United States Bowling Congress Queens
, defeating top seed Sandra Andersson of Sweden, 248-223, at The Orleans Bowling Center on Thursday.
Lim started the championship match, live on CBS Sports Network, with six consecutive strikes, before a 10 pin ended her run at perfection. She needed just three pins on the first shot of her final frame to secure the victory. The Queens is the first major of the 2016 PWBA Tour season.
The 24-year-old right-hander is the first bowler from Singapore to win the coveted tiara, previously claimed by bowlers from Japan (two), Australia, Latvia and Colombia.
"This was my first TV show in the United States, so it's a big deal for me, and I'm very proud," said Lim, who earned $20,000 for the win, but as an amateur, will not get credit for an official PWBA title and does not qualify for the season-ending Smithfield PWBA Tour Championship. "It also means so much to be the first one from Singapore to win. I'm just happy to do my country proud."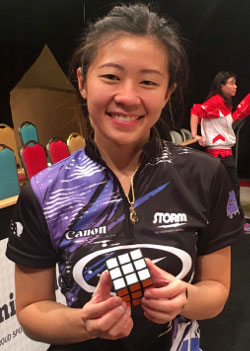 In order to stay relaxed and focused during competition, Lim works with a Rubik's Cube, which she solved twice during the semifinal before proving her dominance of the 40-foot oil pattern used at USBC Queens this week.
"It helps keep my mind off things, so I don't think too much when my opponent is bowling," Lim said. "It's a puzzle, just like bowling, and it represents the game well."
The title tilt was a rematch of the final winners' bracket match, in which Andersson defeated Lim, 712-646 to earn the top seed for the stepladder.
"I am so proud of myself," said Andersson, who now will head home to prepare for the European Women's Championships in June. "I've been struggling a lot lately with my mental game, and this week just proves I'm back. It's truly amazing."
As the No. 2 seed for TV, Lim used her opening match against Team USA's Danielle McEwan of Stony Point, New York, to get comfortable in her first appearance under the television lights.
She earned her spot in the championship match with a 238-221 win over McEwan.
Lim responded to a fourth-frame split from by McEwan with four consecutive strikes to pull ahead, and she tossed three more strikes in the 10th frame advance. McEwan took home $6,000 for the third-place finish.
Five countries were represented in the stepladder, while this week's event featured 63 international players from 20 countries outside of the United States. There were 29 international bowlers among the 64 players in the double-elimination match-play bracket.
Lim was one of eight players Singapore entered in the 2016 Queens, and all eight made match play this week.
While most of the Singapore contingent bowled the first four stops of the 2016 PWBA Tour season, the Queens was the only event for Lim, who is on a different schedule. She now will return home to focus on the Asian Tenpin Bowling Championships in September.
In the second match of the day, McEwan and Birgit Poppler of Germany combined for 13 strikes in the first seven frames, before the high-scoring start turned dramatic. After back-to-back splits from Poppler in the ninth and 10th frames, McEwan doubled in her final frame to escape with a 245-233 win.
Poppler, who led qualifying this week at The Orleans Bowling Center, posted a string of 12 consecutive strikes in her two matches, but finished fourth overall, earning $5,000.
In the opening match, Poppler struck eight times, including her last five shots, to outlast Malaysia's Li Jane Sin, 242-224. Sin started with five consecutive strikes, but a pair of splits proved to be her undoing. Sin finished fifth and earned $4,000.
A total of 256 players bowled 15 games of qualifying over three days to determine the 63 bowlers who would join defending champion Liz Johnson of Cheektowaga, New York, in the double-elimination match-play bracket.