Sixlets® Chocolatey Candies returns as USA Bowling Nationals sponsor; regional schedule set
September 18, 2017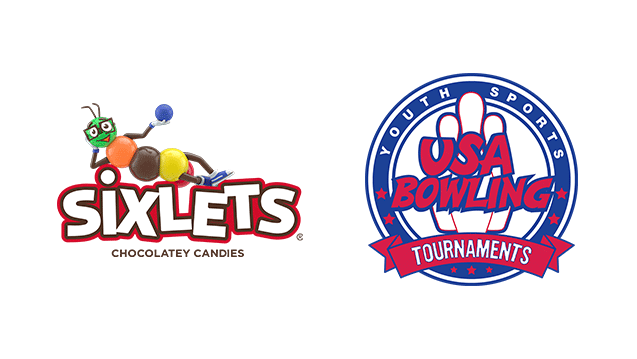 ARLINGTON, Texas – Sixlets® Brand Chocolatey Candies will return as presenting sponsor of the USA Bowling National Championships in 2018, and the opportunity to qualify for the event starts in October with the first of 16 regional events.

The Sixlets® Brand became a sponsor in 2017, when the USA Bowling National Championships presented by Sixlets® took place in Cleveland. The premier event of the USA Bowling program, the finals of the national tournament were televised on CBS Sports Network for the second consecutive year.

"We're thrilled to have Sixlets continue its involvement with the USA Bowling National Championships," Sixlets® Senior Brand Manager Joe Annunziato said. "We had the chance to experience the event last summer, and it's amazing to not only see the level of talent but the camaraderie of the competitors. It was a fun event, and the Sixlets® Brand looks forward to being involved with another great event in Dallas."

The Sixlets® Brand partnership will extend to the 16 regional events, and participants at each regional event will receive Sixlets® Brand Chocolatey Candies.

The regional events will determine the 32 teams – 16 teams in the 15-and-under division and 16 teams in the 12-and-under division – that will advance to the 2018 USA Bowling National Championships presented by Sixlets® that will take place in Dallas in July.

Kicking off with the Southeast regional on Oct. 21-22 at Buffaloe Lanes North in Raleigh, North Carolina, teams at each regional will have an opportunity to experience the youth social booth.

Teams at the regional competitions will be able to have team photos featuring the USA Bowling brand along with a champion trophy prop, signs and more. Participants will be featured on the International Bowling Campus Youth Development team's social platforms through Snapchat, Twitter and Instagram, and the winning team from each division will be featured in the 2018 USA Bowling National Championships #RoadtoNationals video.

"Competition is the main reason for USA Bowling, but bowling on a team also is about social interaction," IBC Youth Managing Director Gary Brown said. "We want the teams to have a great time at regionals and share their experiences with youth bowlers across the country."

The schedule with dates and sites for regional events:
Oct. 21-22, 2017 – Southeast – Buffaloe Lanes North, Raleigh, N.C.
Nov. 4-5, 2017 – Atlantic East – Smyrna Bowling Center, Smyrna, Tenn.
Nov. 11-12, 2017 – Upper Midwest – Plaza Lanes, Des Moines, Iowa
Nov. 18-19, 2017 – Lower Great Lakes – Mike Aulby's Arrowhead Bowl, Lafayette, Ind.
Dec. 9-10, 2017 – Northeast – Rab's Country Lanes, Staten Island, N.Y.
Dec. 16-17, 2017 – Midwest – Northrock Lanes, Wichita, Kan.
Jan. 6-7, 2018 – Coastal South – Boardwalk Bowl, Orlando, Fla.
Jan. 20-21, 2018 – Pacific Southwest – Cloverleaf Family Bowl, Fremont, Calif.
Feb. 10-11, 2018 – Southwest – Suncoast Bowling Center, Las Vegas
Feb. 18, 2018 – Mountain – Brunswick Zone Circle Lanes, Colorado Springs, Colo.
Feb. 24-25, 2018 – South Central – J.B.'s Allen Bowl, Allen, Texas
Feb. 25, 2018 – Upper Great Lakes – Concord Lanes, South St. Paul, Minn.
March 3, 2018 – New England – Walnut Hill Bowl, Woonsocket, R.I.
March 24-25, 2018 – Heartland – Imperial Bowl, Imperial, Mo.
March 24-25, 2018 – Ohio Valley – Woodman Lanes, Kettering, Ohio
April 7-8, 2018 – South – Vestavia Bowl, Birmingham, Ala.
USA Bowling is a product of the Youth Education Services (YES) Fund, a joint initiative of the Bowling Proprietors' Association of America and United States Bowling Congress supported by top bowling brands including Bowling.com, Brunswick, Columbia 300, Ebonite, Hammer, QubicaAMF, Roto Grip, Storm and Track.

Several of the YES Fund bowling brands will have staff members attend regional events, so participants can get pictures and autographs from some of the country's top bowlers.

Learn more about the USA Bowling program and the USA Bowling National Tournament at BOWL.com/USABowling.