Small steps lead to big reward for 2022 PWBA Rookie of the Year Olivia Farwell
August 24, 2022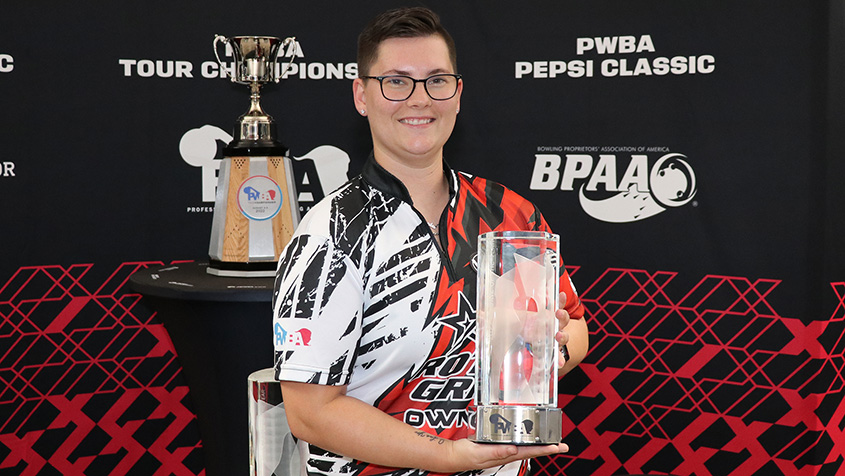 ARLINGTON, Texas
- After concluding her decorated collegiate career at Duquesne University, Olivia Farwell of Elizabethtown, Pennsylvania, wanted to see how she would fare against the best in the world on the
Professional Women's Bowling Association
Tour during the 2022 season.
Although there were some challenges along the way for the talented 24-year-old right-hander, she managed smaller goals throughout the year to work toward a bigger dream, which turned into a reality as she was recognized as the 2022 PWBA Rookie of the Year.
The PWBA Rookie of the Year award is presented to the top rookie each season, based on points earned during the year.
Farwell joined the tour prior to competing at the United States Bowling Congress Queens, the second event of the season and first major on the 2022 schedule. She qualified for the tournament's double-elimination bracket to kick off her professional career, finishing in a tie for 33rd place.
She kept herself in contention for cashing spots in her next four events as she started to learn the ropes of life on tour, setting up an impressive run at the second major of the season - the U.S. Women's Open. After earning her spot in match play, Farwell posted a 15-9 record on the way to a 13th-place finish.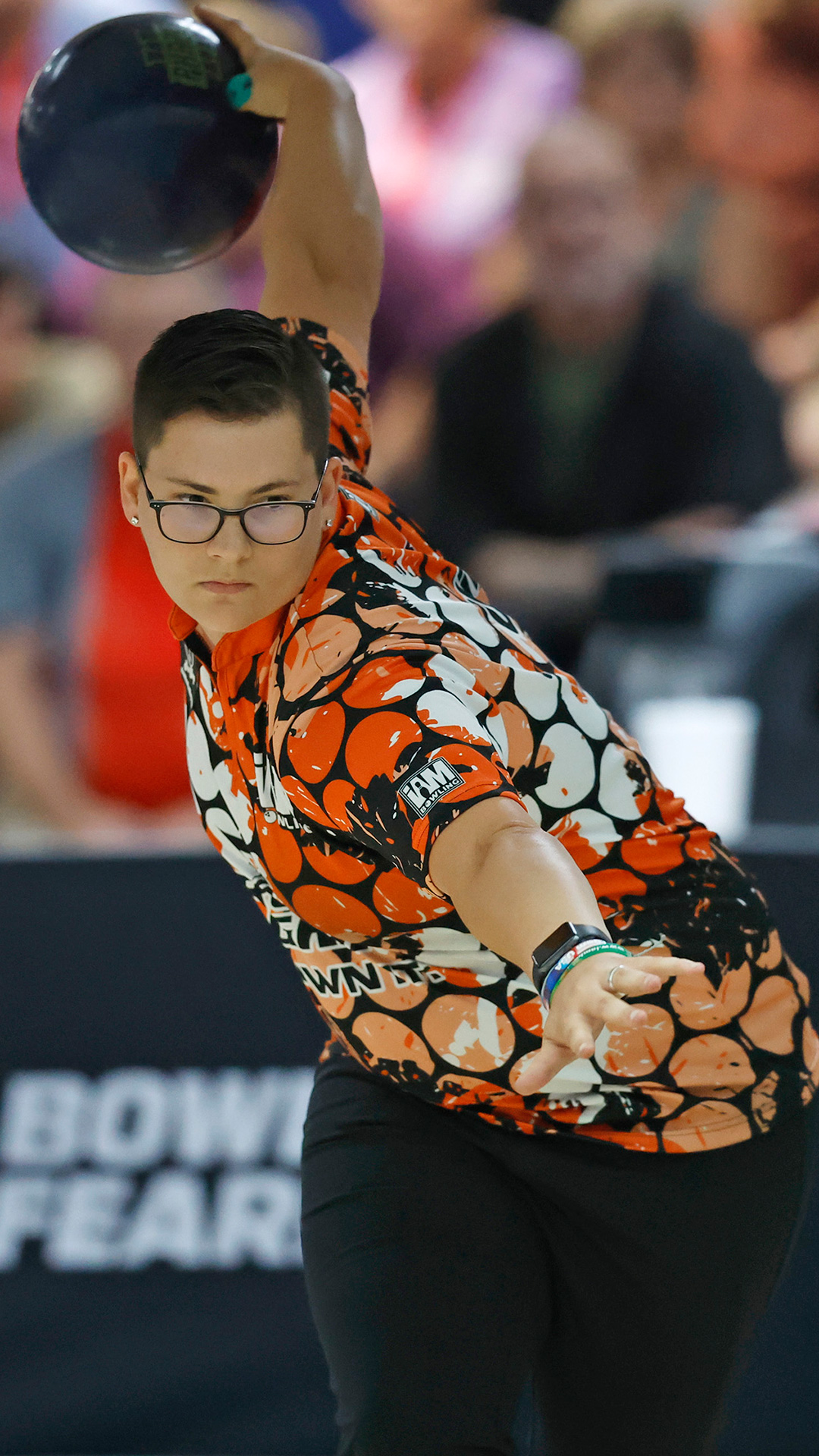 The 2022 National Tenpin Coaches Association (NTCA) Division I Player of the Year secured rookie-of-the-year honors by turning in her best performance of the season at the PWBA Pepsi Classic in August, delivering a big game in a must-win match during the position round to advance to her first championship-round appearance. She recorded a fifth-place finish to wrap up her rookie campaign.
"It was always a dream of mine," Farwell said. "In the back of my mind, I was thinking it would be so cool to achieve this, but I didn't want to put too much pressure on myself. When Robyn (Graves, PWBA Brand Manager) made the announcement, I was full of emotion. It was a moment I always wanted to have, and it's an incredible feeling."
Farwell's bowling background goes back to an early age as she grew up in her family's center - Clearview Lanes in Mount Joy, Pennsylvania.
Both her grandfather, Henry Blough, and mother, Lisa Farwell, regularly competed at the highest levels of the sport, and each earned a spot in the Pennsylvania State USBC Hall of Fame for their on-lane success.
Farwell always was around the sport, but she also was focused on softball when looking ahead to her future. However, a trip to watch her older brother, Austin, compete in a high school match changed her trajectory.
"I've always bowled, but I didn't start to take it seriously until probably my junior year in high school," Farwell said. "I actually thought I was going to college for softball, but I remember at one point, I was watching my brother compete at a high school tournament. The environment bowling provided, even at the high school level, it kind of triggered me. I felt like I wanted to experience that and take it to the next level."
With her focus locked on bowling, the accolades quickly began to add up as she looked ahead to picking a college. Farwell originally wanted to leave her home state, but she ended up finding the right fit in downtown Pittsburgh at Duquesne.
Farwell made a quick first impression for the Dukes, earning rookie-of-the-year status for the Northeast Conference (NEC) during the 2018 season.
She finished her collegiate career in 2022 as a two-time NEC Bowler of the Year (2019, 2022), a four-time NTCA All-American (honorable mention in 2018, second team in 2019 and 2020, first team in 2022) and was recognized as a National Collegiate Bowling Coaches Association (NCBCA) first-team All-American during the 2021-2022 season.
She made Junior Team USA in 2019 and finished her collegiate career with a runner-up finish at the 2022 Intercollegiate Singles Championships.
The bond she created with her teammates during that time helped her game continue to grow each season.
"My teammates had a huge part in the growth of my personal game," Farwell said. "We would be at tournaments and bounce ideas off each other, and it got me thinking more about my game and what I needed to work on. It helped me get to know myself as a bowler a little more, being part of such a close-knit team."
Farwell knew the learning would continue as she looked ahead to the 2022 PWBA Tour season, but she wanted to manage her expectations from stop to stop.
It was going to be important for her to collect information and take in what she saw from the players she grew up watching and admiring.
"My parents and I would talk about it, and we were on the same page - take this first year as a learning curve," Farwell said. "Obviously, I wanted to perform my best, but I knew coming into it I was going to be competing with the best female bowlers. I wanted to take every chance I could to learn from them. I didn't expect to win a title or make a TV show, so making the show at the end of season made me feel like I was doing all the right things.
"When I would come to each tour stop, I would set a smaller goal for myself - to at least get to the cash line. If I could do that and was still bowling, to me, that was a bonus. If I achieved my smaller goal of cashing, anything else was a bonus. It really was my whole mindset for this year. I set those smaller goals I felt confident I could achieve, and it helped my confidence as the season went on."
The confidence Farwell gained during the season shined during her run to the stepladder at the Pepsi Classic. In the final round of qualifying, she recovered from games of 170 and 162 in the middle of the block to finish with 234 and 236 to secure her spot in match play.
She bounced back from a 2-4 record in the first round of match play at USA Bowl in Dallas to work her way into sixth place and one spot out of the show heading into the position round.
The player waiting for her in the position round was soon-to-be 2022 PWBA Player of the Year Shannon O'Keefe of Shiloh, Illinois.
Farwell was able to make up a 60-pin deficit with a 249-212 win (which also included 30 bonus pins) to advance to the BowlTV finals.
Although she dropped her stepladder match against McKendree University standout and friend Hope Gramly of Aubrey, Texas, the entire experience was something she hopes to use as a steppingstone to further her career on the PWBA Tour.
"When I saw the names come up on the screen (for position round) and saw Shannon's name, I was like 'oh my gosh,'" Farwell said. "I'm going to have to bowl somebody I've always admired and looked up to, but I've gotten to know her through college, especially this past season. I was a little nervous, but my parents have always said that tougher competition pushes me to sharpen myself. To have that moment with her is something that I kind of always pictured myself doing because she's someone I've idolized and always wanted to become. It was an unreal moment.
"It was nice to be able to bowl against Hope in the first match because she's such a good friend of mine. We were able to joke around, which took some of the stress off my shoulders. When we were practicing, I felt great and confident, and I still felt fine when we made our way to the TV pair. As soon as everyone else left and it was just Hope and I, I think the emotion and nerves got the best of me a little bit. I found myself a little tense and uptight, but at the end of the day, I wouldn't change it because it was my first time."
With her first season wrapped up, Farwell already is looking ahead to the 2023 season. She noted it took some time to understand how quickly the lanes transitioned on tour compared to what she saw while competing collegiately, and she will have the opportunity to impart some of that wisdom to the student-athletes at Mount St. Mary's University as she recently accepted a position to join the staff as an assistant coach.
She's excited to put in the work to improve her game and continue the momentum gained during her rookie year.
"Next season, I think my main goal is to make another TV show," Farwell said. "I know confidently that I can do it. With the offseason right now, I'm going to go home and practice. I'm going to work on some things I want to make a little stronger in my game and really push myself."