Special Olympics celebrates 25th year alongside OC
March 05, 2015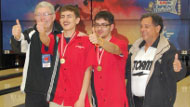 EL PASO, Texas -
The Special Olympics National Unified Tournament celebrated its 25th year alongside the
United States Bowling Congress Open Championships
this week as more than 330 competitors made their way to the El Paso Convention Center.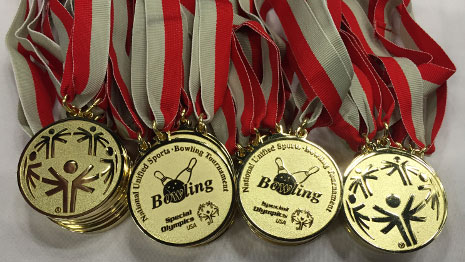 The two-day tournament welcomed Special Olympics athletes and their unified partners from 14 states, and together, they experienced the largest convention-center build in USBC Open Championships history. They competed for gold, silver and bronze medals in four-player team and doubles events.
The partnership between the National Unified Tournament and USBC dates back to the 1991 Open Championships in Toledo, Ohio, and the event has grown into one of the most exciting opening-week traditions at the Open Championships venue each year.
"We initially came out in 1991 to help train the staff and break in the lanes," said Marty Allen, the tournament director for the National Unified Tournament since 1991. "To be able to continue to come back and get to know the USBC family has been special. They can't do enough to help us out each year, and our athletes and staff greatly appreciate the relationship we've built in the past 25 years."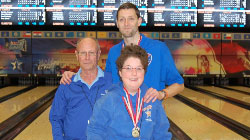 The opportunity to be some of the first competitors to march down the famed Center Aisle and bowl on the championship lanes is an highlight for many, especially first-time participants who never have experienced the high ceilings and championship atmosphere.
"Having one of the first opportunities to bowl in this tremendous facility is a great privilege," said Allen, who has served as the program director for Special Olympics Ohio since 1982. "Athletes who experience this setting for the first time are amazed. It's hard to explain to someone until you have actually experienced it."
Allen looks forward to the future of the National Unified Tournament and hopes to begin drawing teams from outside the United States. Bowling continues to grow in popularity among Special Olympic athletes and ranks second in participation after track and field.
USBC Hall of Famers Jim Schroeder and Bob Hart also were on hand to help cheer on the athletes and hand out medals in 19 team and 32 doubles divisions. Schroeder has been a part of the National Unified Tournament since its debut.
"I've been involved with the Special Olympics for a long time," said Schroeder, who is scheduled to make his 67th Open Championships appearance in 2015 and is third on the all-time pinfall list with 116,418. "These athletes work so hard and are so happy and excited to be here. It's been very rewarding, and I hope to continue to help as long as I can. The friendships and kindness shared in the past 25 years have been very gratifying."
The 2015 Open Championships will run daily from March 7 until July 12 as more than 7,000 five-player teams will make their way to Sun City to compete for more than $5 million in prize money. The custom venue includes 52 lanes for the Open Championships and 10 lanes for practice sessions and a side event, the Bowlers Journal Championships presented by USBC.
Visit us on Facebook at the
official USBC Open/Women's Championships
page.