Standard doubles gets new leaders at 2022 USBC Open Championships
April 07, 2022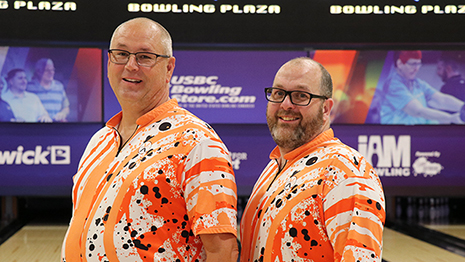 LAS VEGAS -
Lee Rottman of Sherrard, Illinois, last bowled in the
United States Bowling Congress Open Championships
in 2011, and his return to the tournament lanes this week at the 2022 edition of the event was a memorable one.
Not only did the 41-year-old right-hander flirt with perfection and the first 700 of his tournament career Wednesday at the South Point Bowling Plaza, he also made an exciting run up the Standard Doubles standings with Douglas Becht of San Tan Valley, Arizona.
Rottman started the day with a clear command of the tournament's doubles and singles oil pattern, opening his six-game set with 10 consecutive strikes. A 2-10 split ended his chance for a 300 game, but it was a great head start toward their record doubles total.
He finished the first game with 287 and added 227 and 181 for a 695 series, while Becht contributed 205, 256 and 204 for 665. Their 1,360 total is the highest since the introduction of the Standard Division in 2017.
"We were bowling well, but we really had no idea we were getting close to the high score of the tournament," said Rottman, who made his fourth overall appearance at the USBC Open Championships. "Then, when we found out it was the highest score ever in the division. It was unbelievable."
Standard Doubles includes teams with combined entering averages of 311-350. Dan Cherek of Wausau, Wisconsin, and Michael Steppert of Weston, Wisconsin, previously held the lead this year with 1,312.
Rottman's return to the Open Championships came because there was an opening on the team, and his teammates asked him to come back. Now, they'll be on leaderboard watch together as the 129-day event rolls on at South Point.
His success this week was due in part to advice, and equipment, from his daughter, Destiny, who is on the women's bowling team at William Penn University.
"My daughter made some great suggestions and was nice enough to let me use some of her equipment," Rottman said. "I can't wait to tell her what happened today, and thank her, too."
Rottman finished his 2022 Open Championships campaign with 558 in team and 532 in singles for a 1,785 all-events total, the highest of his short tournament career.
Doubles also was Becht's best set this week, and he added 613 in team and 540 in singles for a 1,818 total.
The camaraderie is an important aspect of the experience for the group and something Becht takes very seriously.
The 53-year-old right-hander made his 16th tournament appearance, and it ended up being among the most memorable.
In order to be on the lanes with Rottman, he had to put off foot surgery. His dedication to the event and his teammates runs so deep, that it wasn't the first time he'd made such a sacrifice. In 2018, he delayed a hip operation to participate in the Open Championships in Syracuse, New York.
"This was the most fun I ever had bowling - not only hitting the high score, but being with my teammates," Becht said. "Putting off the foot surgery was one of the best choices of my life. This has been an amazing few days. Not only because of the chance of winning an Eagle, but because we got to watch our good friend Michael (Hamilton) get his credit for what he did last year."
Prior to their team event, Michael Hamilton of Davenport, Iowa, was presented with the championship watch he earned during the 2021 Open Championships, also at South Point.
He is the 2021 Standard All-Events champion, and Tuesday's award presentation was the final piece of a yearlong process that began with him taking the lead last May. The win also earned him a coveted Eagle trophy, which he received in late 2021.
The 2022 Open Championships kicked off March 12 and will run through July 18.
Visit us on Facebook at the
official USBC Open Championships page
.