Standard Singles lead changes hands again at 2022 USBC Open Championships
May 03, 2022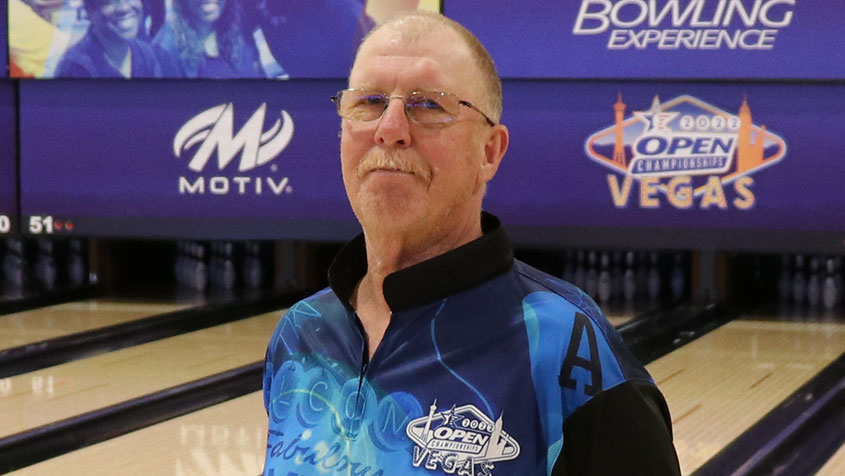 By Nick Bonsanto
USBC Communications

LAS VEGAS
- For the second time in as many days, there's a new name at the top of the leaderboard in Standard Singles at the 2022
United States Bowling Congress Open Championships
.
Mike Paulsen of Myrtle Beach, South Carolina, did not allow Edward Zurawski Sr. of Woodstock, Illinois, to enjoy his lead at the 129-day event for even 24 hours, as Paulsen rolled a 718 series Monday to best Zurawski's score from Sunday by two pins.
After games of 193 and 246, Paulsen entered his third game of singles needing a 278 to take the lead. That was a tall order, and he did not disappoint, taking the first nine strikes into the 10th frame for a chance at perfection as well as the lead.
Although he left a 4 pin on his first ball in the 10th, he knew what he needed to take the lead. The right-hander converted the single pin and rolled a strike on his final shot for 279 to move to the top of the standings.
"Yes, I knew what I needed," Paulsen said. "I projected to just throw my regular shot, and I left the 4 pin. I wasn't nervous, and I felt comfortable with my shot."
Competing in his first USBC Open Championships at the age of 62, Paulsen did struggle early in the tournament, being held at the South Point Bowling Plaza. Competing in the team event Sunday, Paulsen started with a 499 series. He followed that up Monday with a 522 in doubles before making an adjustment for singles.
"I was playing inside in doubles," Paulsen said. "I tossed one shot out, and I said I just found my line for singles."
After finding his line to finish singles at 718 with the Standard Singles lead, he finished with an all-events total of 1,739 in his debut. Gregory Witt of Phoenix leads Standard All-Events with 1,982.
When asked if he will be watching the leaderboard for the remainder of the 2022 Open Championships, which runs through July 18, Paulsen was direct.
"I will not watch the leaderboard. If it happens it happens," Paulsen continued. "I've got friends who are going to do that, so I don't need to worry about that."
Standard Singles features bowlers with entering averages of 156-175.
Visit us on Facebook at the
official USBC Open Championships page
.