Star-studded U.S. squad selected for World Senior event
April 08, 2015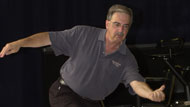 ARLINGTON, Texas -
Eight of the best senior bowlers in the country will represent the United States at the World Bowling Senior Championships later this year.
The National Selection Committee selected the four men and four women who will make up the U.S. squad at Sam's Town Bowling Center in Las Vegas from Aug. 24-30.
On the men's side, the United States will be represented by Lennie Boresch of Kenosha, Wisconsin, Bob Learn Jr. of Lantana, Florida, Johnny Petraglia of Jackson, New Jersey, and Ron Mohr of North Las Vegas, Nevada.
The women's squad will be made up of Tish Johnson of Colorado Springs, Colorado, Lucy Sandelin of Tampa, Florida, Paula Vidad of Sun City, California, and Robin Romeo of Newhall, California.
The eight players have no shortage of domestic and international experience.
Learn claimed the 1999 U.S. Open title and also won the 2001 Japan Cup, while Mohr is a three-time Team USA member and eight-time winner on the Professional Bowlers Association's PBA50 Tour.
Petraglia, a member of the United States Bowling Congress and PBA halls of fame, has 14 career PBA Tour titles and eight PBA50 Tour titles to his credit. Boresch, who was inducted into the USBC Hall of Fame in 2012, has won three USBC Open Championships titles.
"The opportunity to represent my country is a great honor," said Learn, who has nearly $1.4 million in career PBA earnings. "I have done many things in our sport, but bowling for Team USA has always been something I have desired to be a part of."
Vidad, who has won nine gold medals at the Tournament of the Americas for the United States, won the 2011 USBC Senior Queens and the Senior Women's U.S. Open in 2013 and 2014. Sandelin, a 10-time Team USA member who has won numerous international medals for her country, won the USBC Senior Queens in 2008 and 2013.
Johnson, a member of Team USA in 2008, has won 25 professional women's titles, including five majors, while Romeo is an 18-time professional tour winner and won the Senior U.S. Women's Open in 2012.
Sandelin, Johnson and Romeo are also members of the USBC Hall of Fame.
"There is no higher reward than to represent your country and wear red, white and blue," Vidad said. "There is no dollar amount that can equal that of a medal hanging on your neck and the national anthem playing."
Countries from around the world will compete in the World Bowling Senior Championships and will battle for medals in five events - singles, doubles, team, Masters and all-events. All participants must be age 50 or older to be eligible.
For more information on the World Senior Championships, visit
WorldBowling.org
.