Sunday on ESPN: L.L.Bean PBA League Begins with Two Quarterfinal Matches from Bayside Bowl in Portland, Maine
April 21, 2017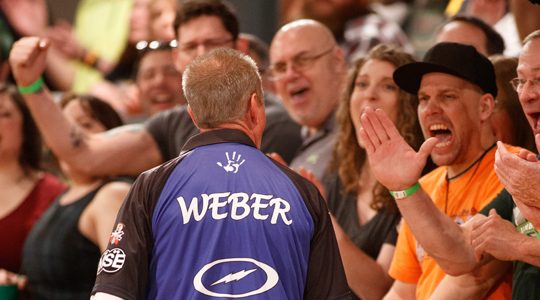 PORTLAND, Maine – The most energetic fans in bowling will provide the background as L.L.Bean PBA League competition returns to ESPN Sunday at 1 p.m. Eastern with a pair of quarterfinal matches involving the inaugural Elias Cup champion GEICO New York City WTT KingPins facing the Sysco Philadelphia Hitmen and the Lee Auto Malls L.A.X challenging the defending champion Shipyard Dallas Strikers.
The PBA League returns to an expanded Bayside Bowl in Portland for third consecutive year, this time under the umbrella sponsorship of one of Maine's most famous brands, L.L.Bean.
In Sunday's opening match, the top-seeded GEICO New York City WTT KingPins, led by PBA Hall of Famer Pete Weber and his supporting cast of Marshall Kent, John Szczerbinski, Danielle McEwan and Sam Cooley will meet the No. 8-seeded Sysco Philadelphia Hitmen (Dom Barrett; Tom Smallwood; Chris Loschetter, Ronnie Russell, Dave Wodka) in a best-of-two-game Baker format contest.
In PBA League play, the best-of-two-game Baker matches are decided by a dramatic one-ball sudden-death roll-off if the teams split their two games.
The second quarterfinal match will feature the No. 4-seeded defending champion Dallas Strikers, led by player-manager Norm Duke and featuring 2016 Mark Roth MVP Tommy Jones, Bill O'Neill, Rhino Page and B.J. Moore. The Strikers will need to eliminate the No. 5 L.A. X squad led by Australia's Jason Belmonte, Stuart Williams, Martin Larsen, Osku Palermaa and newcomer Jakob Butturff.
The winning teams will advance to the semifinal round, where they will meet each other in an ESPN-televised match that will air on Sunday, May 7, at 1 p.m. EDT. The Elias Cup finals will air on Sunday, May 14, at 1 p.m. All ESPN telecasts also will be streamed simultaneously on ESPN3 and the WatchESPN app.