SUNDAY ON ESPN: State Farm CP3 PBA Celebrity Invitational Presented by Go Bowling! at 2 p.m. ET
January 30, 2018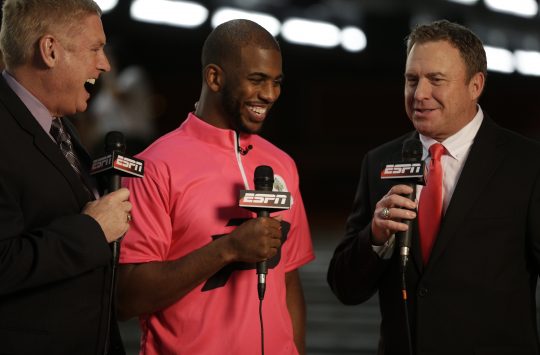 CONROE, Texas (Jan. 30, 2018) – Houston Rockets All-Star guard and tournament host Chris Paul will try to defend his doubles title with a new partner in the Ninth State Farm® CP3 PBA Celebrity Invitational presented by Go Bowling! Super Bowl Sunday at 2 p.m. EST on ESPN.
Paul will be joined by several celebrities and PBA Tour stars who will compete in the multi-format event contested at Bowlero The Woodlands in Conroe, Texas which benefits the Chris Paul Family Foundation, a non-profit organization dedicated to promoting youth, education, health, sports and social responsibility.
In addition to Paul, who is the defending champion of the doubles event (with PBA partner Chris Barnes), other participating celebrities include former NFL All-Pro and former Celebrity Invitational winner Terrell Owens, Boston Red Sox All-Star outfielder Mookie Betts, and Paul's All-Star Rockets teammate James Harden.
The alternate ball doubles format event will feature the following teams:
● Paul and PBA Hall of Famer and 38-time Tour winner Norm Duke
● Betts and eight-time Tour winner Bill O'Neill
● Owens and PBA Hall of Famer and 37-time Tour winner Pete Weber
● Harden and 2016 PBA Player of the Year EJ Tackett
Betts will be a threat for the title with partner O'Neill after having bowled a 300 game in the Pepsi PBA Scorpion Championship presented by GoBowling!, which was part of the GEICO PBA World Series of Bowling IX in November.
The telecast will also include a Baker format team competition with Paul, Harden, Houston Rockets forward Trevor Ariza, two-time Tour winner DJ Archer and fellow Texas PBA star Dino Castillo making up the Houston Strong team against Betts, Owens, 12-time Tour winner Sean Rash, and 2017 Teen Masters representatives Hannah Diem and Logan Harvey making up the Bowlero All-Stars team. In Baker team competition, each player will bowl two frames to complete the game.
In the third event of the telecast, all of the celebrities, plus actor/comedian Oscar Nunez and Rockets guard Bobby Brown, take part in the Go Bowling! Celebrity Super Clash, a one-ball sudden-death shootout where the player with the lowest pinfall per frame is eliminated.
PBA's "Big February" continues on ESPN with three consecutive live Go Bowling! PBA Tour Sunday telecasts at 1 p.m. ET, beginning with the PBA Tournament of Champions on Feb. 11; the Go Bowling! 60th Anniversary Classic, Feb. 18, and the Barbasol PBA Players Championship, Feb. 25.
CP3 PBA Celebrity Invitational Past Winners:
2017 – Chris Barnes/Chris Paul
2016 – Pete Weber/Terrell Owens
2015 – Ronnie Russell/French Montana
2013 – Chris Barnes/Chris Hardwick
2012 – Pete Weber/Jerry Ferrara/Blake Griffin
2011 – Jason Belmonte/Chris Paul
2010 – Jason Belmonte/Chris Paul
2009 – Jason Couch/LeBron James